California megachurch pastor Rick Warren drew the most fire for offering the invocation at the inauguration, but another evangelical pastor prayed with Barack Obama for the third time in recent months. Florida megachurch pastor Joel Hunter offered a blessing at the private prayer service for "Barack Hussein Obama" the morning of his inauguration, asking that those surrounding the President would place their hands on him.
Hunter, a registered Republican, was also asked to pray at the Democratic National Convention and on Election Day with Obama. The author of the book A New Kind of Conservative: Cooperation Without Compromise spoke with Christianity Today the night of the inauguration about the prayer service and what he expects from the new administration.
Can you tell me more about your involvement in the private prayer service?
I said, "In the ancient tradition of laying on hands, will those of you who are directly behind and beside the president, please lean forward and put your hands on his shoulders." The president-elect had on one side Michelle and on the other side Mary Robinson, his mother-in-law. But in order to give a traditional blessing, it's traditional to lay hands, it's also traditional to use a person's full name, which I did. The church of course is just historic and beautifully, and of course T.D. Jakes (who gave the sermon) was just super. He was relatively brief, I'm sure it was tough for him, but he just did a grand job.
How in touch have you been with the transition team?
I have chimed in, when asked and when I have been in Washington. Last week they asked if I would come to the faith team and the Middle Eastern foreign policy team. I'm just part of this throng of people that they're seeking more than opinions. What's comforting to me is they're very proactive — they asked for me by name — in that Middle Eastern policy meeting. David Gushee and I were the evangelicals, but there were so many representatives of different denominations: the head of the North American Islamic Society and a rabbi. That's part of how I think he thinks, and how his transition team thinks. It's so interesting to go into meetings because you can tell this transition team has been trained to listen. They will listen and take notes and ask questions, there's no sales job, there are no talking points. It's, "Tell us what you want to say." They are as attentive as they can possibly be.
Do you have any sense of who will lead the office of faith-based and community initiatives?
I don't. Joshua DuBois is still playing a major role, and he probably has a better relationship and more active with religious leadership across the country than anybody, so he'll have a major role to play. I don't know what it will be, but he'll continue to have a major role. From my perspective his credibility has grown, he has several good assistants now, his confidence has grown. He's always been very responsive to me. I do think this is one of those things that you kind of grow into. You go along and learn and if you pick up and start to become conversant with several religious leaders then you gain confidence and credibility, and I think that's what's happening with Joshua.
It seems like religion often appeared to have a negative impact on Obama during his campaign because of his relationship with Jeremiah Wright. Reflecting on that does that hurt his credibility?
They're very patient. Of course as you go along you're going to have some unpleasant surprises, but I think in a mature perspective that's just part of the package. In the long run that will benefit them much more than just trying to avoid that conflict.
Do you have any predictions on what Obama do in office?
He has pledged that he will attempt to reduce abortion in a full range of ways both by reducing unexpected pregnancies and supporting those women who choose to carry their babies to term. We know that he's getting very strong pressure from the very pro-choice people; he's getting just as strong pressure from them as he is getting accusations from the very pro-life people.
His biggest attempts at engaging the evangelical community will come in the area of service. Evangelicals are very active; we are the unrealized potential in this country as far as working with the government to attack some of the huge issues that can only be really solved by personal care. Poverty is not going to end with a government program, it's not going to end until you have people helping people to get out of the system of poverty. When it comes to emergency relief, that's the church. When it comes to caring for the very sick, the folks with AIDS and the prisoners with a high rate of recidivism, that's the church. He's well-versed enough to know of the tremendous potential in this country that the church and especially evangelicals have. We're very sincere about walking out our faith, and I think that's going to be one of the great efforts he makes. I also think using the potential of faith communities to build better solutions to peace, foreign relations, diplomacy — I think he may be very innovative there.
What about the Freedom of Choice Act (FOCA)?
Every source I have in Washington says to me that FOCA is not something we need to worry about. It'll never get to his desk. And those are very, very good sources. It alarms me a little bit that the Catholics and some of the very religious right are raising a lot of alarm on an issue that doesn't look like it has much political chance of coming to fruition, so it's like crying wolf. You only get so many of those. He did make the statement, and I get that, but because of the political situation right now and because they just don't have the kind of clout or the kind of votes right now to push that thing forward, that's not something we need to worry about.
I think there will be stances he takes that are troubling to evangelicals, and when he does it's our job to oppose him. We need to support him when we can, oppose him when we must. We need to be the kind of solutions to the problems that make everybody aware that ultimately government is not the ultimate answer to solving the problems in America; the church is. And that will ultimately make us more valuable. So what kind of issues do we need to be the loyal opposition on? What issues can we say we can really partner on this? And then what does the church need to do?
Do you have final thoughts on the inauguration?
I came to Christ on the occasion of Martin Luther King's assassination, I remember John F. Kennedy's assassination, and I remember Bobby Kennedy's assassination. I remember the hope. I remember the whole inspiration of that time and the optimism, maybe we can really make things right — maybe people can really work together, maybe they'll lower some of the barriers. When Martin Luther King got shot, all my dreams just came crashing down on me, and a voice kept coming back into my head: Nothing's ever going to come right in the world until you take care of the sin in your own heart. I realize that the sin won't let us have a political solution. No matter how hard our government works for good policy, and we always need to have good policy, that's never going to be truly effective until people of faith are really engaged to do what they can do to solve problems.
Related Elsewhere:
Pulliam also interviewed Hunter after the election.
For more on the Obama inauguration, see Christianity Today's politics blog.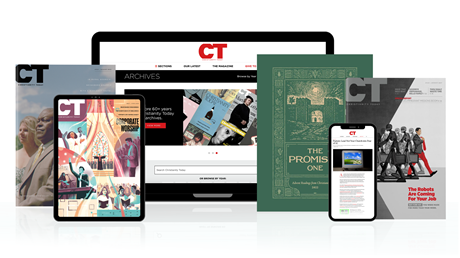 Annual & Monthly subscriptions available.
Print & Digital Issues of CT magazine
Complete access to every article on ChristianityToday.com
Unlimited access to 65+ years of CT's online archives
Member-only special issues
Subscribe
Joel Hunter Leads Blessing for Obama
Joel Hunter Leads Blessing for Obama