true
We always see the same complaint: "There just aren't any good new artists anymore." Sorry, but we beg to differ. As usual, plenty of artists made their national debut as a band or solo artist in 2008, but we found twelve that we particularly hope to hear more from in years to come—six bands, five young women, and one veteran who showed us he can take his music into new directions apart from his band. If you're looking for fresh talent in Christian scene with an engaging sound or insightful songwriting, consider these new favorites.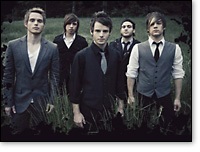 Abandon EP (Forefront Records/EMI)

A short EP might not seem like enough to call Abandon one of the year's best new bands. But then it was certainly enough to recognize something special in Mute Math back in 2004. And it was also enough for music exec Chris York, who first heard Abandon playing a set at the venue next door as he was enjoying dinner with his wife. The band certainly has magnetic appeal, offering an alternative, yet accessible mix of power pop, Brit rock, and nü-new-wave. Sure enough, their MySpace page lists Sanctus Daylight Is Coming, Delirious, The Killers, U2, and yes, even Mute Math as influences—that last one all-too-obvious in their nonetheless impressive finale "Atmosphere," with its jazz-inflected ambience, dynamic surge, and aggressive drumming. Yet the San Antonio band avoids sounding derivative, largely because of their verve and skill as musicians. They also avoid making worshipful anthems like "Be Alive in Me" or "All Because of You" seem patterned or obvious, while crafting an interesting response to Peter's denial of Jesus in "Providence." This digital release may only offer five songs, but with such contagious choruses, varied arrangements, and openly spiritual songwriting that generally avoids clichés, Abandon has fully whetted our appetites for their full-length debut in April 2009.
Click here for the original review.
We knew that After Edmund would make this list after first hearing them. What we couldn't have expected was how long that would take, since the band's 2007 debut was delayed nearly a year, giving time for the record label to prepare a proper marketing strategy. Most would agree that After Edmund was worth the wait, as they sound less like rookies and more like seasoned pros that have been making music for years. Their inventive modern pop/rock style is confident and distinct, their lyrics neither subtle nor obvious in Christian inspiration. "Clouds" stands out with its thunderous guitar riff and smart lyrics about being caught between heaven and earth, while "Tears" captivates with the explosive chorus and passionate plea for renewal. Also, you don't want to miss seeing this band live. They tore it up on the Projekt Revolution Tour with Linkin Park, impressing audiences with their polished musical training and lively instrument swapping. For all that, After Edmund scored a Grammy nomination with their very first album, confirming what we've known for nearly two years—this band has potential to develop into intriguing directions while amassing a strong fan base.
Click here for the original review.
View the artist page.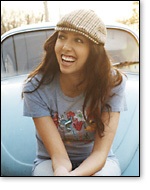 My Paper Heart (Fervent/Warner)

It's interesting how some who typically shun Christian pop have so readily embraced Francesca Battistelli for offering something "different" than the norm. Truth be told, she's not that radically different than your average twenty-something in Christian pop—some of the songs on her debut could have easily been delivered by BarlowGirl or ZOEgirl or some other girl. But that's more a matter of sound and arrangement for parts of Battistelli's debut. She clearly has the skills as a songwriter, pianist, guitarist, and singer, especially with that distinctively throaty and soulful alto. There are natural comparisons to Vanessa Carlton, Bethany Dillon, Kelly Clarkson, and most of all, Sarah Bareilles, making  several of the songs on My Paper Heart sound timely compared to secular radio, particularly the bouncy piano pop of "I'm Letting Go," the R&B flavored "Blue Sky," and the funky title cut. The album dwells on themes of identity, accepting imperfections made perfect through Christ. That message comes through loud and clear with the hit single "Free to Be Me," which recently earned Battistelli the honor of being the most added new artist in the history of Christian radio. It's pretty obvious she's going to be around for a long time—and rightfully so.
Click here for the original review.
View the artist page.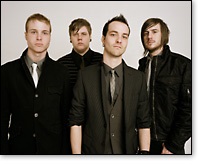 This Is an Outrage! (Tooth & Nail Records)

For all the bands introduced through Tooth & Nail over the years, the record label has developed a reputation for finding sound-alike bands offering more of the same. But when they occasionally bring one to attention that's a step above the norm—such as MxPx, P.O.D., Anberlin, and Underoath—then it's certainly worth taking notice, right? It's in that spirit that we introduce Capital Lights from Tulsa, their sound being a little emo-pop like Anberlin and Jimmy Eat World, and a lot punk-pop like Relient K and Green Day, with some Fall Out Boy thrown in for good measure. True, other Tooth & Nail bands have touched on those same influences, but this one stands out with catchier songs, stronger melodies, punchier musicianship, and an instantly recognizable lead vocalist in Bryson Phillips. Admittedly, Capital Lights doesn't delve very deeply into faith-based subjects here, but they do at least make their beliefs apparent with songs about Christ's second coming ("Return") and pursuing purity rather than sin ("Night of Your Life Is When You Die"). More of the same, perhaps, but Capital Lights is definitely a cut above the majority of their peers.
Click here for the original review.
View the artist page.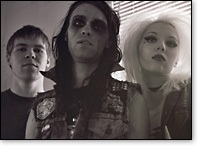 Children 18:3 (Tooth & Nail Records)

Children 18:3 edged into our list of the Best Christian Albums of 2008 with their debut, which is reason enough to make this list as well. Don't be put off by the cover—as our reviewer put it, the photo and design looks homemade and borders on self-parody (though it admittedly grabs the attention). The truth is this trio of brothers and sister has successfully reinvigorated a genre that has been overplayed at least a hundred times in the last decade. Kudos to Children 18:3 (and Tooth & Nail) for bringing a fresh spin on punk rock that's rowdy and melodic—raw enough for the purists, yet melodic enough for more casual fans. And unlike many of their contemporaries, Children 18:3 avoid burying their faith or making it sound trite. On the contrary, their heart for the Church comes through loud and clear (emphasis on loud) for those with ears to hear in songs like "All My Balloons" and "Final." Our Reader's Choice survey for 2008 indicated that this band already has a strong following, so you can bet this won't be the last we've heard from the Hostetter siblings.
Click here for the original review.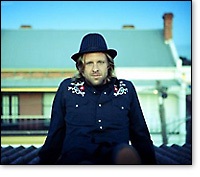 Fall - Winter - Spring - Summer (Credential Recordings/EMI)

As the lead singer of Switchfoot for more than 12 years, Jon Foreman is hardly a beginner in the music scene. But it's almost as if we've been introduced to a brand-new artist through his solo work, released across four digital EPs throughout 2008 (as well as a pair of double-disc sets and a single-disc compilation). This is not merely Switchfoot redux, or an excuse to do the same thing in an acoustic setting. Foreman reveals a more personal side through his songwriting while tinkering with a broad range of alt-folk sounds—much of it gentle and acoustic, but oftentimes whimsical, ambient, and haunting. Inspired by the seasons, these songs also find the thought-provoking songwriter offering some of his most openly Christian lyricism to date, adapting familiar texts like Psalm 23 and The Lord's Prayer, as well as relatively obscure passages from Micah and Amos. Foreman clearly intends this music as something separate from his band, even going so far as to perform it in the parking lots after Switchfoot concerts. It's even more telling that fans are out there eagerly waiting for it, with anticipation now building for the 2009 release of Fiction Family, Foreman's collaboration with Sean Watkins (Nickel Creek).
Read more about Foreman's solo work through reviews of his EPs here and here, as well our review of the compilation, Limbs and Branches.
It's been something of a slow burn for Brooke Fraser over the last five years, gradually gaining prominence as a worship leader with Hillsong United (penning favorites like "Hosanna" and "Lead Me to the Cross") and as a singer/songwriter on her own. Though Albertine is actually the New Zealander's sophomore effort and originally released in late 2006, the album didn't make it to America until 2008. It certainly caught on once it did, receiving both airplay and acclaim among Christian and mainstream audiences alike. Fraser's voice is lovely, joined with an enjoyable alternative AC pop style similar to Nichole Nordeman and Sarah McLachlan (admittedly, a little too similar). But the real draw is her exquisite songcraft, clearly grounded in biblical truth yet smartly applied to everyday life—whether touching on social justice ("Albertine"), quoting one of her favorite authors ("C.S. Lewis Song"), or dwelling on scripture ("Hosea's Wife"). There's plenty of spiritual insight here, and few artists are this equally open and articulate with their faith. It may have taken a while for Albertine to reach a North American audience, but it has rapidly established this 25-year-old as one of the best songwriters in Christian music.
Click here for the original review.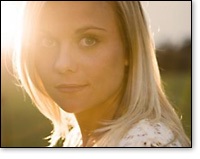 Lanae' Hale EP (Centricity Records)

Here's another one whom we're still eagerly anticipating a full-length debut from. So far, Lanae' Hale only has a 6-song EP to her credit, but it's still enough to leave us wanting more. There's a jazzy vibe to her pop sound which makes it distinctive and sophisticated, not to mention an ideal vehicle for her mature lyricism. Originally from Gainesville, Florida, the 25-year-old singer/songwriter has previously wrestled with cutting and self-esteem, but has since come to a deeper understanding of God's love and a desire to share it in her testimony to listeners. And that comes through perfectly with her unique singing style, which is equally versatile in delivering a floating croon as it is a passionate growl. Some may be annoyed by a few of her vocal affectations, but many are already drawn to Hale's alluring gift, particularly fans of Vanessa Carlton, Colbie Caillat, Norah Jones, and Sixpence None the Richer. Check out the longing expressed in "Stay" and the stunning intimacy of "Quiet Place" for her strongest examples on her solidly crafted EP. Word is this newlywed finally finished recording her album last November, so we fully expect to hear more great things from Hale in 2009.
Click here for the original review.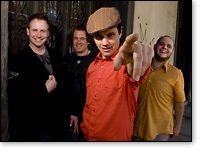 Salvation Station (Inpop Records)

With no disrespect to the year's other new bands, this one is easily the most interesting, talented, and rollicking of the bunch. We kinda figured NewWorldSon would be a hard act to follow after they made their national debut in early 2008. They're also one of the hardest to describe with their retro-yet-modern combination of soul, rock, gospel, pop, jazz, and blues. The band calls it "speakeasy gospel," in reference to both their old-time bar-band influences and overt Christianity—it's as apt a label as any, and helps establish NewWorldSon as pioneers. While their songwriting might initially seem overly simplistic, the band has a real gift for sharing their faith in ways that are clever and affecting, like recognizing how worry can impede prayer (the soulful "Sweet Holy Spirit") and taking a moment while waiting at a bus stop to offer God praise ("City Bus Love Song"). As with Robert Randolph and Mike Farris before them, NewWorldSon has the instrumental chops and broad appeal to transcend cultural and generational boundaries. Moreover, it feels like this band is just getting started, with Salvation Station serving as the appetizer for even greater work to come. We can hardly wait.
Click here for the original review.
View the artist page.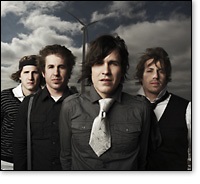 Daylight Is Coming (Word/Warner)

It's not that Remedy Drive has a vivid, unique sound. Most of the time, their modern pop/rock is cut from the same cloth as NeedToBreathe and Jackson Waters, with piano and synth elements that occasionally recall The Fray, The Bravery, and Muse. But whereas other new bands often sound very cookie cutter, these four brothers from Lincoln, Nebraska manage to stand out on the merits of their musical chemistry. With the aid of producer Ian Eskelin (All Star United), Remedy Drive knows exactly how to use their riffs, hooks, and harmonies to support their catchy melodies without overwhelming or understating. As a result, most all the songs have readily identifiable character to them. The band also straddles the fence with their songwriting—in a good way—making their Christian beliefs approachable and relatable without burying them. No, you won't find direct mention of Jesus on Daylight Is Coming, but he's clearly the core of songs about loving sacrifice ("Valuable"), satisfying our souls ("All Along"), and the nature of "Hope." For Remedy Drive, their ministry is simply to make good music. Here they prove it's possible to focus on fun and excellence without compromising faith-fueled lyrics.
Click here for the original review.
View the artist page.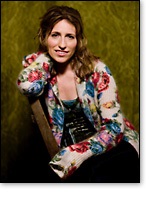 Great God Who Saves (INO Records)

The simplest way to peg Laura Story and the appeal of her music is "enjoyably worshipful." She's been working quietly as an independent for several years, first with the folk-pop band Silers Bald and then as a solo artist. Perhaps you're already familiar with "Indescribable," one of the best worship songs written in the last five years, made famous by Chris Tomlin? The success of that song on radio and in churches made her national debut inevitable, though it was delayed due to her husband's difficult battle with cancer. But that experience led to a greater understanding of trust and hope in God, a theme to weaves through Great God Who Saves beautifully, from the cover of Hillsong's "Mighty to Save" to sweet originals like "Grace," "Perfect Peace," and "I Think of You." Story has a lovely voice that's easy to sing with, and her inspirational songwriting is just as engaging in both the congregational anthems and the performance pieces. It's still early in her career, but don't be surprised if she becomes this generation's equivalent of Twila Paris.
Click here for the original review.
View the artist page.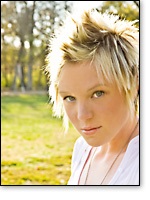 God and a Girl (Ardent Music/INO)

For everyone still aching over the Jennifer Knapp-shaped-hole left in the Christian music industry after her retirement, you might consider checking out Joy Whitlock. There are a lot of similarities in artistry, both in her rootsy pop/rock style and her vulnerable lyricism. (She's also a dead ringer for Kendall Payne.) Whitlock was a bit of a problem child before recently recommitting her life to Christ, and that spiritual journey is reflected with openness and passion through songs best described as her conversations with God—"Faith Don't Fail" and "Testify" representing her side, "Don't Look Down" and "Behind the Scenes" his response. This debut runs a tad long, and thus it's occasionally repetitive, but it also reveals this budding artist's impressive capacity for range. "Beautiful" is a perfect representation of her radio-friendly acoustic pop style while "In This Hour" shows greater sophistication, and the apocalyptic "Day of the Lord" dives headfirst into a heavier alt-pop feel. Whichever stylistic direction Whitlock chooses to take on her next project, it will be a pleasure to eavesdrop on more of her conversations if they're as insightful and heartfelt as these.
Click here for the original review.
View the artist page.
Interested in seeing other Best New Christian Artist alumni from years past? View our best-of lists archiveby clicking here.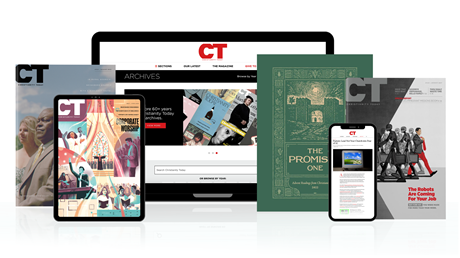 Annual & Monthly subscriptions available.
Print & Digital Issues of CT magazine
Complete access to every article on ChristianityToday.com
Unlimited access to 65+ years of CT's online archives
Member-only special issues
Subscribe
Best New Artists of 2008
Best New Artists of 2008