The rain started to hit Jimaní, a town along the heavily deforested border of the Dominican Republic and Haiti, in late May 2004. After three days and 20 inches of torrential rainfall, the surrounding water-saturated mountains suddenly released tons of debris. Flash floods swept up boulders, some weighing eight tons, and sent a 15-foot wall of water and mud down onto sleeping villagers on the night of May 24.
Within minutes, about 2,000 lives were wiped out. The dead were found lodged in trees and entombed in debris fields and sandbars throughout the impoverished border region in south-central Hispaniola, the island comprising Haiti and the Dominican Republic. On the Haitian side, the entire village of Mapou was submerged, becoming a shallow lake. On the Dominican side, the waters destroyed about half of Jimaní.
Since 1986, 12 flash floods have hit Hispaniola, and each has created similar havoc. Flash floods are problem enough, but starting about 25 years ago, peasants began using intensive slash-and-burn agricultural methods to cut down forests for fuel and charcoal. Slashing and burning significantly increases the chance of landslides, and Dominican officials began instating stringent regulations in the 1960s to limit deforestation. But on the Haitian side, 90 percent of trees have vanished across the landscape, creating a brown-green line visible in satellite photos of the island, and leaving border towns especially vulnerable during flash floods.
Three-Part Mission
"People need trees," Scott Sabin, the president of Floresta, told Christianity Today. Sabin invited CT to visit Jimaní five years after the flooding disaster to witness how ministries were working with local pastors to address problems caused by deforestation.
Based in San Diego, Floresta has been planting trees in the Dominican Republic since 1984. Last December, the organization passed a milestone when it planted its four millionth tree worldwide.
"While it took us seven years to plant the first 500,000 trees, we now plant that many every year," Sabin said. His organization, whose goal is to plant a million trees each year by 2012, also works in Haiti, Mexico, Tanzania, Thailand, Kenya, and Burundi. (For a closer look at Floresta in Mexico, visit ChristianityToday.com/go/oaxaca.)
Many environmental programs focus on reforestation only, leaving other groups to address the deeper issues of chronic poverty, corruption, and harmful farming practices. Not so with Floresta. Its vision is to address the intimate, complex relationships between people and God's creation. "Plant with Purpose" is one of its newest messages to poor farmers and to partnering churches in the United States.
Floresta sees environmental problems as God-sized challenges. Its goal is not only to prevent more flash flooding, but also to make land restoration a profitable venture for subsistence farmers. If farmers gain visible benefit from reforestation and soil conservation, they will abandon traditional farming methods for ones that transform the landscape and their own lives. To break the cycle of poverty, Floresta promotes "agro-forestry"—planting trees near traditional crops to benefit both farmers and the land.
Floresta also promotes the gospel as central to any lasting cultural change. It believes that hope in Christ brings a shift in worldview and empowers the poor who subsist outside the globalized economy. It has been Floresta's experience that without Christian discipleship, some farmers are tempted to squander their new-found profits instead of investing in their communities, farms, or families. With Floresta's encouragement, 61 churches in 40 Dominican communities launched 288 Bible studies for Floresta's program participants in 2008. About 2,000 farmers attended the Floresta Bible studies, and about 500 embraced Christ as their Savior.
Calvin DeWitt, founding director of the Au Sable Institute of Environmental Studies, told CT that Sabin is "always pursuing his mission" to reform the way people live and work to restore balance with the environment. "A lot of us feel that's what we want to do. Scott has been able to figure out how to do it."
Floresta's three-part mission of environmental stewardship, economic development, and spiritual discipleship is unique among creation-care groups, said Jim Ball, the longtime director of the Evangelical Environmental Network. Until very recently, no one else was doing all three. Two new groups, Eden Vigil and Care for Creation, aim to address these areas, but Ball said no other Christian relief and development organization has Floresta's lengthy, holistic track record.
In April 2009, seven evangelical relief and development agencies, including World Relief, World Vision, and Food for the Hungry, joined Floresta to form the Evangelical Collaboration for Climate Adaptation, an initiative that recognizes the vital link between responsible forestry and relieving poverty. "I definitely think that within a decade, this will be a much more important part of evangelical relief and development organizations," Ball said.
Some of Floresta's newest supporters are North American church leaders. Pastor Mike McClenahan and Solana Beach Presbyterian Church in Southern California partner with Floresta in Oaxaca, Mexico. McClenahan has preached on practical ways Solana Beach members can care for creation. He believes community-based environmental work ends up reaching the unchurched. "People may not want to talk about Jesus, but they want to clean up the lagoon," McClenahan said. "I'm passionate about [Christians] seeing themselves as sent into the world to make a difference, whether it's for the environment, building houses in Mexico, or tutoring children in our community."
High Tech, High Touch
Reforesting denuded land is laborious and expensive. By the late 1960s, Dominican government officials, alarmed by spreading deforestation methods and severely eroding croplands, devised two solutions: they lowered the price of propane to reduce the demand for locally made charcoal, and made it illegal to cut down trees.
Their measures had unforeseen consequences. According to Carlos Disla, national director of Floresta in the Dominican Republic, trees became the enemy of poor farmers. "If you can't own what you plant, there's no incentive to plant it," he explained.
Floresta leaders now recognize that the only way to save the forest is to show farmers how to see living trees as sources of income. Broadly speaking, the ministry's strategy is to blend new technologies with intense community networking, relationship-building, and education. Its "high tech, high touch" approach features four areas of focus:
Agronomy: Farmers are introduced to using genetics, soil science, and meteorology to grow trees and seasonal crops for food, fuel, and industry.
Multi-sector model: Guided by a shared vision, the government, private enterprises, and churches work together to promote reforestation.
Best practices: Community models are designed to be sustainable, reproducible, and scalable from the village to the national level.
Exit strategy: A flexible timeline is established so that experts can step to the sidelines and local leaders can take charge.
Floresta staff say their methods are often the difference between families eating three nutritious meals a day and eating once-a-day famine meals (for example, mud cakes mixed with salt and shortening). They cite case after case in which, following the introduction of better cultivation methods, subsistence farmers (barely surviving and with little formal education) were able to build adequate housing, provide their families with food and health care, and send their children to school. Floresta also encourages families to form credit co-ops and other self-help projects that teach them to make use of on-hand supplies.
In 1984, Floresta launched what has become one of its most successful efforts, a state-of-the-art nursery where farmers receive affordable financing to purchase young trees. At Los Arbolitos, the largest tree nursery in the Caribbean, farmers own the trees they plant. Experts teach them how to manage their trees to produce fruit and wood while the trees stabilize the soil. In turn, better soil produces healthier cash crops.
Not far from Los Arbolitos, Floresta also owns a 120-acre experimental tract that has been transformed in a decade from a treeless mountainside with a dried-up stream into a verdant landscape of eucalyptuses, acacia and teak trees, and native species. With the watershed restored, the stream has begun flowing, providing clean water to villagers.
Floresta's programs have captured the imaginations of top government leaders. In the late 1990s, Au Sable's DeWitt, also a professor at the University of Wisconsin, traveled to the Dominican capital of Santo Domingo to address national leaders, including the nation's vice president. DeWitt's talk triggered enthusiasm for creation care, resulting in Floresta experts and Dominican lawmakers coordinating to pass landmark legislation in 2000 for a nationwide emphasis on reforestation. Today, the president of Los Arbolitos serves as the nation's secretary of forestry.
More than One Changed Life
For four generations, Luis García and his family have lived in Tocoa, a village in the rolling foothills northwest of Santo Domingo. In 1989, Floresta agronomists began working with García and other farmers. García's wife showed CT a Polaroid snapshot from the early '80s of the family's treeless acreage, then planted with beans, yucca plants, and potatoes. After decades of the family using traditional slash-and-burn cultivation, with no thought of soil conservation or enrichment, their land failed to yield crops.
At first, few farmers in Tocoa would join Floresta's program due to rumors that the ministry would steal their land. But García opted to take a risk. Agronomists visited his 180-acre farm and taught him about tree cultivation, grafting, and planting living barriers to create terraces that prevent erosion. García planted his land with quick-growing eucalyptuses to provide financial return within three years. He also planted slower-growing native species, as well as papaya, cacao, orange, pine, and acacia trees, which prevent further erosion, increase soil fertility by fixing nitrogen in the soil, and bring in hefty profits.
"The results spoke for themselves," said García, whose neighbors noticed when his land began producing abundantly. He sold enough to feed his family and upgrade from a shack to a solid house with indoor plumbing. The soil conservation methods also helped his farm and home survive two hurricanes and several tropical storms. He is sending his three children to college.
"Everything improved, including the health of my entire family. This is a ministry for the health of the community. There are so many sick people," García told CT. García's neighbors began joining Floresta's programs, including its small group Bible studies.
Today, healthy trees cover most of Tocoa and the surrounding region. Land once considered worthless has vaulted in value. The region has become a top supplier of eucalyptus wood. Its mission completed, Floresta has moved on to another community.
Sabin first visited the Dominican Republic in 1993. Back then, he was convinced that he could save the island nation. "Americans tend to want to go in and fix things," he told CT. "At some level I felt I was going to do it." He says it's the same attitude he sees at work in Americans on mission trips. "We think we're going to go teach agriculture. Then we realize that we're not the heroes of the story. Jesus is the hero. Our talents are best used in service."
High on a mountain above still-devastated Jimaní, new possibilities are taking root. Disla took CT on a one-kilometer hike up a muddy path to the acreage of Florito Batista Ferreras, a local farmer. Using Floresta's methods, he has started growing celery and cabbage and has put up living barriers to control erosion, something once locally unheard of. Last December, when Florito sold his cabbage—a popular food at Dominican Christmas celebrations—he earned the equivalent of US$1,000.
After the two men survey the cabbagefield, Disla offers to pray over the crop. Florito gladly accepts.
Deann Alford, based in Austin, Texas, is a senior writer for Christianity Today.
Related Elsewhere:
This article accompanies "A Grounded Faith: Mexican ministry branches out beyond tree planting to bring healing to souls in a barren land.'
Have something to add about this? See something we missed? Share your feedback here.
Our digital archives are a work in progress. Let us know if corrections need to be made.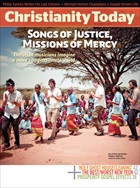 This article is from the November 2009 issue.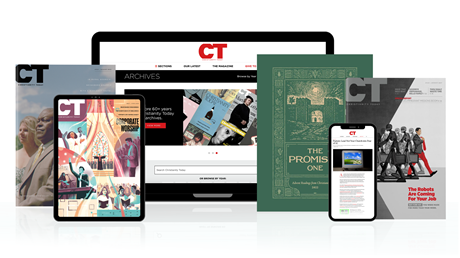 Subscribe to Christianity Today and get access to this article plus 65+ years of archives.
Home delivery of CT magazine
Complete access to articles on ChristianityToday.com
Over 120 years of magazine archives plus full access to all of CT's online archives
Subscribe Now
Trees Of Life
Trees Of Life