Scot McKnight is right to insist that the Gospels rather than scholars' speculations are where we encounter Jesus. I myself recently argued in The Historical Jesus of the Gospels that the Gospel writers' portrait of Jesus makes much better historical sense than scholars' historical reconstructions do.
But, while I agree wholeheartedly with Scot's main point, I want to make a case for why historical Jesus studies remain valuable.
Is Jesus Research Dead?
I believe Scot underestimates the continued interest in historical Jesus research and, therefore, the importance of engaging it. While the historical Jesus group may have declined at the Society of Biblical Literature meetings, publishers and the media continue to address the topic. Likewise, scholars continue to publish and hold international symposiums on historical Jesus topics (e.g., the 2007 Princeton-Prague Symposium). Quests for the historical Jesus come and go, but no sooner are postmortems pronounced for one than another quest in a new form seems to rise. The persistence is inevitable so long as public interest in Jesus remains and current historical approaches survive.
As long as the historical questions are being asked, then, it is important for the Tom Wrights, Ben Witheringtons, and the many other believing scholars engaged in the discussion to articulate their perspective. While historical methods do not answer theological questions or compel faith, I can testify that in my much younger days as an unchurched atheist, they would have invited me to consider it.
Used rightly, these methods can be friends rather than foes of faith. The academy's ground rules are limited, not always fair, and themselves open to challenge. Some methods, such as the double dissimilarity criterion, are now widely rejected. But many of the principles provide a minimal basis for dialogue among scholars of different persuasions. Through that dialogue, we can establish at least some historical information on which most scholars can agree.
For example, historians would normally take very seriously biographies written within a generation or two of their subjects. I contend that if skeptics really treated the Gospels as they treat other historical documents, they would be less skeptical. Using standard historical methods, we can challenge many skeptics' doubts about Jesus.
Problems with Conventional Methods
Some helpful criteria used by historians today go back to ancient historians, who probably indirectly provided models for Luke the Evangelist. Conventional historical methodology, however, never tells us everything about someone in the past. Nor does it provide the theological meaning of their actions or bring us into a living relationship with that person. Historical methods merely offer probabilities based on limited evidence. It is the nature of these methods that some events deemed historically improbable by scholars actually happened, while some events deemed probable actually did not.
Quests for the historical Jesus come and go, but no sooner are postmortems pronounced for one than another quest in a new form seems to rise.
Historiography—particularly the method by which historians weigh evidence and write history—thus proves inadequate to arbitrate revealed truth about God's activity in history. Critics often work, to varying degrees, from a hermeneutic of suspicion, but Christians live by what New Testament scholar Richard Hays calls a hermeneutic of trust. Some skeptical scholars argue that we can believe only what we can prove using their methods (and then often place the bar of evidence impossibly high). In such cases, dialogue may require not just providing historical evidence, but also challenging our critics' starting assumptions. Some further define historical method as excluding supernatural causes. Many philosophers today rightly challenge this assumption.
The historical Jesus dialogue will not go away. It affects public discourse; hence, evangelical scholars dare not ignore it. If you desire to experience the risen Lord personally, however, trust God, read the Bible, worship, pray, evangelize, and engage the world's need. Scot's reminder is therefore critical.
Craig Keener is professor of New Testament at Palmer Theological Seminary at Eastern University, Pennsylvania. He is the author of various books, most recently The Historical Jesus of the Gospels (Eerdmans).
Related Elsewhere:
This article is a response to Scot McKnight's cover story on "The Jesus We'll Never Know."
Other responses include N. T. Wright: We Do Need History and Darrell Bock: We Need Context.
Previous Christianity Today articles on Jesus include:
King Jesus the Disguised | There's a reason it's not easy to spot him. (December 22, 2006)
The Jesus I'd Prefer to Know | Searching for the historical Jesus and finding oneself instead. (December 7, 2008)
The Jesus We Never Got | Elijah stands for what I want in a God: someone to offer an escape route around life's messiest problems. By Philip Yancey (December 8, 1997)
Previous CT articles by Craig Keener include:
The Truth About the Religious Violence in Jos, Nigeria | It's not easy to state who started it or how many died. But the horror for those affected is clear. (January 21, 2010)
Mutual Mayhem | A plea for peace and truth in the madness of Nigeria. (November 1, 2004)
Directions: Veils, Kisses, and Biblical Commands | The temptation is to appeal to "common sense" as to what is time-bound and what is not. (October 26, 1998)
Have something to add about this? See something we missed? Share your feedback here.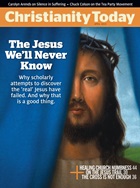 This article is from the April 2010 issue.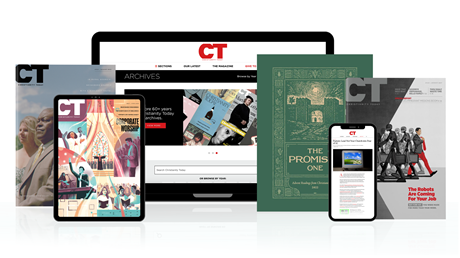 Annual & Monthly subscriptions available.
Print & Digital Issues of CT magazine
Complete access to every article on ChristianityToday.com
Unlimited access to 65+ years of CT's online archives
Member-only special issues
Subscribe
Abandon Studying the Historical Jesus? No, Jesus Studies Matter
Abandon Studying the Historical Jesus? No, Jesus Studies Matter