Once there was a good Christian girl who dreamed of growing up, getting married, and having children. She read all the right books and did all the right things. She read about how she was a princess in God's sight and how he wanted the very best for her. She committed herself to sexual purity, to high standards, and to waiting for the good Christian man that God was going to bring her.
Just as she was getting old enough to start dating, however, she noticed something. Some of the popular Christian books were talking about not dating at all, and just being friends, until God had made it clear that the guy she liked was exactly the right one for her. Her Sunday school teachers taught from a very popular book about how dating was unbiblical, and how a truly righteous young Christian man would initiate a courtship with marriage as the goal, working in tandem with the girl's father and the pastor and others in the church body.
The heroine of our story observed that as these things were being taught, the level of romantic involvement among her peers at church, not very high to begin with, shrank to practically nonexistent.
But the knowing ones, the Christians who seemed to have all the answers, told her, "You're young, there's plenty of time, and you need to learn patience." So she concentrated on her education without worrying too much about men. She graduated from college and found a good job, and then she started to look in earnest for the right man. All the guys in her church were apparently still waiting for the divine signal to initiate courtship (an idea that she had never really taken to), but there were dating websites, and there was the occasional colleague or friend of a friend.
So the girl dated around for a while, but nothing seemed to work out. She remembered her high standards and tried her best to be faithful to them. She wasn't going to settle for a young man who wasn't strong in his faith, mature, well-mannered, and kind.
And the knowing ones shook their heads and said, "You're too picky."
So the girl tried harder to make things work. She tried to give every reasonably decent guy every chance she could. She spent as much time as she could with as many Christian guys as she could.
And the knowing ones shook their heads and said, "You're spending too much time just being friends with guys. They need to know you're romantically interested."
The girl worked on learning to show she was romantically interested. She tried to smile and flirt and be nice and dress prettily. And the knowing ones shook their heads and said, "Watch it, you're being too forward. Let the man pursue you. They don't like it when you do the pursuing."
So the girl worked on being passive. She was quiet and meek and let the guys start every conversation. And she got fewer and fewer dates as time went by. She had her 30th birthday, and then another birthday, and then another. And the knowing ones shook their heads and said, "You've spent too much time and energy on school and work. How did any of that teach you to be a good wife and learn to follow a man? You should have married young and had children long ago."
And guys saw that she wasn't dating very often and scoffed, "Look at her—she won't go out with anyone. She's seen too many Disney movies. All she wants is a Prince Charming. Who does she think she is, a princess?'
And the knowing ones heard, and shook their heads, and said, "That Jane Austen craze put ideas in your head. You just want a Mr. Darcy to come sweep you off your feet. Why can't you just marry a nice man whether you love him or not? Who says you have to have feelings for him?"
The girl was given to understand, from various quarters, that it was girls like her, girls who delayed marriage, that were the trouble with her generation, with Christianity, and with the country in general. She was informed that it was her own fault that she didn't have the things that she longed and prayed for. She started to hear words like "spinster" and "bitter" and "self-absorbed" and "career woman" whispered around her.
And the girl grew tired.
She was tired of advice. She was tired of waiting. She was tired of hearing about Prince Charming and Mr. Darcy. Perhaps most of all, she was tired of shaking heads.
So she ran off with the first non-Christian man who showed some interest, asked her out, and treated her with respect. And the knowing ones shook their heads and said, "What happened to her? She used to be a good Christian girl."
Gina R. Dalfonzo is editor of The Point and Dickensblog and a writer for BreakPoint Radio. She has never run off with or dated a non-Christian guy, nor will she ever. But she's not surprised when some Christian girls do.
"Speaking Out" is Christianity Today's guest opinion column and (unlike an editorial) does not necessarily represent the opinion of the publication.
Related Elsewhere:
Previous Christianity Today articles about singleness and dating include:
Article continues below
The Case for Early Marriage | Amid our purity pledges and attempts to make chastity hip, we forgot to teach young Christians how to tie the knot. (July 31, 2009)
Restless, Reformed, and Single | Online dating services argue that God can use virtual reality too. (July 31, 2009)
Choosing Celibacy | How to stop thinking of singleness as a problem. (September 12, 2008)
30 and Single? It's Your Own Fault | There are more unmarried people in our congregations than ever, and some say that's just sinful. (June 21, 2006)
Sex in the Body of Christ | Chastity is a spiritual discipline for the whole church. (May 13, 2005)
Would a Christian Bachelorette Be Different? | A panel of Christian singles discusses the proliferation of reality dating shows and the turn from seeking one-night stands to seeking spouses. (Feb. 1, 2003)
The Man Who Ignited the Debate | An interview with I Kissed Dating Goodbye author Joshua Harris (June 11, 2001)
Solitary Refinement | Evangelical assumptions about singleness still need rethinking (June 11, 2001)
Kissing Nonsense Goodbye | A slew of recent dating books are asking the wrong question (June 11, 2001)
A Singular Mission Field | There are more single people in America than ever—and they need the church as much as ever. (June 11, 2001)
Women Churchgoers 'Face Growing Difficulty in Finding Partner' | British magazine says church is out of single men, especially older ones. (June 7, 2000)
Her.meneutics, Christianity's Today's blog for women, has several posts on dating.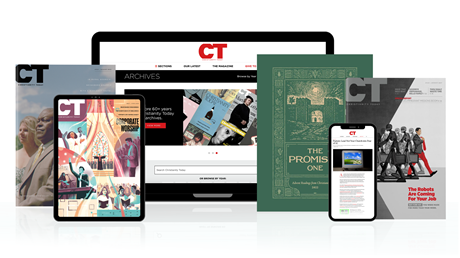 Annual & Monthly subscriptions available.
Print & Digital Issues of CT magazine
Complete access to every article on ChristianityToday.com
Unlimited access to 65+ years of CT's online archives
Member-only special issues
Subscribe
The Good Christian Girl: A Fable
The Good Christian Girl: A Fable