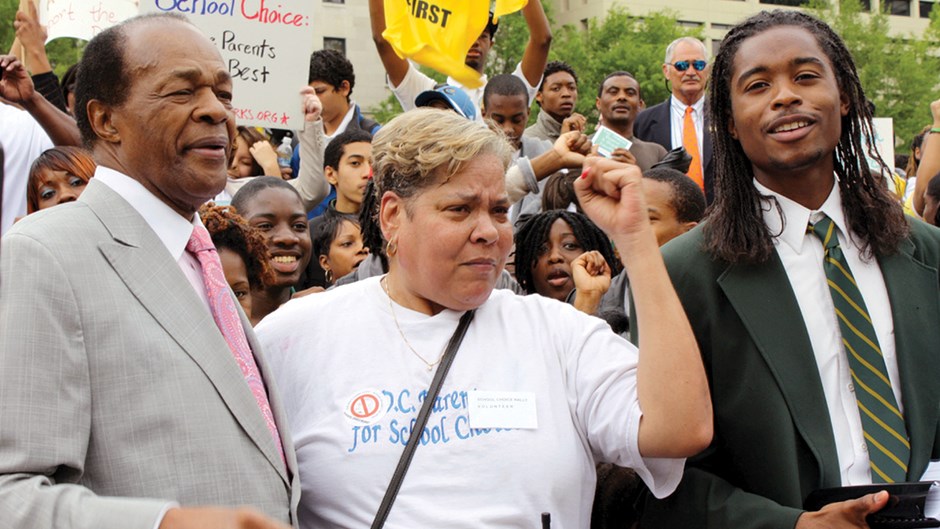 Image: Courtesy of House Committee on Education and the Workforce
Since launching in 2004, Washington, D.C.'s voucher program has helped send over 3,200 disadvantaged D.C. students to private school. The idea is simple enough: Parents receive a sum of taxpayer money to use to send their children to a better school, public or private. But opposition centered on the use of federal funds for religious education crystallized in 2009, when opponents convinced lawmakers and the White House to cut funding.
Among those who responded were Virginia Walden Ford, the founder of D.C. Parents for School Choice, and Kevin Chavous, a board member of the Black Alliance for Educational Options, a network of education activists. The groups ran ads, sponsored rallies, mobilized parents, and even staged a civil disobedience protest in front of the Department of Education building.
"Fighting for this under a president for whom most of our families voted has been really hard. They believed in him, and he didn't support the program," said Ford. "It was devastating." The battle in D.C. is a microcosm of one raging across the country.
Spectacular Gains
Ford said that school reform has always felt like a calling, thanks to her family's history.
Growing up in Little Rock, Arkansas, Ford's parents were prominent public school educators at the height of the civil rights movement. They attended White Memorial United Methodist Church, where Ford was president of the Methodist Youth Fellowship. The family's efforts to get Ford and other black children into desegregated public schools incited hate from the KKK, who threw rocks at the Fords' windows and planted a burning cross in their yard.
Her son's experience in public school has also fueled her fight. "Drug dealers were courting him," said Ford, until a neighbor offered to pay his tuition to any private school. They selected Archbishop Carroll, a top Catholic high school in northeast D.C. "It was like a miracle," she said. "It saved his life. That's why I have to fight."
Ford has been a vocal champion of the D.C. Opportunity Scholarship Program, the first federally funded school voucher program. It allows students to leave some of the nation's lowest-performing public schools and attend private schools using federally funded tuition vouchers.
Ford's vision for school choice has gained traction across the country. According to the Heritage Foundation, 41 states, including the District of Columbia, have introduced or passed school-choice legislation in 2011. Eight states established new educational programs, while eleven others augmented or expanded existing programs.
Such reforms are largely due to Republican 2010 election gains. Governors and GOP-majority state legislatures have enacted education plans aimed at injecting greater choice, reform, and competition into public education.
New coalitions have broken down political boundaries and drawn activists to a common goal. "It's like nothing I've seen in my lifetime," said Clint Bolick, a lawyer with the Arizona-based Goldwater Institute and a defender of many high-profile school voucher programs. "You primarily have Republicans joining forces with low-income communities, faith-based communities, [and] a fair number of liberal activists including black mayors and legislators."
The result, Bolick said, has been "almost constant momentum over the past decade that culminated with spectacular gains this year."
This September, Wisconsin lifted restrictions on the number of students who can participate in Milwaukee's Parental Choice Program, the nation's longest-running voucher program. The state established a similar program in the neighboring city of Racine.
Earlier this year, Indiana implemented a progressive education-reform plan that includes a voucher program that will allow more than 50 percent of low- and middle-income students to attend private or religious schools. The state also has a new tax-deduction program for families who are already in private schools or are homeschooling, and has relaxed restrictions on charter schools.
Ohio dramatically expanded its Edchoice Scholarship Program, increased its cap and pool size of eligible students, and established a new program for special-needs students.
Georgia, Oklahoma, Iowa, and Florida are among the states that have new or enhanced tax-credit scholarship programs. In addition to its New Orleans—based school voucher program, Louisiana now offers greater state income-tax breaks for private school tuition. In North Carolina, parents of children with special needs can now claim a tax credit for private-school tuition expenses (up to $6,000).
Arizona has the nation's first educational savings account program for special-needs children. The state deposits 90 percent of the per-pupil educational funding into a savings account that parents can use for a broad range of expenses. (The program is now being challenged in court.)
This spring, the U.S. Supreme Court tossed out a legal challenge to an Arizona program in which taxpayers gain tax credits for donations to local nonprofit scholarship funds. In 2009, the program provided an average of $1,889 in private-school tuition scholarships to 27,500 students.
A Contested Struggle
These gains, often parent-led, have not gone unchallenged. In several states, teachers' unions and church-state watchdogs are contesting the programs.
'Public schools are packed with people who want to serve kids, but they're in an institutional context that doesn't empower that. I see school choice as the best thing that could happen to public schools.'—Greg Forster, the Friedman Foundation for Educational Choice
The Indiana State Teachers Association has sued over the state's new voucher program, currently funding nearly 3,800 students. Students use vouchers worth up to $7,930 to attend one of the 250 participating private schools, all but six of which are religious. The union has argued that the program violates the state's constitution and will siphon off funds from public schools.
In Florida, a teachers' union has challenged a Republican-led ballot proposal to repeal the state's Blaine Amendment, which bans the public funding of churches and religious organizations. The union says the effort is "a shady way of opening the door for school vouchers for all." Proponents counter by saying that lifting the ban would prevent religiously affiliated schools from being discriminated against.
In Colorado, Americans United for the Separation of Church and State and the American Civil Liberties Union successfully sought an injunction blocking Douglas County's new Choice Scholarship pilot voucher program. Some 14 of the 19 private schools approved to participate are religious.
Attorney Bolick is part of the legal team that successfully defended Cleveland's voucher program before the Supreme Court in a landmark 2002 case. He said that even in states with Blaine amendments, where vouchers have been struck down, school-choice supporters still have many options.
"We now have four arrows in our quiver: private-school vouchers, tax credits, education savings accounts, and charter schools," said Bolick.
The movement has grown among African American Democrats, many of whom believe school choice is the new civil rights struggle. "School choice has become a bipartisan principle," said Greg Forster, senior fellow at the Friedman Foundation for Educational Choice, based in Indianapolis.
The Black Ministers' Council of New Jersey, which represents more than 600 African American churches, is engaged in a drawn-out battle to pass a tax-credit scholarship program. Derrell Bradford, executive director of Better Education for New Jersey Kids, said there is "very visible outrage among black leadership, particularly clergy" over efforts within the Democratic Party to block educational choice.
In Florida, black churches and pastors are also actively backing school choice programs, while the John McKay Scholarship for Students with Disabilities Program provides private-school tuition vouchers to 20,000 students with special needs.
More than 34,000 low-income students benefit from the Florida Tax Credit Scholarship Program, which gives tax credits to businesses that fund scholarships. Two-thirds of recipients are black or Hispanic. The program had received 33,000 new applications, and 9,000 students were on the waiting list.
"Through these two scholarships, it's now possible for private schools in the low-income, African American, and Hispanic communities to become viable," said Doug Tuthill, a former teachers' union president. He now heads Step Up for Students, the Tampa-based nonprofit that administers the tax credits. "We've seen an explosion of these schools that normally wouldn't make it financially," he said. "Increasingly, black churches and black community groups are able to create their own schools, and they're sustainable."
H. K. Matthews, a Florida pastor, is another champion of the state's school choice programs. Former president of the Pensacola Council of Ministers, Matthews was jailed repeatedly in the 1960s for staging civil rights demonstrations. He said his desire is not to take monies away from public schools.
"We have to face reality," said Matthews. "I've seen too many children who have come out of school choice and have nothing but positive stories." At the voucher-backed private schools in Florida, "I have seen what I would call deliverance."
Choice Results Disputed
As with most public-policy issues, both sides in the school choice debate use research to bolster their case. Last March, the Friedman Foundation released a report summarizing ten empirical studies of school voucher programs. Nine found that vouchers "improve student outcomes" for all or some of the students. None reported a negative impact.
'We now have four arrows in our quiver: private-school vouchers, tax credits, education savings accounts, and charter schools.'—Clint Bolick, school-choice attorney
And last year, the Department of Education's research institute found that participation in D.C.'s voucher program "raised a student's probability of completing high school by 12 percentage points, from 70 percent to 82 percent, based on parent reports."
Meanwhile, a report this summer from the pro-public education group Center on Education Policy found that long-term studies of publicly funded voucher programs have "generally found no clear advantage in academic achievement for students attending private schools with vouchers."
Education historian Diane Ravitch has noted that "20 years after the initiation of vouchers in Milwaukee and a decade after the program's expansion to include religious schools, there was no evidence of dramatic improvement for the neediest students or the public schools left behind."
But others say such conclusions ignore important facts, such as voucher students' increased graduation rates and high parental satisfaction. University of Wisconsin—Madison professor John Witte, an official evaluator of the Milwaukee voucher program, said that while there has not been "a great deal of difference in achievement based on test scores," there are other positive outcomes.
"The demand continues to grow," said Witte. "Survey evidence in all of these cases, including Washington, D.C., shows satisfied parents, more satisfied than public school parents. So in those regards, there certainly is a positive aspect to it."
Reform and Transform
Few school reformers seek to end public education altogether. Rather, many have committed to comprehensive change, including a role for school choice programs, in the short term at least.
Sajan George, founder of Matchbook Learning, has worked as a consultant for some of the nation's largest school districts. "I'm not against vouchers," said George, also an elder at Perimeter Church in Johns Creek, Georgia. "I am for anything that broadens the choices parents have for their children and breaks the monopoly of the local neighborhood poor-performing school.
"However, vouchers can never scale to meet the needs of all, most, or even a minor percentage of children. Eventually you run out of available seats at good private schools, and you're back to trying to reform broken public schools."
The Friedman Foundation's Forster said, "School choice is the way to transform the incentives of the system so that public schools will have an institutional mission focused on serving parents and students.
"The public schools are packed with people who love kids and want to serve them, but they're in an institutional context that doesn't empower that. I see school choice as the best thing that could happen to public schools."
Last April, Congress reauthorized the D.C. program for five more years, expanding it to impact more children. In June, voucher advocates celebrated the program's renewal on Capitol Hill.
"This program opened doors for me," said 19-year-old Ronald Holassie, a voucher recipient and Archbishop Carroll alum who attends a Florida university. Looking toward Ford, Holassie declared, "You have absolutely changed my life."
Sheryl Blunt, a Christianity Today senior writer and 2009 Phillips Foundation fellow, is based in Washington, D.C.
Related Elsewhere:
Previous Christianity Today articles on education and school choice include:
The Lasting Effects of Your School | A new survey found that Christian schooling makes a difference—and that different kinds of Christian education produce different results among their graduates. (August 29, 2011)
Agents of Translation: Philip Eaton on 'Engaging the Culture, Changing the World' | Christian colleges should fluently speak the language of both the gospel and the surrounding culture. (August 16, 2011)
School Choice 2.0 | Supreme Court weighs Arizona tax credits. (December 7, 2010)
Breaking Up a Monopoly | The Supreme Court has put parents back in charge of their children's education. (August 5, 2002)
Have something to add about this? See something we missed? Share your feedback here.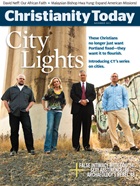 This article is from the November 2011 issue.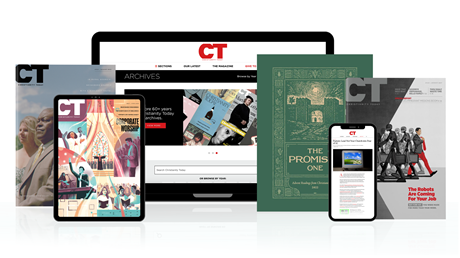 Subscribe to Christianity Today and get access to this article plus 65+ years of archives.
Home delivery of CT magazine
Complete access to articles on ChristianityToday.com
Over 120 years of magazine archives plus full access to all of CT's online archives
Subscribe Now
School Choice Programs Snowball
School Choice Programs Snowball