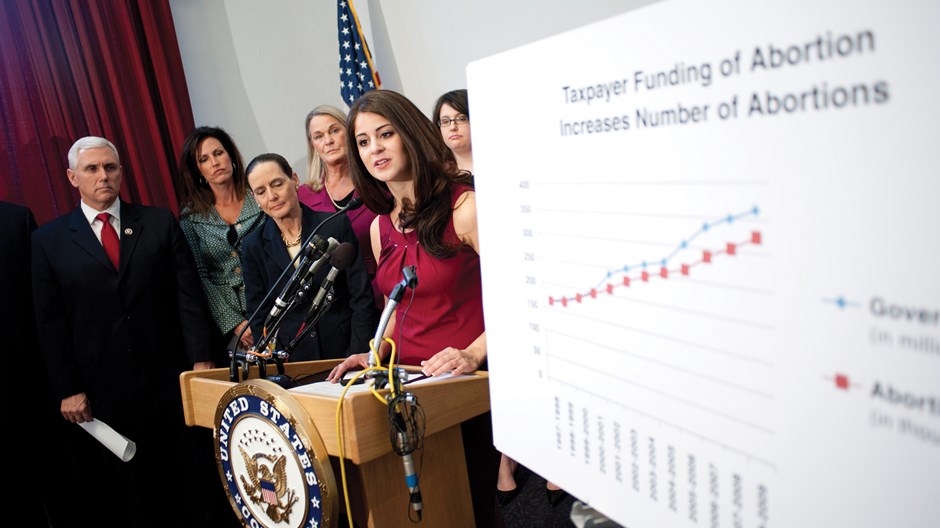 Image: Pete Marovich / ZUMA press / Newscom
Planned Parenthood Federation of America president Cecile Richards called 2011 "the most difficult year in our history." With yesterday's announcement that the Susan G. Komen for the Cure Foundation is ending its grants to the organization, 2012 isn't looking too good for the organization, either.
Komen had provided more than $600,000 to Planned Parenthood last year for breast exams and breast-cancer education. And while pro-life groups are cheering the move, they have their sights set on a much bigger target: the hundreds of millions of dollars Planned Parenthood receives in government funding. Building on successful defunding efforts in 2011, pro-life groups aim to keep more taxpayer dollars out of the hands of the nation's largest abortion provider.
The $1 billion-a-year organization said in its most recent annual report that it performed 329,445 abortions in 2010. $487 million, 46 percent of its revenue, came from government health service grants and reimbursements. The organization cannot legally use taxpayer dollars for an abortion. But, pro-life activists allege, the agency does not segregate funds as it should, effectively resulting in taxpayer support for abortion.
Employee scandals, government deficits, and budget-cutting lawmakers have provided a rare opportunity for pro-life groups to advocate for defunding Planned Parenthood. This year, pro-life leaders believe the House of Representatives will vote as it did last year to remove federal funding. (The measure failed in the Senate in 2011.) At the state level, Planned Parenthood has lost about $80 million in government funds in the past year, triggering budget cuts and clinic closures.
"The unprecedented attack on women's health care access," Wisconsin affiliate president Teri Huyck wrote in an opinion piece, "has been unlike anything I have ever seen in my lifetime."
Even Planned Parenthood insiders are joining the critics. Seven former Planned Parenthood employees have volunteered to testify against the organization at any congressional hearings that may occur. Abby Johnson, a former Planned Parenthood clinic director who now works as a policy analyst for Americans United for Life (AUL), is likely to give testimony. "No one understands better than Abby how intertwined abortion policy and government funding have become," said AUL president Charmaine Yoest.
Francis Beckwith, author of Defending Life: A Moral and Legal Case against Abortion Choice, told Christianity Today, "The pro-life movement has a strange new respect. Pro-lifers have become more sophisticated, having better arguments."
Road to Investigation
A series of events caused abortion and abortion policy to stay in the public eye almost continuously for more than a year. Beckwith, a philosopher at Baylor University, said these events in part have exposed "the dark underbelly of Planned Parenthood."
Last February, members of the pro-life group Live Action posed as a pimp and prostitute in hidden-camera exposés. They asked for and received help from Planned Parenthood employees in four states to obtain abortions for the underage girls they supposedly "managed."
The exposé came after years of research convinced Live Action president Lila Rose that Planned Parenthood covers up the sexual abuse of its patients. Rose said of the videos, "I've never been in a Planned Parenthood clinic where they've done the right thing. They're always willing to work with [the abuser] or get a secret abortion for underage girls."
However, Planned Parenthood did alert the FBI to a potential sex trafficking ring, according to a press release. The organization decried the videos as doctored but mandated that staff be retrained in how to handle situations where a girl may be the victim of abuse. The clinic manager in the New Jersey office was fired as a result of the videos. Planned Parenthood's national office did not return several phone calls seeking comment for this story.
The videos, which became a rallying point for pro-life advocates, were released less than a month after Rep. Mike Pence (R-Ind.) introduced a bill to the House that would ban federal funding for abortion providers. Several pro-life Democrats cosponsored the bill.
"Every American should be shocked that an employee of the largest recipient of federal funds under Title X has been recorded aiding and abetting underage sex trafficking," Pence said, calling for his colleagues to vote yes on his bill.
They did. The amendment to defund Planned Parenthood passed the House of Representatives easily in February but lost 42 to 58 in the Senate. No Democratic Senator voted for defunding. At the same time, 11 states eliminated or decreased funding to Planned Parenthood. Among them:
• New Jersey Governor Chris Christie cut $7.5 million from Title X funding, which aids low-income people with family planning and reproductive health issues. The money was redirected to health centers that do not provide abortions.
• The Indiana legislature denied public funding of abortion providers, leaving Planned Parenthood without the $2 million to $3 million it usually receives from the state.
• New Hampshire declined to renew a $1.8 million contract with Planned Parenthood. The federal government later stepped in with a similar contract, but pro-life groups have sued over that decision.
Losing government funds can be crippling. Twelve Planned Parenthood clinics in Texas closed this summer after the state legislature eliminated $58 million from Planned Parenthood over the next two years. Six of Minnesota's twenty-four clinics closed after Congress cut funds to Title X. Five more in central Indiana closed.
The success of defunding in the states and in the House resulted from a significant pro-life showing in the 2010 midterm elections. While pro-life Republicans gained, pro-life Democrats lost ground. But with net pro-life gains in the Senate and the House, the defunding bills that followed were only natural, according to Weekly Standard executive editor Fred Barnes.
"When a party has adopted the pro-life cause, and it gets a majority in state legislatures and the House in Washington, it moves on those issues," he said.
The struggling economy also played a part in the surge of legislation, AUL's Yoest said. "When the economy is in such bad shape, people start understanding that our federal tax dollars are underwriting the abortion business."
The pieces were coming together, Yoest said. The House was willing to defund Planned Parenthood. Live Action took the public inside the clinics, where underage girls could apparently be treated with no questions asked. And a physician, Kermit Gosnell, made national headlines last winter when he was charged with eight counts of murder for the deaths of a woman and seven newborns in his Philadelphia abortion clinic. At the end of 2011, police arrested two other clinic doctors, charging them with homicide in connection with late-term abortions performed in Maryland.
Yoest said AUL has been tracking Planned Parenthood for 20 years. Last summer, the group put together a report alleging systemic abuses in the organization. "So we led with the economic questions," Yoest said.
Planned Parenthood in 2009 received more than $363 million from federal and state government grants, nearly double the figure from 1998, the AUL report said. During that period, the number of abortions Planned Parenthood provided rose steadily along with funding, even as the total number of abortions in the United States declined.
It's About the Money
Government funds appropriated for women's health services are supposed to pay for medical tests, contraception, and cancer screenings, not abortions. But even if government checks aren't used directly for abortions, they still subsidize the organization, pro-life advocates say.
"If I pay the rent, keep the lights on, and pay my people with tax dollars, that frees up other money," AUL spokesperson Kristi Hamrick said.
Planned Parenthood isn't keeping revenue from government separate from the rest of its income, pro-life advocates charge. "At the end of the day, the money goes into one bank account," said Johnson, the former Planned Parenthood clinic manager. "There is no separation of funds." Government reimbursements for family planning and payments from individuals for abortions hit the same account and are "completely fungible," she said.
The profit from chemical and surgical abortions is disproportionally high, according to the AUL report. One reason abortions are so profitable is high prices, Johnson said. "They look at the market," she said. "Where I worked in Texas, we were the only abortion providers, so they were running a monopoly and [could] charge whatever they wanted for an abortion."
If an abortion costs $450, she said, about $350 of that is profit.
Abortions are also lucrative because of inaccurate billing. "They're going to consider a follow-up visit after an abortion a 'family planning' visit because they'll try to sell her on some type of birth control method," Johnson said. If the woman is on Title X or Medicaid, Planned Parenthood can bill them for a reimbursement of the visit. Intentional improper billing is illegal.
Abuses and Investigation
In four states—California, New Jersey, New York, and Washington—state or federal departments of health have investigated Planned Parenthood for improperly marking up the price of drugs or incorrectly billing medicine routinely used in abortions under government-reimbursed "family planning" programs.
Those abuses, detailed in the AUL report, are part of what sparked Rep. Cliff Stearns (R-Fla.) to investigate Planned Parenthood in the House Committee on Energy and Commerce. Stearns's inquiry asked Planned Parenthood for details on how much government money the organization receives and for proof that it isn't being used for abortions. He also asked how Planned Parenthood reports suspected abuse, such as statutory rape or sex trafficking.
The investigation is already having an effect: The Susan G. Komen for the Cure Foundation told the Associated Press that says it is why it ended its funding. Spokeswoman Leslie Aun told the wire service that it recently implemented rules barring grants to organizations that are the subject of government investigations.
Stearns says he is still trying to get the requested materials from Planned Parenthood, which calls the investigation politically motivated and a misuse of power. His findings, or even the controversies over his records request and Komen's decision to halt the grants, could open the door for pro-life lawmakers in the House to vote to defund Planned Parenthood again. But passing such legislation in the Senate could be more difficult. "Look what happened a few years ago with legislation to ban partial-birth abortion," Barnes said. "It wasn't until we got a Republican President and House and Senate that it passed and the President signed it." Even then, the legislation was challenged and had to get by the Supreme Court, he said.
Democrats for Life of America (DFLA) supports legislation that would prohibit Planned Parenthood, or any abortion-providing organization, from receiving federal dollars. The group said that many Planned Parenthood local affiliates have ample funds available and do not need a federal handout. DFLA would support redirecting federal funds to assist pregnant women.
Planned Parenthood will come out swinging, said Marilyn Musgrave, a former Congresswoman and director of the Susan B. Anthony List's "Votes Have Consequences" program. "Planned Parenthood will do everything they can to keep their brand from being damaged any more than it already has."
Planned Parenthood has responded rapidly to threats of defunding. Litigation is a key strategy, said Melissa Reed, vice president of public policy with Planned Parenthood Health Systems in North Carolina.
This has been somewhat successful already. In June, North Carolina's general assembly cut $434,000 in Planned Parenthood funding despite opposition from the governor. Two months later, a federal judge ordered the state to honor the Planned Parenthood contracts until the conclusion of a lawsuit Planned Parenthood filed, arguing that the defunding was unconstitutional.
Another strategy is education, Reed said. "One in five women turns to Planned Parenthood. Ninety-six percent of our services are preventative in nature, and we are an essential community provider. We are trying to engage our activists and educate the legislatures." If North Carolina's defunding goes through, Reed said, a Planned Parenthood affiliate in Durham would have to close.
That's exactly what pro-life advocates want. Musgrave said, "In my lifetime, I've never seen more members of Congress willing to work tirelessly to defund Planned Parenthood and stand up for the sanctity of human life. It's very encouraging to me."
Nevertheless, an April 2011 CNN survey found continued widespread public support for Planned Parenthood. The phone survey found that 65 percent of respondents favor continued funding for Planned Parenthood, while 35 percent backed defunding it.
Beckwith told CT that in the short term the pro-life movement might lose the defunding battle. But it's the long-term results that matter. He cited the landmark case Plessy vs. Ferguson, in which the Supreme Court upheld racial segregation laws. In time, however, segregation was outlawed.
"Just the fact that an issue has gone from unspeakable to speakable is itself a huge shift," Beckwith said.
Sarah Eekhoff Zylstra is a writer based in Chicago.
Related Elsewhere:
Christianity Today reported yesterday on Komen's decision to end its Planned Parenthood funding.
In June, Zylstra reported on The New Pro-Life Surge, looking at the waves of anti-abortion legislation brought on by recent political developments.
In April, Tobin Grant examined various claims about Planned Parenthood funding.
More articles are available in our Life Ethics and Politics & Law areas, as well as our politics blog.
Have something to add about this? See something we missed? Share your feedback here.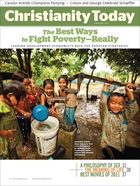 This article is from the February 2012 issue.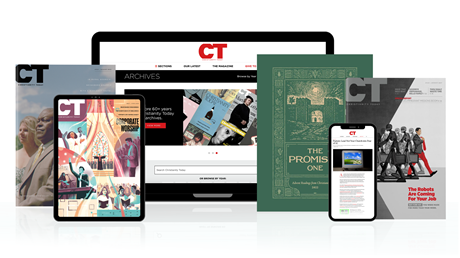 Subscribe to Christianity Today and get access to this article plus 65+ years of archives.
Home delivery of CT magazine
Complete access to articles on ChristianityToday.com
Over 120 years of magazine archives plus full access to all of CT's online archives
Subscribe Now
After Komen, the Next Big Planned Parenthood Fight
After Komen, the Next Big Planned Parenthood Fight