true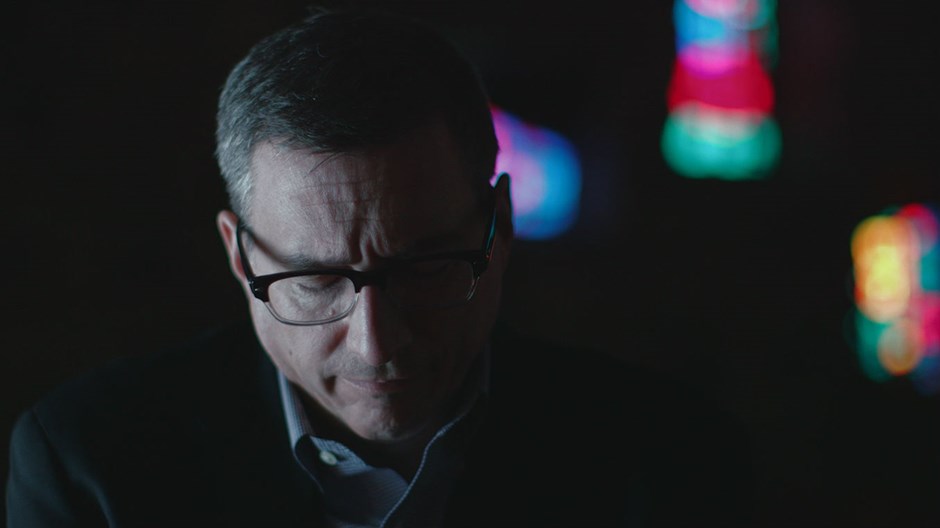 The Tribeca Film Festival, which ends today, is basically a regional festival, with nearly all screenings and events located in downtown Manhattan. It's lately getting a reputation as one of the finest festivals for documentary film, but there were a number of buzzy narrative premieres as well as movies that previously played at Sundance and are slated for release later this year, plus panels with filmmakers and mini-events about video games, interactive technologies, television, and more.
Some of the flashiest events didn't fit my work schedule, but I saw eleven movies. Below are some of the highlights.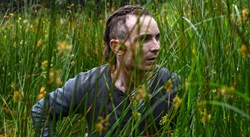 The Survivalist is a striking, chilling debut from Northern Irish writer/director Stephen Fingleton. It's the story of a man (Martin McCann) living alone in the woods after some kind of unspecified apocalypse, which seems to have happened quite a while in the past. He finds food. He gardens. He protects his land. And he's always on edge, especially when two women show up, a mother (Olwen Fouere) and her daughter (Mia Goth).
I'll be honest: the film is so raw that it can be hard to watch and pretty graphic, as I'd imagine it would be after the apocalypse. Our pop culture is flooded with post-apocalyptic stories; this one reminded me most of The Road, except it feels more real and just as dark. But it's a remarkable first film, and I can't wait to see what Fingleton does next.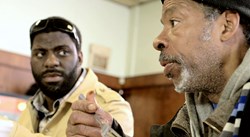 In My Father's House, a documentary directed by Ricki Stern and Anne Sundberg, follows Grammy-winning rapper Che "Rhymefest" Smith after he buys the house in which his father Brian grew up, then goes looking for him. It turns out that after being absent for most of Che childhood, he's homeless and an alcoholic. That sets off a chain of events that changes a lot of things for both Che and Brian.
Che co-wrote "Jesus Walks" with Kanye West and was a co-writer on the Oscar-winning song "Glory" from Selma, and I heard a lot of people around the festival humming the song he's working on throughout the movie, about being lost and found. Among Stern and Sundberg's other work are Joan Rivers: A Piece of Work (2010) and The Devil Came on Horseback (2007); as much as I'm reticent to use the term, this movie is a true tale of redemption, with a strong thread of grace running underneath (and made religiously explicit though not unsubtly so by Smith's wife). But it's not easy redemption; it's hard-won and imperfect, and I was glad to have seen it.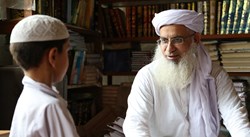 Among the Believers is another documentary, this one about the "Red Mosque" madrassah (sort of a seminary-like school, but for children) in Pakistan, which is a hard-line Islamic radical breeding ground with links to the Taliban. This is an important film. The filmmakers talk to the cleric Maulana Aziz, who declares jihad against his government to impose sharia law, but they also talk to children who had been students at the madrassah.
What the film does best, especially for an audience whose acquaintance with radicalism is delivered through Western media, is unpack the many complex factors at play in radicalism—including American and Saudi support during the Cold War, withdrawn after the fall of the Soviet Union; widespread poverty and families who send their children to the madrassah because there they'll be clothed and fed, reducing the load on the families; and a number of other factors that have contributed to increasing the number of radical madrassahs in the country.
I confess I knew next to nothing about this when I went into the film, so it was also useful to see all the global, moderate protests against the Red Mosque. But I was still left chilled by how seemingly unrelated political and social factors contribute to the kind of radical Islam that threatens many, many people in our day.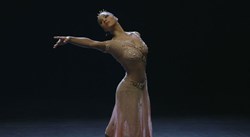 The documentary A Ballerina's Tale is about Misty Copeland, the soloist with American Ballet Theatre you might have seen in a lot of places, including that Under Armor ad that appeared in everyone's Facebook feed. Copeland, if promoted to principal, will become the first black principal dancer at a major elite ballet company.
This is remarkable, and Copeland is a great subject for a documentary—winsome, with a muscular body and unusual body shape for a dancer, and her story includes serious challenges that she needs to overcome (including wince-inducing injuries). The film also functions as an exploration of race in classical ballet, which is long overdue. Unfortunately the actual filmmaking is kind of rough; most of the camerawork is hand-held and shaky, so I was nauseated by the time I left the theater. But I hope that dance enthusiasts and regular people alike will watch the film and be both inspired by Copeland and alerted to the issue of diversity in one of our most rich, tradition-laden art forms.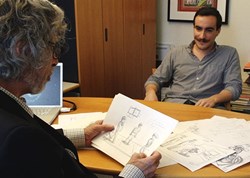 Very Semi-Serious is probably the most fun film I've seen in a long time; everyone in the theater was laughing, sometimes uproariously. It's about the comics department at The New Yorker—the main subject is the editor Bob Mankoff, but the film features a plethora of comic writers from the oldest to the youngest and newest, and a lot of other figures as well. They explore the process of printing them, the history of comics generally, the individual cartoonists, and the New Yorker's particular voice. There are also some fun parts shot in the actual offices of the magazines as they put it together, which is great for magazine nerds like me.
What's more surprising—and insanely skillful—about the film is how it becomes a story of loss and grief, then the slow work of rebuilding, in both the lives of the subjects and in the magazine more generally as part of New York City and the devastation of 9-11. This is especially poignant since the magazine, as part of Conde Nast, just moved to One World Trade—the Freedom Tower—and we were watching it sitting in a theater just a couple blocks from there. The shadow of loss and rebuilding is very alive.
(Note for families: this is a great one to watch once it's available on VOD, but beware that there are maybe two or three comics from history that are pulled out and appear on screen that are raunchier than your usual New Yorker fare, and some profanities, so you may want to stick to watching with teens.)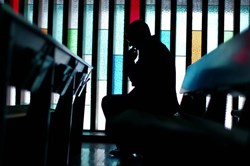 The Armor of Light is, without a doubt, the most nuanced portrayal of evangelicals I've seen on screen. And you wouldn't expect it: one of the documentary's two main subjects is Rob Schenck, an unabashedly evangelical minister, political conservative, and chairman of the Evangelical Church Alliance, who is known for his anti-abortion activism but became concerned about gun violence in the United States after the spate of mass shootings several years ago. Along the way, he met Lucy McBath, whose (black) teenaged son was killed in Florida while unarmed by a man who felt threatened under Florida's "Stand Your Ground" law.
There's so much about this film that is exemplary of a Christian view of how politics and social action ought to work, totally aside from the actual gun issue (which is of course quite divisive). Schenck and McBath don't see eye to eye on a number of issues, but they're both Christians, and early on they decide that their shared concern for the issue of gun violence and their shared faith is enough to let them work together. And Schenck starts talking to evangelical church members and leaders across the country about guns, listening in order to understand before he begins to speak. Those two things alone—working with people different from you and listening before you speak—are things our culture at large and evangelicals in particular are not known for.
As you might imagine, in a room full of New Yorkers, mostly presumably liberal, gun control isn't a hard sell. Unabashedly pro-life evangelicals are, though. But the room was warmly receptive, and the film does a good job of navigating nuance. It draws its title, by the way, from a sermon preached by Rev. Schenck at the end of the film, in which he quotes Romans 13:12: "The night is nearly over; the day is almost here. So let us put aside the deeds of darkness and put on the armor of light."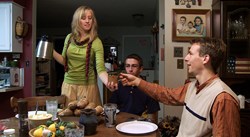 The final film was the documentary A Courtship, which startled me when I read its description in the brochure. The "courtship" in question is a Christian courtship which the film's subject, Kelly, is entering, the kind that's at least as conservative and perhaps more so than the Josh Harris I Kissed Dating Goodbye flavor.
Kelly lives with the Wrights, a couple who have agreed to serve as her "spiritual parents" as she waits for God to bring her a husband. She's lived with them for seven years, and in the film, for the first time, a young man does pass Ron Wright's screening process and starts to get to know Kelly in order to find out if they should pursue a courtship.
To me the whole thing was extremely familiar, having grown up in a world that embraced a lot of these maxims: an extreme focus on saving your first kiss until your wedding, a strong suggestion that women ought to live at home until they're married and probably not go to college, and so on. I talked to the director, Amy Kohn, who isn't religious, and asked how the crowd responded. She said that while they were understandably shocked to know that there are many people in the United States who choose to pursue relationships this way, there was also a strong sympathy for the undercurrent of romance and longing throughout the film. It's a great watch and a sensitive film that lets the Wrights and Kelly be who they are without judgment, and tries to draw out the timelessness of the story for all viewers.
Alissa Wilkinson is Christianity Today's chief film critic and an assistant professor of English and humanities at The King's College in New York City. She tweets at @alissamarie.
Watch This Way
How we watch matters at least as much as what we watch. TV and movies are more than entertainment: they teach us how to live and how to love one another, for better or worse. And they both mirror and shape our culture.
Alissa Wilkinson is Christianity Today's chief film critic and assistant professor of English and humanities at The King's College in New York City. She lives in Brooklyn.
Previous Watch This Way Columns: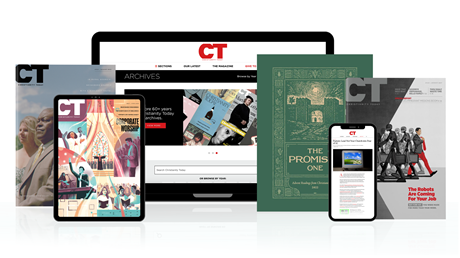 Subscribe to Christianity Today and get access to this article plus 65+ years of archives.
Home delivery of CT magazine
Complete access to articles on ChristianityToday.com
Over 120 years of magazine archives plus full access to all of CT's online archives
Subscribe Now
Tribeca Film Festival 2015 Roundup
Tribeca Film Festival 2015 Roundup