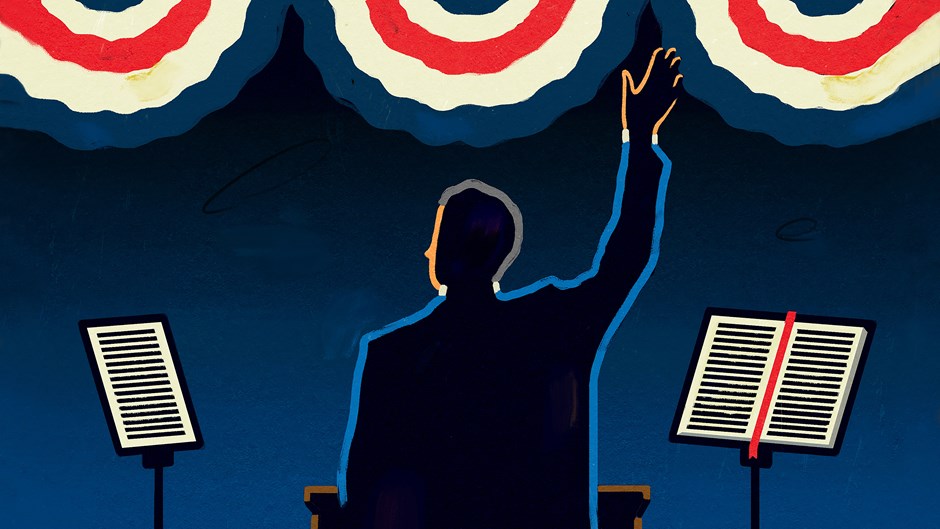 Image: Illustration by Peter Ryan
Pastor Telley Gadson was the calm center of St. Mark United Methodist Church in Taylors, South Carolina, as the congregation prepared for a visit from Joe Biden's presidential campaign and a North Carolina congressman who would speak on Biden's behalf. The historic black church is known as the 9-1-1 because of its street address. And the church did seem like it was responding to a minor emergency Sunday morning as people rushed around to get ready.
An usher burst into Gadson's office to announce a reporter from Christianity Today just as two deacons hurried out to make sure good seats had been saved for the Biden campaign staff. But Gadson was calm. "It's just another Sunday at the 9-1-1," she said.
The service kicked off with an organ trio, an amplified Hammond backed by thumping bass and drums. As the music started, about 100 people found their places in the purple upholstered pews and another 25 or 26 got up on stage. Everyone started praising Jesus.
A minister stood up and said the thing black Christians say across the South when they gather to worship: "I want to thank the Lord who woke me up this morning." And the people sang more.
Then it was the congressman's turn. G. K. Butterfield, a former head of the Congressional Black Caucus, got up in the pulpit to deliver his message, and the church got quiet. Butterfield said, "I'm here to ask you to support my friend Joe Biden. And it's easy to do, because I've known Joe Biden for a long time."
Democratic candidates are doing an unprecedented amount of faith outreach this presidential primary campaign. Some Democrats in the past have talked about their faith, like Jimmy Carter and Barack Obama. But now, almost every candidate is making a point of it.
This is more familiar territory for Republicans. The GOP has done extensive faith outreach since the 1950s, when Dwight D. Eisenhower promised church leaders that spiritual renewal would be part of the nation's defense against communism. Opposition to abortion—a non-negotiable issue for many Christian voters—and support for public religious expression have long attracted many Christians to the GOP. President Donald Trump hopes to continue that alliance, solidifying his support from white evangelicals and expanding it among Latino evangelicals. Today, Christians are more than three times as likely to see the Republican Party as "friendly to religion."
But about a third of all Democrats go to church every week. Nearly half say faith is very important in their lives, and polls show that 28 percent of evangelicals identify with the Democratic Party, along with 80 percent of black Protestants, 44 percent of Catholics, and 40 percent of mainline Protestants. And a lot of Christians are Independents, curious if a Democratic candidate might appeal to their faith values.
Two Democrats—Biden and Pete Buttigieg—have hired religious-outreach coordinators, who help their campaigns connect to pastors and articulate the moral visions undergirding their political plans. Elizabeth Warren set up an interfaith advisory council. Eight candidates have cited Scripture on the stump. Warren regularly quotes Matthew 25 at election events, giving a campaign speech/sermon about the sheep and the goats. Even Bernie Sanders, a non-practicing Jew, refers to the Golden Rule again and again.
For Christians, though, these efforts raise questions about when a candidate is using faith as a political prop. What's the difference between appealing to the Bible and exploiting it? How can Christians discern when a politician doesn't have a genuine commitment to shared values, but is just using the right words to get their votes?
Michael Wear worried about this when he was Obama's faith outreach coordinator, working to get the president re-elected in 2012. Just as Wear got started, the president changed his position on same-sex marriage, saying he had "evolved" on the issue. During the 2008 campaign, Obama told religious voters he believed marriage was only between a man and a woman. "For me as a Christian," he had said, "it's . . . a sacred union. You know, God's in the mix."
"I was forced to ask myself," Wear writes in his memoir, "would he really have used religious language to convince voters of something he did not believe?"
Wear doesn't definitively answer the question in the book and still doesn't seem to know for sure. But he does think Christians have reason to be cautious about being manipulated by religion in politics. Wear worries that some faithful voters just want to be "tickled in the right places."
"It turns into a form of identity politics," said Wear, chief strategist for the AND Campaign, a nonpartisan effort encouraging Christian political involvement. "It's not good when we're so easily appeased. We can easily fall into looking to politics for self-affirmation, instead of trying to use politics to advance human dignity and advance justice."
These concerns come up for candidates as well. How can they be honest about their faith without turning it into a strategy to win over fellow believers? Tom Steyer—the former hedge fund manager and now philanthropist running a long-shot campaign for the presidency—fears bringing his Christian beliefs into the primary race could be a kind of betrayal, according to his campaign manager, Alberto Lammers.
At the beginning of 2020, Steyer was pulling about 2 percent support in national polls and a bit higher in some of the early primary states. His campaign was trying to help him make a personal connection with the electorate, but the candidate wasn't comfortable using his religion to do it.
"He goes to church every week—usually Episcopalian or Methodist," Lammers told CT. "He really listens, and he loves singing. He loves those churches. But he just goes. He sits wherever there's space, and we don't make any sort of arrangements for media coverage."
Raised by a Jewish father and a Methodist mother, Steyer believes his religious upbringing has shaped his political vision for the country—but he doesn't want to pander to get religious votes.
"He doesn't go into a Bible verse just because the TV camera is on. He knows the Bible very well, but that's not who he is and he's not going to change who he is just to attract voters," Lammers said. It's a bit of a quandary, politically. Lammers hasn't figured out how to solve it yet. But the candidate is insistent: "That's not how he's going to talk about his faith."
Other candidates aren't afraid to talk about faith. They talk about immigration, economic inequality, climate change, LGBT rights, and war as religious issues. The candidates haven't tried to shift the party's position on abortion to appeal to religious voters. Most of the campaigns leave little to no space for opposition to abortion, or even ambiguity, conflicted feelings, or compromise on the subject. For some religious voters who might otherwise side with the Democratic party on a slew of issues, abortion is a major barrier. This campaign cycle, only Amy Klobuchar has been willing to even say the party has room for pro-life Democrats.
The candidates have, however, talked about a lot of other issues in religious terms, and it seems to be working. Campaign fundraising reports filed with the Federal Election Commission show that more than 200 Christian ministers donated to Democratic campaigns over a six-month period in 2019.
Julián Castro, who emphasized his commitment as a Catholic to caring for the poor, received 53 donations from 13 ministers before he dropped out of the race in early January. Cory Booker, a Baptist who said he had also been deeply influenced by Buddhism, received $13,000 from 19 Christian clergy before he dropped out. Warren, a Methodist who can quote the King James Version of the Bible from memory, has received 250 donations from 51 ministers. Buttigieg, an openly gay Episcopalian who has made his faith a key piece of his campaign, received more support from clergy than any other candidate, with $36,000 in contributions from nearly 100 ministers over the course of six months.
Buttigieg got his first blast of national attention in the 2020 campaign by bringing up religion. In a CNN town hall last year, the mayor of South Bend, Indiana, contrasted himself with his state's former governor, Vice President Mike Pence. He said Pence had compromised his morality by supporting Trump for president and had misconstrued the Bible with his conservative politics.
"My understanding of Scripture is that it's about protecting the stranger and the prisoner and the poor person and that idea. That's what I get in the gospel when I'm at church," Buttigieg said.
He has continued to talk that way throughout the primaries. One person who felt like the religious rhetoric resonated was Shawna Foster, a Unitarian Universalist who was ministering among asylum seekers waiting to get into the US from Tijuana when she first listened to Buttigieg. She was impressed that he spoke explicitly about his faith and was inspired by the way he could frame Democratic policies in moral terms that would appeal to Christians and non-Christians.
She decided she could trust him because he sounded so authentic. She remembers thinking "you could just tell" his faith was real.
"A lot of politicians do a rote profession of faith and then that's it. That's all they do," Foster told CT. "Pete . . . talks about his faith. And you can hear how it impacts his thinking. This is something he thinks about that's important to him and he's been thinking about it for a long time. He really has an authentic connection to faith and it shines through."
Foster became the faith outreach coordinator for the Buttigieg campaign in August 2019. She hopes that Buttigieg's rise will convince more Democratic politicians to share their religious values with voters. "We need more politicians to speak about faith authentically," she said.
Biden's faith outreach coordinator thinks Christians should trust politicians' deeds, not their words. Michael McClain was the South Carolina field director for Biden's presidential campaign in 2007. When he was first approached, he remembers he didn't know if he should trust Biden.
"You have to have great discernment," McClain told CT. "Don't sell your soul for a dollar. Don't work for a candidate you don't believe in."
McClain, the pastor of a historic black Baptist church in Catawba, South Carolina, knew the Democratic candidate would need the support of a lot of black Christians like him to win the pivotal primary state. And he knew that politicians could always talk a good talk.
"There will always be some charlatans," McClain said, "and the black church, sometimes we've been gullible."
McClain started contacting pastors in Delaware, where Biden, a lifelong Catholic, had served as senator since 1973. He called older ministers he respected. Did they know Biden? Had they worked with him? What did they think?
"They would say, 'Mike, he's solid,' " McClain recalled. " 'He's a man of his word. He's a man of integrity. He's not a bigot. He's not a racist. He cares about helping people, and you can look him in the eye, and he's solid.' "
McClain says now it's his job to get that same message to pastors in the primary campaign, especially in South Carolina. A lot of times, though, he's just reminding them of what they already know. When he gets black pastors in a room with the former vice president, the first thing they say is "Thank you for sticking by Obama." They consider that, more than anything, a testament to kind of man he is.
When the Biden campaign visited black churches in South Carolina ahead of the February 29 primary, they didn't use a lot of religious language to convince Christians that Biden believed what they believed. Instead they focused on the idea he was reliable, a steady hand, and they should support him because they could trust him.
When Congressman Butterfield took the pulpit that Sunday morning at the 9-1-1, he never mentioned Biden's personal faith. Instead, he told a story about Barack Obama, before Obama was elected president in 2008.
"One day," Butterfield said, "I asked Barack, 'Who are you gonna get to be your vice president?' Barack said, 'You know I can't tell you that, but I can tell you this. You're going to be proud of him.' And he was right. I am tremendously proud of Joe Biden and the work he's done."
Butterfield told the church he first met Biden in the early 1980s. Butterfield and some other Southern civil rights lawyers wanted someone in the Senate to amend the Voting Rights Act, to strengthen protections for African American voting rights. They went to Washington, and Biden listened to them and became their champion. In 1982, the Voting Rights Act was amended like they asked.
Biden's record on civil rights is long and complicated, but Butterfield argued it is the length that matters. He emphasized Biden's experience as a public servant for more than four decades before Obama picked him. Then he stuck by Obama. Black Christians in South Carolina, Butterfield said, should support Biden for president.
Pastor Telley Gadson has not endorsed Biden. She is flattered that the campaign would come to the 9-1-1, though. She is the church's first full-time pastor in 150 years, and now it's growing and expanding. The campaign stop is a recognition of that.
"What does it feel like," she asked the church on Sunday, "to know that when a politician comes to town, they got to come to the 9-1-1?" Everyone applauded.
The organ trio started up again and the church launched into a song about the love of Jesus while the congressman hustled out a side door to drive to another black church in nearby Greenville, South Carolina.
At the next church, Israel Metropolitan Christian Methodist Episcopal, pastor Courtney Adams preached a full sermon before he let Butterfield speak. He preached about worship, but it was also about politics.
"Did you wake up this morning with Jesus on your mind?" Adams asked the church, and people said, "Amen."
"Did you wake up and say, 'Thank you, Jesus?' " he preached. "We come here because we love a God who is worthy of worship. I don't worry about what is going on in the White House if I come into the house of God. I don't got to worry. I got to worship."
If the church was going to hear from a politician, it was going to hear this first: Don't put too much trust in a candidate. Maybe you could trust Joe Biden a little bit, the preacher suggested, but don't be gullible. The church has been gullible before. Some politicians seem solid, but they're not solid. And even when they are solid, that won't save your soul. Put your real trust in the one who woke you up this morning.
Adams invited Butterfield up to make an announcement at the end, and the congressman said, "I'd like you to prayerfully consider supporting Joe Biden on February 29." He repeated the part about being a civil rights lawyer—but quicker this time—and about how Obama trusted Biden to be his vice president. "I love Joe Biden," he finished. "I know he gets the job done."
When the congressman concluded, two women in the back stood up and applauded with vigor. Everyone else in the congregation stayed seated.
With Democrats doing an unprecedented amount of faith outreach in 2020, a lot of Christians are going to face that choice of how to respond to presidential candidates speaking to them as Christians. They will have to figure out what it means to vote faithfully on a morning when the Lord woke them up.
Daniel Silliman is news editor of Christianity Today .
Have something to add about this? See something we missed? Share your feedback here.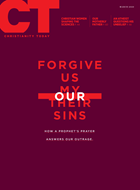 This article is from the March 2020 issue.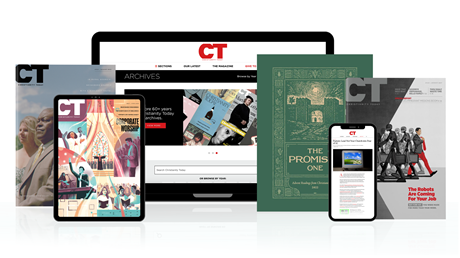 Subscribe to Christianity Today and get access to this article plus 65+ years of archives.
Home delivery of CT magazine
Complete access to articles on ChristianityToday.com
Over 120 years of magazine archives plus full access to all of CT's online archives
Subscribe Now
Democratic Christians Weigh Their Primary Concerns
Democratic Christians Weigh Their Primary Concerns