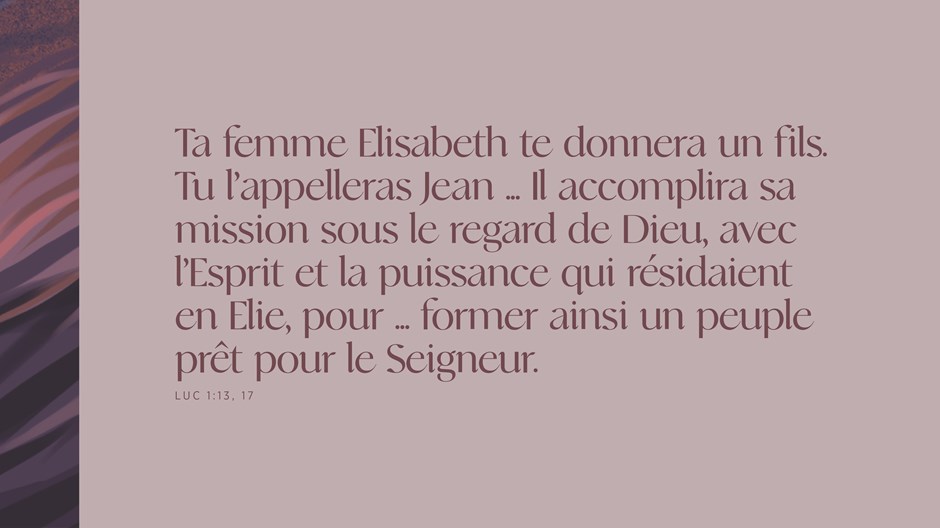 Lecture dans Luc 1.5–25, 57–66
Si vous avez grandi avec de la neige à Noël, vous savez qu'il n'y a rien de tel que le silence d'une froide nuit d'hiver. Il ne s'agit pas d'un simple cliché sentimental, mais d'une réalité de la création. La neige fraîche absorbe et amortit les sons. Le père Joseph Mohr, qui était de ceux qui ont réfléchi à ce phénomène des froides nuits d'hiver, est aussi le jeune prêtre qui a écrit les mots qui ont donné un cantique que nous chantons souvent à cette époque de l'année : « Douce nuit », ou « Voici Noël », selon les traductions.
À l'arrière-plan de la naissance de Jésus, nous trouvons un autre prêtre, Zacharie, et sa femme, Élisabeth. Luc nous dit qu'ils étaient tous deux de souche sacerdotale et nous les décrit comme des personnes fidèles et pieuses. Mais ils souffraient aussi : leur long mariage n'avait donné naissance à aucun enfant et ils étaient maintenant âgés. C'est alors qu'un miracle se produisit : l'ange Gabriel annonça à Zacharie que Dieu allait répondre à ces douloureuses prières qui duraient depuis des décennies. Ils allaient avoir un fils !
Cette histoire pourrait s'arrêter là. Ce serait un délicieux conte de Noël dans lequel la tristesse ferait place à la joie. Mais le récit nous offre une note inattendue et sombre que nous ne pouvons ignorer. Parce que Zacharie a eu du mal à croire le message de l'ange Gabriel (et qui n'en aurait pas eu ?), il est resté muet pendant toute la durée de la grossesse d'Élisabeth. Il est resté silencieux. Zacharie est passé du statut de prêtre de Dieu respectable et éloquent à celui de vieil homme qui ne pouvait communiquer que par des signes de la main. C'était embarrassant, voire humiliant. Que penser de cette tournure déconcertante ?
Dieu est toujours en train de faire mille bonnes choses dans chaque situation, même si nous ne pouvons pas les voir. On voit ici à l'œuvre son cœur plein de compassion qui donne à ce vieux couple un fils qui fera leur joie. La puissance de Dieu se manifestera également en utilisant ce fils pour introduire la rédemption dans le monde. Il deviendra le célèbre baptiseur dans le désert, rappelant le peuple à Dieu et pointant vers Jésus.
L'histoire de Zacharie nous montre que Dieu continue d'accomplir son œuvre de bonté et de grâce, même au milieu de notre fragilité et de notre incrédulité. La foi chancelante de Zacharie n'était pas un obstacle à la puissance de Dieu. Bien que son silence forcé ait pu être frustrant et humiliant, il s'agissait en réalité d'un cadeau. Par ce miracle négatif, Dieu a montré à Zacharie et au monde entier que ces événements n'étaient pas de simples coïncidences. Non, cette saison de silence a démontré que Dieu était à l'œuvre d'une manière nouvelle et puissante pour apporter la vie dans le monde. Car l'histoire de Zacharie ne se termine pas sur un jugement, mais par l'ouverture de sa bouche par Dieu pour proclamer à nouveau la beauté de sa miséricorde.
JONATHAN T. PENNINGTON est professeur de Nouveau Testament au Southern Seminary et pasteur pour la formation spirituelle. Il a notamment publié Jesus the Great Philosopher.
Traduit par Léo Lehmann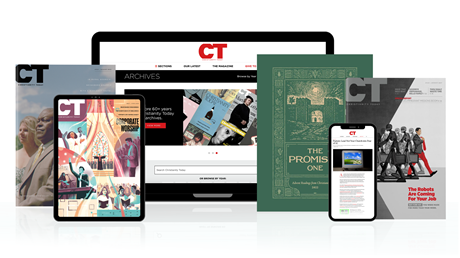 Subscribe to Christianity Today and get access to this article plus 65+ years of archives.
Home delivery of CT magazine
Complete access to articles on ChristianityToday.com
Over 120 years of magazine archives plus full access to all of CT's online archives
Subscribe Now
Un temps de silence
Un temps de silence