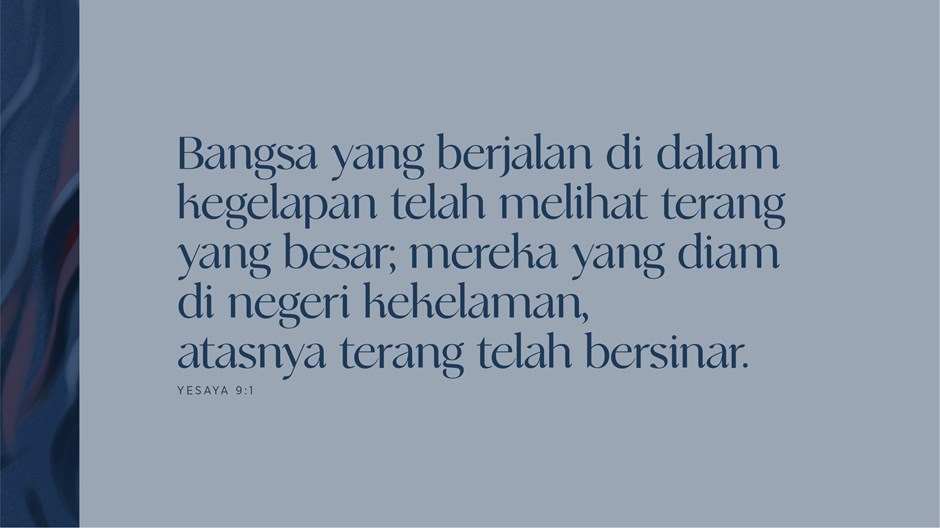 Untuk mengunduh kumpulan renungan "Berita Injil di Masa Adven," klik di sini.
Baca Yesaya 8:23-9:1
Saya tidak akan bisa segera melupakan obrolan pesan singkat saya baru-baru ini dengan seorang teman dari luar kota. Saat itu ia sedang mengurus hal-hal yang terkait wisatanya ke New York. Lalu saya menanyakan tentang rencana perjalanannya. Ia membalas melalui pesannya: "perhentian pertama adalah ke tempat memorial 9/11." Membaca kata-kata itu membuat saya langsung merenung tanpa saya sadari.
Tahukah Anda, meski saya orang asli New York, saya belum pernah pergi ke tempat memorial 9/11. Bukan karena saya tidak tahu jalan menuju ke sana. Hanya saja... itu sebuah tempat yang suram. Saya harus menghadapi kesuraman di hari itu (9/11) dan diingatkan akan manifestasi kegelapan yang terus berlanjut dan menjalar di dunia kita—perang, rasisme, kehilangan, dan kerapuhan hidup. Terlalu banyak kesuraman.
Namun, dengan semua kegelapan yang ada di depan kita, Adven menempatkan dunia kita dalam sebuah kisah yang lebih besar dan penuh harapan. Inilah kisah tentang terang Tuhan yang begitu kuat di antara umat-Nya. Terang yang menerangi kegelapan, baik secara individu maupun kolektif, yang kita alami dan saksikan. Ini terang yang menyembuhkan.
Masa Adven mengundang kita masuk ke dalam doa yang penuh dengan pengharapan, sebuah penantian yang kudus, suatu perenungan yang khusuk. Apa yang kita tunggu?
Terang yang cemerlang. Terang Tuhan.
Yesaya menyatakan bahwa terang yang besar akan datang—kedatangannya dari sumber yang tidak terduga. Jalan masuknya adalah melalui seorang Anak, sang Mesias. Terang ini tidak dapat ditemukan di dalam kekuatan politik baru, atau dalam gerakan budaya. Terang ini tidak terletak pada ideologi tertentu, melainkan ditemukan melalui Tuhan yang hidup dalam rupa manusia. Ini merupakan tema penting dalam Alkitab, yang diangkat oleh Yohanes, sang penulis Injil. Dalam tulisan Yohanes, terang yang sudah datang itu bukanlah radiasi elektromagnetik impersonal. Ini adalah kebenaran yang mengejutkan tentang manifestasi pribadi dari diri Allah sendiri di dalam Yesus Kristus. Yesus adalah terang yang bercahaya di dalam kegelapan, dan kegelapan itu tidak menguasainya (1:5).
Melalui nubuatnya, Yesaya berbicara tentang hari yang akan datang—hari yang telah datang di dalam Yesus. Namun kita juga menantikan hari lainnya ketika kegelapan akan sepenuhnya dan akhirnya dikalahkan. Inilah janji di masa ini.
Adven mengingatkan kita bahwa betapa pun gelapnya hari itu, terang telah datang, dan terang sedang datang. Jadi bergembiralah! Kegelapan yang Anda rasakan hari ini bukanlah akhir dari segalanya. Begitu juga dengan kesedihan, ketidakpastian, dan keputusasaan.
Seperti yang pernah dikatakan Wendell Berry, "Semakin gelap dan semakin gelap dan semakin gelap, dan kemudian Yesus lahir."
Rich Villodas adalah gembala jemaat di New Life Fellowship, Queens, New York. Ia penulis buku The Deeply Formed Life: Five Transformative Habits to Root Us in the Way of Jesus.
Diterjemahkan oleh: Helen Emely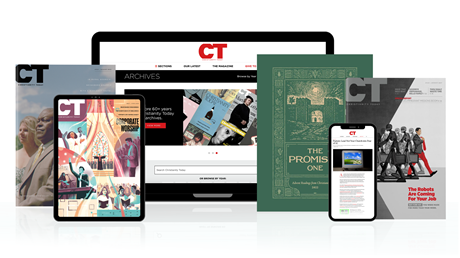 Subscribe to Christianity Today and get access to this article plus 65+ years of archives.
Home delivery of CT magazine
Complete access to articles on ChristianityToday.com
Over 120 years of magazine archives plus full access to all of CT's online archives
Subscribe Now
Terang akan Datang
Terang akan Datang