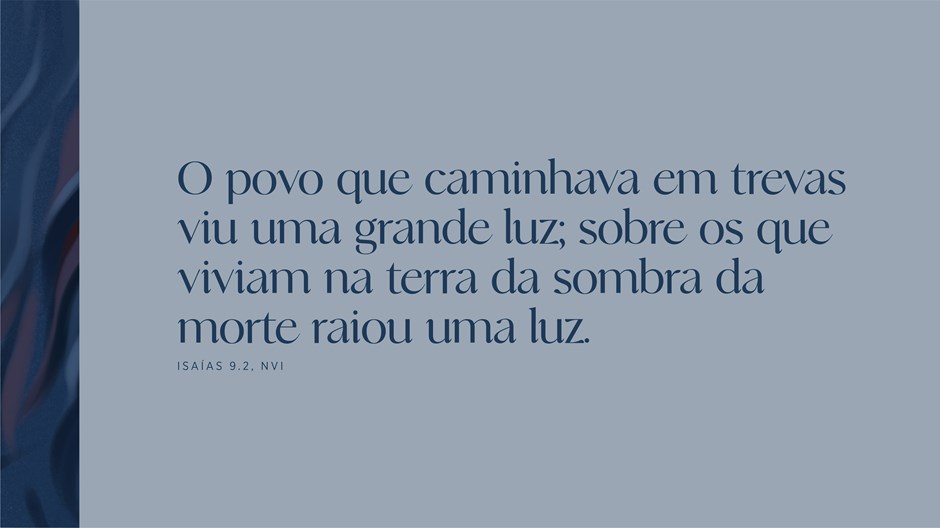 Clique Aqui e faça o download do nosso devocional diário "O Evangelho do Advento".
Leia Isaías 9.1-2
Não esquecerei tão cedo uma curta troca de mensagem de texto que tive recentemente com um amigo de outra cidade. Ele estava fazendo todas aquelas coisas que faz um turista em Nova York. Pedi que me passasse uma visão geral de seu itinerário. Ele respondeu por mensagem de texto: "a primeira parada será no memorial do 11 de setembro". Ler essas palavras me colocou em um estado de reflexão imediata, espontânea.
Veja bem, embora eu tenha nascido em Nova York, nunca estive no memorial do 11 de setembro. Não é que eu não saiba como chegar lá. A questão é simplesmente... bem,... a escuridão. Eu teria de enfrentar a escuridão daquele dia e ser lembrado das constantes manifestações da escuridão que permeiam nosso mundo — as guerras, o racismo, a perda da vida e a fragilidade de sua natureza. É tanta escuridão!
No entanto, mesmo com toda essa escuridão diante de nós, o Advento situa nosso mundo no contexto de uma história mais ampla e repleta de esperança. É a história da luz avassaladora de Deus entre seu povo. Uma luz que ilumina a escuridão, tanto a individual quanto a coletiva, que experimentamos e testemunhamos. Uma luz de cura.
O Advento nos convida a uma expectativa em oração, a uma santa espera, a um olhar atento. O que estamos esperando? A luz resplandecente. A luz de Deus.
Isaías anuncia que uma grande luz está vindo — e de uma fonte inesperada. Está abrindo caminho por meio de uma criança, o Messias. Essa luz não se encontra em nenhum novo poder político nem em algum movimento cultural. Também não se encontra em uma ideologia específica; antes, essa luz se encontra por meio do Deus vivo na carne. Este é um tema importante nas Escrituras, e foi escolhido por João, que escreveu esse Evangelho. Nas palavras dele, a luz que veio não é uma radiação eletromagnética impessoal. É a verdade surpreendente da manifestação pessoal do ser do próprio Deus em Jesus Cristo. Jesus é "a luz [que] brilha nas trevas, e as trevas não a derrotaram (1.5).
Isaías fala profeticamente sobre um dia que viria — e que já veio, em Jesus. No entanto, também esperamos por outro dia em que a escuridão será total e definitivamente vencida. Esta é a promessa nestes tempos de Advento.
O Advento nos lembra que não importa quão escuro esteja, a luz veio, e está vindo. Portanto, tenha bom ânimo! A escuridão que você sente hoje não terá a última palavra. Nem a dor, nem a incerteza, nem o desespero. Como Wendell Berry disse uma vez: "Tudo fica mais escuro e mais escuro e mais escuro, e então, Jesus nasce".
Rich Villodas é o pastor sênior da New Life Fellowship, no Queens, Nova York. Ele é o autor de The Deeply Formed Life: Five Transformative Habits to Root Us in the Way of Jesus.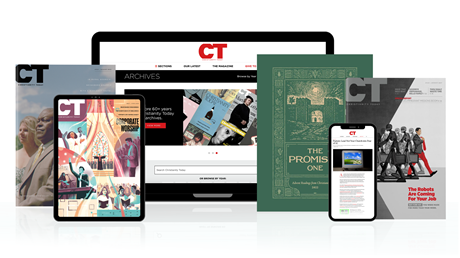 Subscribe to Christianity Today and get access to this article plus 65+ years of archives.
Home delivery of CT magazine
Complete access to articles on ChristianityToday.com
Over 120 years of magazine archives plus full access to all of CT's online archives
Subscribe Now
A luz está vindo
A luz está vindo