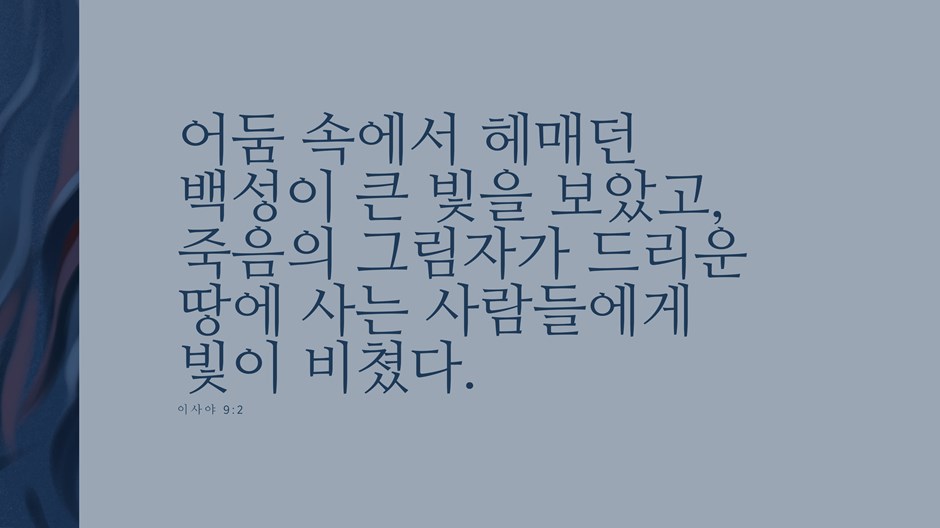 여기를 클릭해서 '성탄절에 전하는 복음' 묵상 본문을 다운 받으세요.
오늘의 말씀: 이사야 9:1-2
한 친구와 최근에 잠시 주고받은 문자 메시지를 쉽게 잊지 못할 것 같습니다. 뉴욕 관광 일을 하는 친구입니다. 그의 뉴욕 시내 여행 일정을 물어보았습니다. 그가 문자로 대답했습니다. "첫 번째 방문할 곳은 9/11 기념관." 이 문자를 읽으면서 나는 혼자 반성했습니다.
나는 뉴요커이지만 9/11 기념관을 방문한 적이 없습니다. 가는 방법을 몰라서가 아니라, 뭐랄까…어떤 무거운 마음 때문인 것 같습니다. 그날의 어두움을 마주하고, 전쟁, 인종차별, 삶의 상실, 연약한 본질 등 우리 세계에 퍼져 있는 어두움의 지속적인 징후를, 너무나 많은 어두움을 떠올려야 할 것 같아서였던 것 같습니다.
하지만, 우리 앞에 완전한 어두움이 깔려 있을 때, 그리스도 강림은 우리가 사는 세상을 더 크고 희망적인 이야기 안에 자리 잡게 합니다. 이것은 당신의 백성에게 강력한 힘을 비추는 하님의 빛에 관한 이야기입니다. 우리가 경험하고 목격하는 개인과 집단의 어두움 가운데로 비추는 빛, 치유의 빛입니다.
그리스도 강림은 간절한 기대, 거룩한 기다림, 주의 깊은 시선으로 우리를 초대합니다. 우리가 기다리는 것은 무엇입니까? 찬란한 빛, 하나님의 빛입니다.
이사야는 커다란 빛이, 예상치 못한 근원에서 커다란 빛이 나와 우리에게 오고 있다고 선언합니다. 이 빛은 한 아기, 메시아로부터 뻗어 나옵니다. 이 빛은 어떤 새로운 정치 권력이나 어떤 문화 운동에서 발견되는 것이 아닙니다. 이것은 특정한 이념에 있는 것이 아니라, 오히려 몸을 가지신 살아 계신 하나님에게서 발견됩니다. 이것은 복음서 기자 요한이 택한 성경의 중요한 주제입니다. 요한의 말로는, 오신 빛은 어떤 비인격적인 전자 복사가 아닙니다. 이 빛은 예수 그리스도 안에서 하나님 자신을 나타내신 놀라운 진리입니다. 예수님은 어두움 속에서 밝게 비추시는 빛이십니다. 어두움은 이 빛을 이기지 못했습니다(1:5).
이사야는 다가오는 날, 곧 예수님이 이미 오신 날에 대해 예언합니다. 그러나 우리는 또한 어두움이 완전히 그리고 마침내 압도되는 또 다른 날을 기다립니다. 이것이 이 대림절에 우리가 기다리는 약속입니다.
그리스도 강림은 우리에게 아무리 어두워도 빛이 왔음을, 빛이 오고 있음을 상기시킵니다. 그러니 이 얼마나 기뻐 환호할 일인지요! 오늘 당신이 느끼는 어두운 느낌은 최종적인 말이 되지 못합니다. 슬픔과 불확실성, 절망도 마찬가지입니다. 웬델 베리가 말한 것처럼, "점점 더 어둡고 더 어둡고 더 어두워졌습니다. 그리고 예수님이 태어나셨습니다."
리치 빌로다스(RICH VILLODAS) 뉴욕 퀸즈에 있는 New Life Fellowship의 담임목사이자 The Deeply Formed Life: Five Transformative Habits to Root Us in the Way of Jesus.의 저자입니다.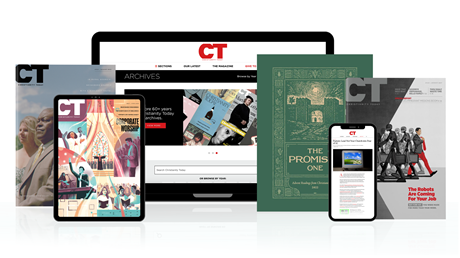 Subscribe to Christianity Today and get access to this article plus 65+ years of archives.
Home delivery of CT magazine
Complete access to articles on ChristianityToday.com
Over 120 years of magazine archives plus full access to all of CT's online archives
Subscribe Now
그 빛이 오고 있다
그 빛이 오고 있다