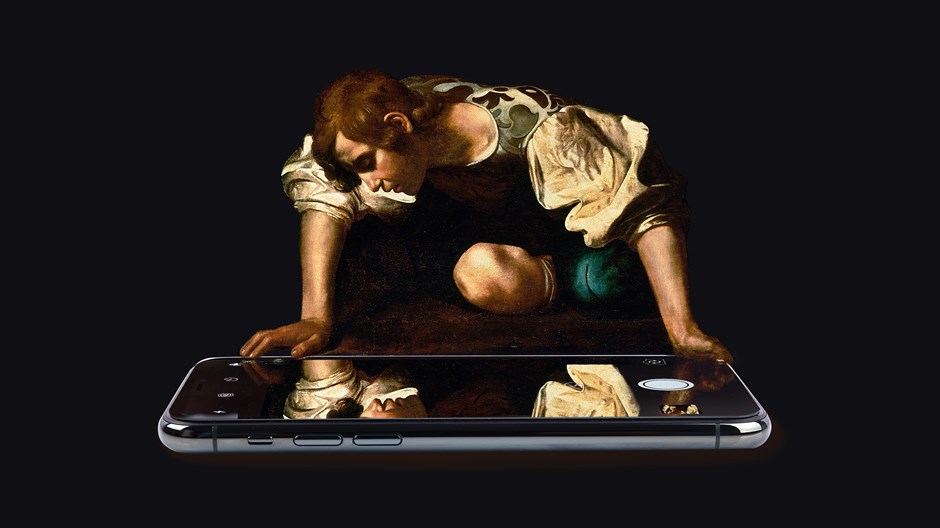 Image: Illustration by Mallory Rentsch / Source Images: Getty / WikiMedia Commons
Greek mythology may not be a guide to the Christian life, but I appreciate the clever commentary the ancient stories offer. I was recently reminded of Narcissus, the young man who neglected all other loves and physical needs so he could stare endlessly at his own reflection. In the most common version of the story, Narcissus eventually dies while sitting by the reflection pool—the tragic and ironic conclusion to his selfish love.
The old, dark comedy still applies—maybe especially applies—to our modern ego and pride. If we want to cultivate humility these days, we have more than just pools and mirrors to contend with.
We are God's image bearers. Yet aided by our phones and social media, many of us spend more time with our reflections than even Narcissus did, certainly more than people have at any other time in civilization. The overwhelming majority of American adults now own smartphones. And with billions of mobile devices in circulation around the world, the situation is the same in many other countries. We are a selfie society, encouraged to view and post about ourselves often, in hopes of attracting more likes and boosting our "brand."
We forget Narcissus' peril. But we also forget the grace that is spoken through his story: After Narcissus dies, he is turned into a flower.
Late last summer, I played a concert at a rustic flower farm in Washington State, when the dahlias were in full bloom. Rows and rows of spectacular pompoms swayed like velvet fireworks bursting from their sturdy green stems. With guitar, piano, and drums, we sang at sunset under a white canopy tent, the community and the musicians coming together to lift our voices over the flowers. We shared a palpable awareness of God's hospitality. It was like church out in the field.
After the concert, a little girl brought me a fistful of bouncing, fresh-cut blossoms: globed purple blooms, pink shapes that looked like messy carnations, anemone dahlias with layers of lavender on white. I was delighted by them and by her kindness. We talked a little about how each one is varied and vibrant like us, reflecting God's artistry.
Jesus told his friends, "Consider how the wild flowers grow. They do not labor or spin. Yet I tell you, not even Solomon in all his splendor was dressed like one of these" (Luke 12:27).
Flowers don't consider themselves; they just are. Tom Petty staged them as a symbol of carefree existence when he sang, "You belong among the wildflowers." These beauties bloom and dance in the wind and bring delight to the Lord, to us, and to the bees. If that is what God does with the grass of the field, Luke suggests, how much more could he do with us?
In the myth, Narcissus comes to a sad end. But maybe it's also a mercy.
Grace is like a viewfinder, helping us know where to look—not to our reflections, but to the glory of God as it appears even in our ordinary lives. The heavens are speaking about that glory even now (Ps. 19), and seeing it can help us find our place as a meaningful part of God's beautiful creation.
Fresh flowers may fade, but they are not lesser for their limits. When I close my eyes, I can still see those dahlias in my mind, and they make me wonder: What bloom has God appointed for me to delight in at this time? What song should I sing in this season? And who is the heavenly Source that hymn writer Anne Steele rhymes about?
Thou lovely Source of true delight, Whom I unseen adore! Unveil thy beauties to my sight, That I might love thee more.
To see only ourselves and to spend life captivated by our own dim radiance is, in effect, to die. And death is always a tragedy. To see God, however, is to see resurrection and new life.
Resurrection life flowers by grace. It frees us to consider ourselves less.
When we look to Jesus to remember more fully our true worth, we gain freedom from vain self-reflection, knowing instead that we belong to the one Source of true delight. We can give ourselves away, like songs in a dahlia field. We can be beautifully multiplied without any need to behold our own beauty, because we are remembered and seen by the one who matters most.
Sandra McCracken is a singer-songwriter and author in Nashville. She is also the host of The Slow Work podcast produced by CT.
Have something to add about this? See something we missed? Share your feedback here.
Pending Resolution
Pending Resolution is an exploration of the tensions of living between God's promises offered and his promises fulfilled, looking to Scripture for guidance.
Previous Pending Resolution Columns: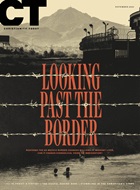 This article is from the November 2023 issue.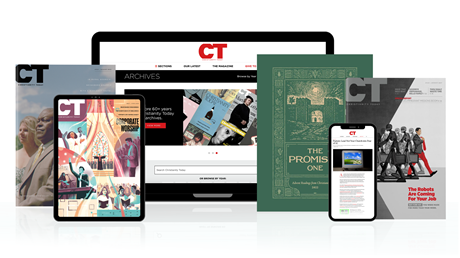 Annual & Monthly subscriptions available.
Print & Digital Issues of CT magazine
Complete access to every article on ChristianityToday.com
Unlimited access to 65+ years of CT's online archives
Member-only special issues
Subscribe
Dying to Our Selfies
Dying to Our Selfies