How We Worship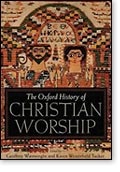 This slideshow is only available for subscribers.
Please log in or subscribe to view the slideshow.
Nearly every Christian, nearly every Sunday, nearly everywhere in the world, worships. Though time, place, and manner of the services have all varied, followers of Christ have gathered to tell the story of his life, death, and resurrection for two thousand years. But many of us do not stop to think deeply about how our worship practices fit into that ancient and global stream. The Oxford History of Christian Worship, a new collection of essays edited by esteemed liturgical scholars Geoffrey Wainwright and Karen B. Westerfield Tucker, gives us the opportunity to do so.
The editors set the ambitious goal of covering Christian worship both chronologically and globally, in a manner "suited to the general reader as well as to historians, theologians, and scholars of religions" (though it helps if the general reader in question has a lot of time on her hands and a good theological and liturgical vocabulary). Despite its size (916 pages) and price ($55), it represents a compactly accessible yet thorough worship reference source, since multi-volume encyclopedias on the subject are out of financial reach for most individuals. The contributors include well-known college and university professors of liturgy, theology, and church history, as well as several scholars who currently function as pastors of local churches.
The volume begins by asserting the scriptural and theological framework for Christian worship and ends with reflecting on and predicting worship practices in the 21st century. Early chapters cover ancient Christian worship, the development of Western Christendom, Eastern Orthodox traditions (including their modern national variations), medieval practices, the effect of both the Protestant and Catholic Reformations ...
You have reached the end of this Article Preview