What Luther Said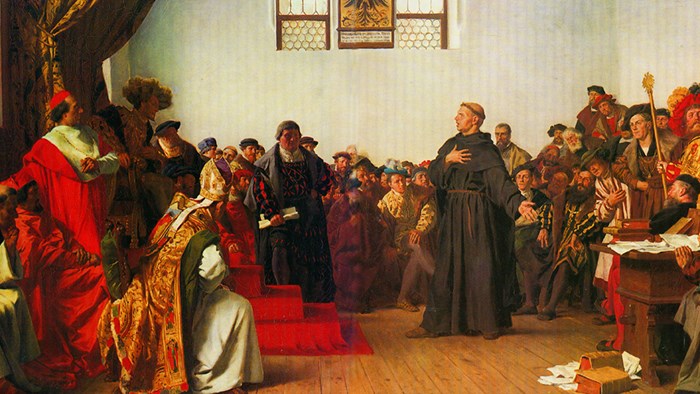 As noted below, it was indeed this week, in 1521, when young Martin Luther was called before Holy Roman Emperor Charles V at the Diet of Worms ("diet" meaning a formal meeting, not a weight-loss plan, and Worms being a city south of Frankfurt). Luther thought he would have a chance to defend his ideas. Charles would only accept an ironclad recantation. What Charles got was Luther's defiant "Here I Stand" speech-or did he?
Dr. Scott H. Hendrix, author of Luther and the Papacy: Stages in a Reformation Conflict (Fortress, 1981), investigated this question for Christian History issue 34: Luther's Early Years. Hendrix notes that Luther caused such a sensation that all sorts of tales about him circulated, sometimes traveling faster than reliable facts. The speech story apparently received some quick touch-up treatment. Hendrix writes:
In April 1521, Luther appeared before Emperor Chrales V to defend what he had taught and written. At the end of his speech, the story goes, he spoke the famous words, "Here I stand; I can do no other. God help me."
The earliest printed version of Luther's address added these words, which were not recorded on the spot. It's possible they are genuine, but for almost a half century now, most scholars have believed they were probably not spoken by Luther.
A second misunderstanding arises when the words "Here I stand" are quoted as evidence of Luther's modern stand against the medieval powers of church and empire. Luther's speech was not a defiant, solitary protest, but a calm, reasoned account of why he had written the books piled on the table before him and why he could not recant their content.
"Luther asserted that his conscience was ...
You have reached the end of this Article Preview