Eager to Study the Early Church?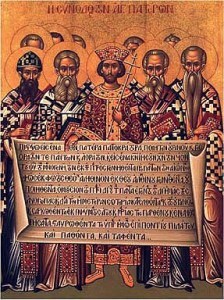 This slideshow is only available for subscribers.
Please log in or subscribe to view the slideshow.
When theologian George Kalantzis returned to the Wheaton College campus last fall after spending the summer in the Holy Land, he had a very pleasant surprise. While he was out of the country, two donors had approached the college administration about funding a program that would encourage interaction between Eastern Orthodoxy, Roman Catholicism, and Protestantism over their mutual legacy from the early church.
No one at Wheaton knew just how much these donors would fund, but George and his colleagues decided to dream big: they envisioned a Center for the Study of Early Christianity, with a vertically integrated program from undergraduate courses up through master's and doctoral studies.
Their big vision was rewarded.
Two physicians from San Diego, Frank and Julie Papatheofanis, have now made that dream possible. (Julie Papatheofanis is a Wheaton alum.) You can see the beginnings of this vision at the Wheaton Center for Early Christian Studies website.
Evangelical Christian interest in the early church has been growing for about 30 years. Much of the impetus for that interest can be traced to the work of the late Robert Webber, who was teaching at Wheaton in 1978 when he wrote Common Roots about the importance of the early church for evangelical life. "Without the work of Bob Webber, this would not be possible," George told me over coffee in Wheaton's Beamer Student Center. "He plowed the ground," George continued, alluding to 1 Corinthians 3:6.
There seems to be a real hunger for the systematic study of the early church. Wheaton College has not yet begun to advertise this program and already, George says, he has close to 30 students engaged with it. On his desk are about 10 applications for the master's program, a similar ...
You have reached the end of this Article Preview