The Monks Did It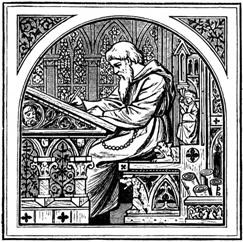 This slideshow is only available for subscribers.
Please log in or subscribe to view the slideshow.
This weekend I am attending the 44th International Congress on Medieval Studies at Western Michigan University in Kalamazoo. This is the largest and most prestigious international gathering for medievalist scholars, convening over 3,000 scholars in over 600 sessions of papers, panel discussions, roundtables, workshops, and performances.
Frankly, though I am no medievalist, just thinking about being there is making me drool.
What's an American church history geek doing attending a meeting that will feature hundreds of highly technical papers in a field I hardly know, based on texts in languages I've never learned - Latin, Old English, Old Norse?
Maybe it's the new monastics' fault.
For several years, I've been a sympathetic follower-from-afar of this movement.* I have to say that the new monastics sometimes seem curiously oblivious to those values that animated the original monastics. However, they have cautiously reached out to the "old monastics" in venues such as the annual Monastic Institute held at St. John's Seminary in Collegeville, Minnesota. This has led to some interesting meditations on the value for today's Christians of monastic disciplines such as obedience, stability of life, and the like. For a fascinating glimpse of this engagement, see Inhabiting the Church, co-authored by Jonathan Wilson-Hartgrove, Tim Otto, and Jon Stock.
Another thing that has spurred me to engage medieval history is . . . well . . . this will raise eyebrows, but I'll say it: I am a long-time fan of fantasy literature, and a one-time enthusiastic player of Dungeons and Dragons. Both that genre and that game (with all of its countless spinoffs) were inspired by the writings of J. R. R. Tolkien. And if the number of sessions at the Medieval ...
You have reached the end of this Article Preview