Behind Barbed Wire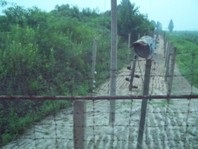 This slideshow is only available for subscribers.
Please log in or subscribe to view the slideshow.
The 20th anniversary of the Berlin Wall's fall passed with some fanfare on November 9. Speaking as someone born in the 1980s, I admit that it is difficult to remember much about the divided Europe that this wall symbolized. Stories of the oppressive Communist rule in East Germany strike me as far-removed, not the grim reality for millions as recently as 1989. I remember much more clearly the exultant speeches delivered by Western politicians as Communism collapsed elsewhere in the following years. Today, it is easy for all of us to forget that many millions live in worse conditions than even the East Germans endured. Indeed, the totalitarian government of North Korea imprisons an entire nation that once enjoyed the blessing of revival.
William Blair, a missionary commissioned by the Presbyterian Church in the United States of America, arrived in Korea in 1901 when he was 25 years old. He would go on to serve 42 years in the mission field. One of only two missionaries who saw the 1907 Pyongyang revival begin, he wrote a recollection in 1910 called The Korean Pentecost. As recently as 1865, Koreans had martyred one of the first Western missionaries as he tried to distribute the Scriptures. But the revival helped the number of Christians in Korea grow to 250,000 by 1910. They worshiped in 2,000 churches, nearly all of them self-supporting.
The revival broke out in the aftermath of the Japanese-Russian War, which started in 1904. After winning the war, the occupying Japanese military did not leave Korea. This insult led to surge of Korean patriotism, which sometimes stung the Western missionaries. Nevertheless, church leaders set 1907 as the launch date for an independent Korean Church. Not coincidentally, the first class of ...
You have reached the end of this Article Preview