God's Wonderful Working
Decades before the Revolution that gave birth to the United States, a different kind of revolution born of God's Spirit swept the land.
New England
When Rev. Solomon Stoddard died in 1729 at 86 years, his grandson, Jonathan Edwards, who had been his assistant for two years, became pastor of the Congregational Church of Northampton, Massachusetts. His congregation could not have guessed that one day their tall, mild new minister would be called one of the best minds America has ever produced, and her greatest Christian thinker. He also would prepare the soil for a great spiritual harvest in New England in their day.
Jonathan Edwards & God's Surprising Work
In 1734, Rev. Edwards began to stress evangelism from his Northampton pulpit with a series of sermons on Justification by Faith. No immediate effects became apparent, but after some time, in December 1734 "The Spirit of God began extraordinarily to set in and wonderfully to work among us…
Soon the town was enveloped in spiritual concern. Edwards wrote about these events in his Faithful Narrative of the Surprising Work of God. He referred to the awakening as a work of God:
This Work of God, as … the Number of true Saints multiplied, soon made a glorious Alteration in the Town; so that in the spring and summer following, Anno 1735, the Town seemed to be full of the Presence of God; it was never so full of Love, nor of Joy, and yet so full of distress, as it was then. There were remarkable Tokens of God's Presence in almost every House. It was a time of Joy in families on account of Salvation being brought unto them.… … More than 300 Souls were savingly brought home to Christ, in this Town, in the Space of half a Year.… I hope that by far the greater Part of persons in this Town, ...
You have reached the end of this Article Preview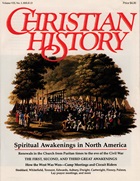 07/01/1989