The Three Rs of Moody's Theology
"I want to be frank with you, Mr. Moody," one of his listeners once told him. "I want you to know that I do not believe in your theology."
"My theology!" Moody exclaimed. "I didn't know that I had any. I wish you would tell me what my theology is."
Was Moody serious? Did he not have a theology?
Obviously, D.L. Moody was not a professional theologian, not even an ordained minister. He was a lay evangelist who preferred to be called, simply, Mr. Moody. But he was quite aware that theology was implicit in his preaching. While Moody tended to sit loose to the finer details of theological debate, he had no doubt that what one believed was important.
Near the end of his life Moody told a reporter for the Detroit Journal, "Some people in Minneapolis the other day declared that Moody's theology is thirty years old. Well, if I was sure it wasn't six thousand years old, I'd pitch it into the Mississippi. I believe that sin is the same today as then and that its remedy is the same. I'm an Abelite. If I could go back behind Abel for my theology, I'd do it, but I can't."
The Source of Moody's Theology
Moody had no formal theological training and only the doubtful equivalent of a fourth- or fifth-grade education. Although he said he read the works of the great Baptist preacher Charles Haddon Spurgeon, Moody did not read widely. What he learned from others he learned in conversation. Moody would typically ask ministers for their best thought for the day or ply them with questions about the Bible and doctrine. On one such occasion, Henry Moorhouse, the well-known British Bible teacher known as the Boy Preacher, advised, "If you will stop preaching your own words and preach God's Word, he will make you a power for good."
From that point on, Moody ...
You have reached the end of this Article Preview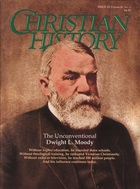 01/01/1990