William Booth's Theology of Redemption
William Booth is popularly known as a nineteenth-century English social reformer, but this aspect of his later ministry does not sufficiently explain him. To fully understand him and The Salvation Army, it is necessary to grasp his theology of redemption (much of which was shared by his wife, Catherine), and the elements that gave rise to it.
Shaping Forces
Three forces shaped the life, ministry, and thinking of the first General of The Salvation Army.
Wesleyan distinctives. First, William Booth was evangelical. His loyalties were, nevertheless, not only to the broad evangelical tradition of Victorian England that had crossed denominational lines, but also more specifically to Wesleyan distinctives.
Beginning with his early associations with the Wesleyans (under whose ministry he was converted in 1844, at age 15), and continuing throughout his life, William Booth had a great appreciation for John Wesley. "I worshipped everything that bore the name of Methodist," he wrote. "To me there was one God, and John Wesley was his prophet. I had devoured the story of his life. No human compositions seemed to me to be comparable to his writings, and to the hymns of his brother Charles, and all that was wanted, in my estimation, for the salvation of the world was the faithful carrying into practice of the letter and the spirit of his instructions."
Booth preached a doctrine of redemption that included not only salvation by grace, but also the distinctive Wesleyan doctrine of sanctification by grace. For this he had the examples of such people as American revivalist Charles Grandison Finney and American Methodists James Caughey and Phoebe Palmer. Booth likewise considered himself a worthy successor to John Wesley in principles of organization, ...
You have reached the end of this Article Preview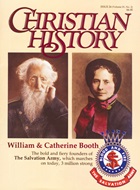 04/01/1990