Fundamentalist Internet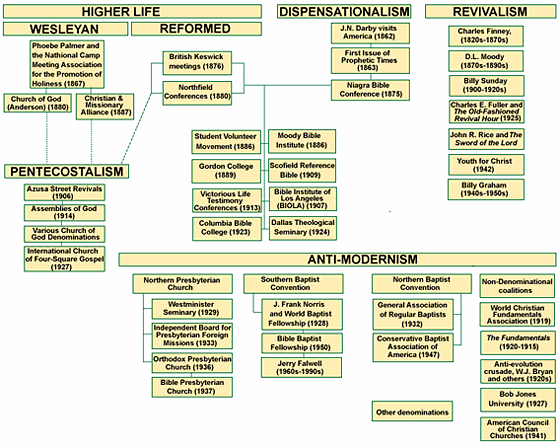 This slideshow is only available for subscribers.
Please log in or subscribe to view the slideshow.
Fundamentalism was a broad movement that arose from and sustained itself in a variety of sub-movements in conservative Christianity.
This chart suggests some of the relationships and "families" within fundamentalism. Naturally the relationships were much more complicated in history than can be expressed in a simple chart, so, see notes on the next page for explanations.
—Bob Jones IV
Bob Jones IV is a graduate student at the University of Notre Dame.
Fundamentalist Internet Notes
Higher Life Movement
Arose out of pre-Civil War revivalism and stressed a deeper work of the Holy Spirit beyond conversion. It took two forms.
Wesleyan
National Camp Meeting Association for the Promotion of Holiness. An outgrowth of Phoebe Palmer's New York City "Tuesday Meetings," holiness camp meetings stressed a dramatic "second blessing" that brought freedom from sin.
Church of God (Anderson). A precursor to the numerous Church of God denominations springing from the Azusa Street Revivals.
Christian & Missionary Alliance. Founded by A. B. Simpson, who left the Presbyterian Church under the influence of holiness teachings. Later Pentecostals would claim Simpson as an evangelical forebear of the tongues movement.
Reformed
Keswick meetings. Institutionalized around the time of Moody's British campaigns, Keswick holiness stressed repeated "filling with" and "surrender to" the Holy Spirit to attain victory over sin.
Northfield Conference. The Bible conference started by Moody in 1880 increasingly emphasized Spirit-filling, especially after F. B. Meyer's arrival from Britain in 1891.
Student Volunteer Movement. This mission board sent Spirit-filled young people to carry the gospel around the world.
Gordon College. Founder A. J. Gordon was diffident on dispensationalism ...
You have reached the end of this Article Preview