Spiritual Pragmatists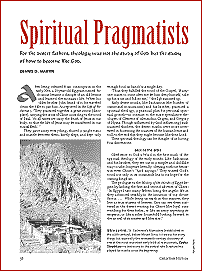 This slideshow is only available for subscribers.
Please log in or subscribe to view the slideshow.
After being released from conscription in the early 300s, a 20-year-old Egyptian named Pachomius became a disciple of an old hermit and learned the monastic life. When his older brother John heard of it, he traveled down the Nile to join him. As reported in the Life of Pachomius, "They practiced together a great ascesis [discipline], carrying the cross of Christ according to the word of Paul, 'At all times we carry the death of Jesus in our body, so that the life of Jesus may be manifested in our mortal flesh.'"
They gave away everything, shared a single tunic and mantle between them, barely slept, and kept only enough food on hand for a single day.
"Thus they fulfilled the word of the Gospel, 'If anyone wants to come after me let him deny himself, take up his cross and follow me,'" the Life summed up.
Early desert monks, like Pachomius (the founder of communal monasticism) and his brother, practiced a spiritual theology, a practical plan for personal spiritual growth—in contrast to the more speculative theologies of Clement of Alexandria, Origen, and Gregory of Nyssa. Though influenced by (and influencing) such nuanced thinkers, the desert monks were more interested in discerning the nuances of the human heart and will, to the end that they might become like their Lord.
Their spiritual theology can be thought of as having four dimensions.
Back to the Bible
Obedience to God's Word is the first mark of the spiritual theology of the early monks. Like Pachomius and his brother, they set out in a simple and childlike way to take Scripture literally, obeying without hesitation even Christ's "hard sayings." They trusted God's word not only in its commands ...
You have reached the end of this Article Preview