Divided by Christ
Christians who lived under Muslim rule in the eighth century found themselves with an unusual status—second-class but sometimes respected, more often pitied for their "inferior" religion than directly persecuted. This led to some interesting debates.
Then, as now, some Christians cast the discussion in confrontational terms, while others opted for measured interfaith dialogue. The ways in which John of Damascus (ca. 675-749) and Nestorian Patriarch Timothy I (779-823 or 778-821) approached Islam highlight the contrast.
(Note: Nestorianism, which rejected the complete blending of Christ's human and divine natures, was denounced at the 431 Council of Chalcedon. Despite this apparent deviation from orthodox Christianity, Patriarch Timothy presents the faith clearly in his debate with the caliph.)
Polemic Contrasts
John of Damascus, like his father and grandfather before him, held a position of honor in the local Muslim government. But for reasons unknown, in about 726 he retired from public office and entered the great monastery of Mar Saba (St. Sabas) near Jerusalem.
While there he wrote the Fount of Knowledge, a massive work that contained a section "On Heresies." Here we find his judgment against Islam, which he viewed not as a new religion but as a heretical schism from Christianity. He also viewed Islam as a threat—while he was writing Fount of Knowledge, a nearby bishop was executed for preaching against Islam.
John begins with the unequivocal statement, "There is also the superstition of the Ishmaelites which to this day prevails and keeps people in error, being a forerunner of the Antichrist."
Although John does not soften his language, he does at least credit Muhammad with leading his people from idolatry to monotheism, to ...
You have reached the end of this Article Preview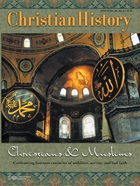 04/01/2002