The Road to Rome
At the place where the roads meet there is no doubt of the convergence. A man may think all sorts of things, most of them honest and many of them true, about the right way to turn in the maze at Hampton Court. But he does not think he is in the center; he knows."
So wrote media star, mystery writer, and amateur theologian G.K. Chesterton in The Thing: Why I Am a Catholic. In the years leading up to this statement, though, he doubted whether roads met or even existed, and he was not at all sure what lay at the center of his life's maze. The story of his twisting, halting search for that place where truth makes sense is in many ways the story of his life.
Descent into madness
Chesterton's spiritual search began with his family's Liberalism. His parents were religious enough to have him baptized by the Church of England in 1874, but they otherwise had little use for traditional Christianity. If anything, they leaned toward Unitarianism.
"My own father and uncles," Chesterton wrote in his Autobiography, "were entirely of the period that believed in progress, and generally in new things, all the more because they were finding it increasingly difficult to believe in old things; and in some cases in anything at all."
Chesterton described the cultural atmosphere of his youth as distinctly post-Christian. There was "nothing new or odd about not having a religion. … We might almost say that agnosticism was an established church."
In his youth, Chesterton expressed some curiosity about orthodox Christianity (though he disliked Roman Catholicism) and twinges of anxiety about Liberalism. These explorations soon stalled. His earliest writings extolled the French Revolution, condemned dogma, and preached the exaltation of humanity.
All of this ...
You have reached the end of this Article Preview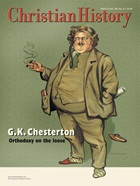 07/01/2002