G.K. Chesterton: Did You Know?
Man at play
Chesterton's love of theatrics began with childhood puppet shows and remained strong to the end of his life. Pictures of "Top Meadow Productions," the shows he staged at his cottage, depict guests of all ages dressed as eighteenth-century figures, wandering minstrels, and even a bishop.
Chesterton particularly liked dressing up as Samuel Johnson (1709-1784), a writer whose physical size and literary style invite many comparisons with Chesterton. The dialogue in Chesterton's play The Judgment of Dr. Johnson (1927) blends the wit of both authors seamlessly, and Chesterton's defense of Johnson in What's Wrong with the World (1910) sounds a lot like a defense of his own penchant for debate (see page 28): "The demeanour of Johnson, it is said, was 'harsh and despotic.' It was occasionally harsh, but it was never despotic. Johnson was not in the least a despot. John-son was a demagogue, he shouted against a shouting crowd. The very fact that he wrangled with other people is a proof that other people were allowed to wrangle with him. … Johnson was an insolent equal, and therefore was loved by all who knew him."
Artful dawdler
Though he made his career as a writer, Chesterton's only formal training was in art. His sketches appeared in his friend Edmund Clerihew Bentley's book Biography for Beginners and, periodically, in G.K.'s Weekly magazine. A sketch, with the caption "I am now ten years old," marked the magazine's tenth anniversary, in 1935. It depicts Chesterton at about the age he finally began to read—he was such a slow learner that his parents once took him to a brain specialist. His brainpower proved to be more than adequate.
Lost love
Way back in 1894, 11 years before he published his first novel, The Napoleon of ...
You have reached the end of this Article Preview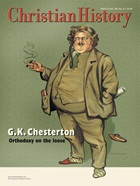 07/01/2002