The World Made Strange
G. K. Chesterton did not think of himself as a theologian. In his era, Catholic theology was still the domain of a highly trained clerical elite. Granting the title "theologian" to a journalist in those days would have been as outrageous as dubbing a journalist a "physicist" or "lawyer" today.
But within a generation of Chesterton's death, "lay theologian" was no longer sounding to Roman Catholic ears like a contradiction in terms. Chesterton's striking contributions to theology, partly the fruit of his unusual perspective, more than made up for his lack of formal qualifications.
"Second spring"
In nineteenth-century England, which saw the restoration of the Roman episcopal hierarchy after centuries of suppression, Catholic culture developed in several different directions at once.
On an administrative level, a flood of Irish immigrants built a strong and loyal foundation for the revival of the parishes. Intellectually, the church was blessed with several generations of highly educated literary men such as John Lingard, John Henry Newman, and Coventry Patmore.
This double infusion of energy led to a vast program of building (churches, schools, seminaries) on the one hand, and what became known as the "Catholic literary revival" on the other. Newman had prophesied as much, foreseeing in 1852 an imminent "second spring" for Catholic Christianity in Britain. This literary revival continued until the 1950s.
Gilbert Keith Chesterton was at its heart. Priests and bishops, philosophers and theologians, Church of England and Church of Rome took an interest in his writing.
Like several of the revival's leaders, Chesterton was not in Holy Orders, but his great intellect and education enabled him to penetrate any subject he addressed—including ...
You have reached the end of this Article Preview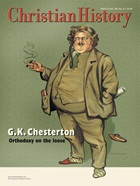 07/01/2002