Testing the Spirits
Puritanism had lost its vitality, and for years, the "friends of vital piety" had prayed for revival. Finally, in the late 1730s and early 1740s, a great spiritual dam seemed to break in New England. Streams of Christian conviction and conversion rushed through the land.
One historian has compared the emotional force of the Great Awakening to the radical furor of the 1960s, with its civil rights demonstrations, campus disturbances, and urban riots.
The new excitement and new ideals of the awakened brought with them controversy and divisiveness—much of it over the nature of religious experience.
The controversy is easy to understand. Some converts claimed new religious insight. Others erupted in emotional outbursts. Still others censured their pastors for lack of spiritual fervor. Even friends of the revival could see that not all the fruit of this new season came from the Spirit.
But how to distinguish genuine religious experience from counterfeit? The question haunted Jonathan Edwards as he pondered the meaning and results of the Awakening.
How do I know I'm saved?
Two short-lived revivals in his Northampton parish (1734-35, 1740-41) provided the laboratory for Edwards to observe what the Puritans had always called "experimental" (that is, experiential) religion.
For more than a decade, Edwards researched the fruits of revival. He publicized the results and his conclusions first in letters describing the revival in his own congregation, then in several sermons, and finally in his book-length treatise, Religious Affections (1746).
When the excitement had died down, Edwards emerged from this period with an insightful, biblically rooted scheme of evidences by which revival participants might discern the ...
You have reached the end of this Article Preview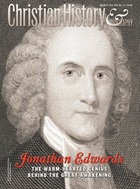 01/01/2003