Edwards' Theology
Jonathan Edwards may be the greatest American theologian and philosopher—and perhaps also the greatest mind—America has yet produced. Edwards' theological genius lay in his ability to summarize effectively the main thrusts of the Reformation and Puritanism and yet not merely to reiterate these, but to apply them to crucial problems in his own century.
Edwards' theology is rooted in Calvinism. Many of his major works are simply consistent applications of Calvin's teaching on God's grace and sovereignty. Edwards is undoubtedly the most powerful theologian writing in the Reformed tradition before the twentieth century.
But the sources of his thinking range far beyond Calvinism. He was influenced by various currents of thought in the seventeenth century. Some of these, like Cambridge Platonism and the philosophy of John Locke, utterly contradict one another, and seem far removed from Reformation thought. And Edwards' theology makes considerable use of reason and natural theology. But above all else Edwards was nurtured by Puritan spiritual theology. In many ways, he is the Johann Sebastian Bach of Puritanism, perfecting and summarizing this movement's emphasis on Christian experience at a time when it was out of fashion.
Confronting a Dead Orthodoxy
Edwards applied his theological synthesis in confronting two critical problems in the eighteenth century. One of these crises was internal: the loss of spiritual power within the Puritan renewal movement. Another crisis lay both within the church and around it: the developing climate of humanistic rationalism, the secular drift of Western culture. Edwards' great achievement was the creation of a theology which confronted both of these crises head-on, opposing a humanist Enlightenment ...
You have reached the end of this Article Preview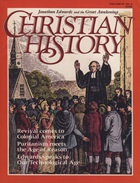 10/01/1985