Hoverboards In Church? 22 Differences Between Gimmicks and Innovations
Gimmicks are like candy. They're fun for a moment. But you can't build a steady diet – or a strong church – on them.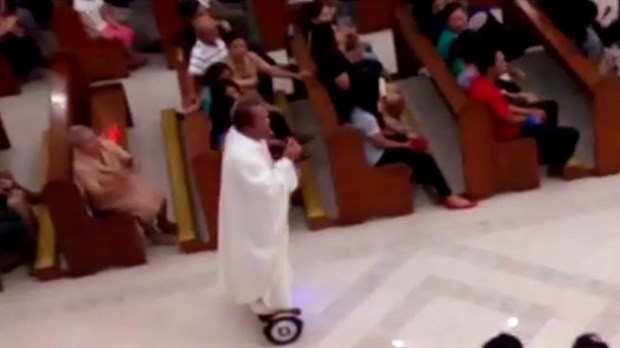 Is it okay for a priest to use a hoverboard in church? The Catholic church says 'no'.
This week an unnamed priest in the Philippines was suspended for using a hoverboard to greet congregants at the end of Christmas Mass after a video of him doing so went viral.
Some people were outraged at the priest for the gimmick, while others are furious at the diocese for suspending him over it.
I have no problem with the priest or the diocese. I'm not a Catholic, so it's none of my business.
But the story about the hoverboard priest came up on my blog feed beside an article about new trends in website designs. Apparently, the best web designers are focusing less on the gimmicks they love, and more on readability and ease-of-use for customers.
There they were. Side by side. A hoverboard priest, and website design trends. It's hard to imagine two items with less in common, but my mind made a link.
Innovation or Gimmick?
The name and tagline for my blog is PIVOT: Innovative Leadership from a Small Church Perspective. So I'm often asked how being innovative is different from chasing fads, trends and gimmicks.
Ironically, this post uses a gimmick. Imagine someone reading it a few months from now. The principles will last, but the hoverboard reference won't. If I want to re-use it, I'll need to replace the hoverboard reference with another illustration, because it will feel dated.
Gimmicks are like candy. They can attract our attention to a blog post, or give us a moment of fun in a church service. But you can't build a steady diet – or a strong church – on them.
Innovative leadership doesn't detract from the message, it clears a path to the message.
Instead of chasing gimmicks, church leaders need to be innovators. Like good web design, innovative leadership doesn't detract from the message, it clears a path to the message. It doesn't change eternal truths, it helps us apply them.
With that in mind – including the acknowledgment of my own complicity in using a gimmick to get you to read this post – here are 22 ways to tell the difference between gimmicks and innovation.
1. GIMMICKS can get in the way.
INNOVATION clears the way.
2. GIMMICKS happen fast, but fade quickly.
INNOVATION starts slowly, but sustains and builds momentum.
3. GIMMICKS are immediate and dated.
INNOVATIONS are universal and timeless.
4. GIMMICKS follow fads.
INNOVATIONS set trends.
5. GIMMICKS are about what's happening today, sometimes ignoring or mocking the past.
INNOVATION leads to tomorrow by building on the past.
6. GIMMICKS are easy to see and use.
INNOVATION is hard to spot – and harder to do.
7. GIMMICKS take a lot of energy to maintain.
INNOVATION creates its own energy.
8. GIMMICKS are easy, but disposable.
INNOVATION is hard work, but long-lasting.
9. GIMMICKS attract attention to themselves.
INNOVATION points to a greater truth.
Gimmicks attract attention to themselves. Innovation points to a greater truth.
10. GIMMICKS are fun.
INNOVATION is important.
11. GIMMICKS are loved and hated along party lines.
INNOVATION creates new alliances.
12. GIMMICKS divert people's attention from what matters.
INNOVATION keeps people's attention on what matters.
13. GIMMICKS are shallow.
INNOVATION is deep.
14. GIMMICKS are fake.
INNOVATION is real.
15 GIMMICKS aren't necessarily bad.
INNOVATION is necessary and good.
16. GIMMICKS need to be changed.
INNOVATIONS cause lasting change.
17. GIMMICKS are about adapting to current styles.
INNOVATION is about strengthening eternal principles.
18. GIMMICKS are culturally relevant.
INNOVATION is contextually real.
19. GIMMICKS attract the curious.
INNOVATION feeds the hungry.
20. GIMMICKS scratch an itch.
INNOVATION satisfies a need.
21. GIMMICKS change with the culture.
INNOVATION changes the culture.
22. GIMMICKS follow.
INNOVATION leads.
Pivot is a part of CT's Blog Forum. Support the work of CT. Subscribe and get one year free.
The views of the blogger do not necessarily reflect those of Christianity Today.
Join in the conversation about this post on Facebook.