Yes, Your Kids Can Enjoy Santa While Honoring Jesus
Here are four simple steps and one 'magic' word that can help keep Jesus and Santa rightly prioritized in your family's Christmas celebration.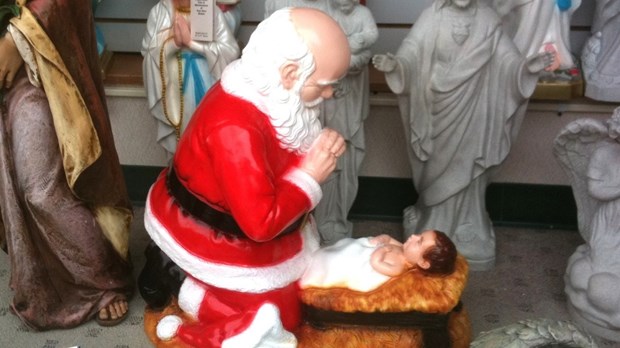 Image: Steve Mays | Flickr
How do we keep Christ in Christmas when Santa is everywhere we look? Can we have fun with the Santa story? Or is that diluting the true meaning of Christmas?
What's a Christian parent to do?
I have good news. When it comes to Christmas, we really can have it all. Jesus and Santa. Reindeer and shepherds. The North Pole and Bethlehem.
All you need to do is use one simple word correctly:
Pretend.
Santa is pretend.
Jesus is not pretend.
That's it.
Using the word 'pretend' lets our kids enjoy Santa without telling untruths about him. This is critical, especially for Christian households, because when kids get old enough to realize we didn't tell them the truth about Santa, they may start wondering if we told them the truth about Jesus.
Four Simple Steps to Enjoy Santa and Honor Jesus
My kids are grown now. This year, my wife and I will be celebrating our first-ever Christmas as grandparents. We look forward to many Christmases with our grandchildren the way we enjoyed them with our kids when they were growing up. By celebrating the truth of the nativity and having fun with the pretend world of Santa Claus.
We did both by following these four simple steps:
1. Talk about Jesus all year long
If the only time a family talks about Jesus is when he's sharing the bill with Santa, Jesus will lose. After all, Santa brings presents. Jesus offers forgiveness of sins. Forgiveness is infinitely greater, of course. But to a kid, presents are the only thing they can wrap their little minds (and little hands) around.
If the only time a family talks about Jesus is when he's sharing the bill with Santa, Jesus will lose.
Jesus needs to be an everyday part of every family's life.
2. Talk about Santa in December
When Santa starts showing up on TV, in posters and in stores, let the kids have fun with him just like they do with their favorite cartoon character. No more, no less.
3. Let them know Jesus is real
Talk about Jesus daily. Take them to church every week. But mostly, live your life as an example of Jesus to them. Parents need to stop acting like Santa for their kids and start living like Jesus with them.
On Christmas day, read the nativity story from the bible. Have them act it out. Sing carols about Jesus. Show them Bethlehem on a map. Tell it to them as the exciting, life- and world-changing historical reality that it is.
Santa and The Night Before Christmas can show up on Christmas, too. But in a secondary role. Make Jesus central. And fun.
Pivot is a part of CT's Blog Forum. Support the work of CT. Subscribe and get one year free.
The views of the blogger do not necessarily reflect those of Christianity Today.
Join in the conversation about this post on Facebook.