Know Your Audience: 8 Principles for Speaking Effectively in Any Situation
Speaking effectively has more to do with how well you listen than how much you talk.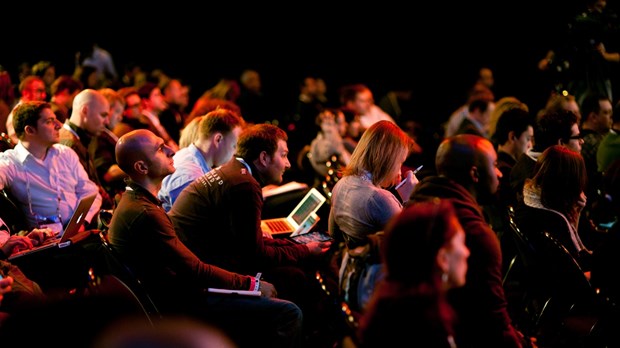 You knew your audience.
That was one of the greatest compliments I've ever received in ministry.
It happened after speaking at a Prayer Breakfast at a US Army base in Germany that was in the process of being closed.
One of the military chaplains pulled me aside. "Thank you for that talk," he said. "You knew your audience. It's unusual for a civilian speaker to understand who he's speaking to and what we're going through. What you said really helped."
I was grateful, honored and stunned. I've never been in the military. I don't come from a military family. I'd never even set foot on an active military base before that morning.
So I asked the chaplain why it had been helpful. Then I sat down and reverse-engineered the entire event to find out how it had come out that way.
What I discovered were 8 principles that I had fallen in to. Principles that I will now follow with purpose whenever I speak to any group, but especially to a group I'm unfamiliar with.
1. Show Up
How many opportunities do we miss because we don't say 'yes' to them?
Sometimes we say 'no' because of scheduling issues. Sometimes the situation doesn't seem to be valuable. But here's the simple truth. Nothing will ever happen if we don't show up for it.
Nothing will ever happen if we don't show up for it.
Showing up for this talk wasn't easy. Not only did we have to raise the funds to fly to Germany (thanks to my friends at Cornerstone and many readers of this blog for helping!) but, while driving to the base, our rental car broke down on the side of the highway.
It would have been very easy to say 'no' at many points along the way. "It's too expensive to fly to Germany," "I can't take that much time away", "we're stranded on the side of the highway." But we didn't do that. With the help of friends, we kept pushing through the challenges and did what we were asked to do.
If you want to be a writer, write for anyone who asks. If you want to be a speaker, accept every invitation. No matter how small.
If you want to be a writer, speaker, singer and so on, you have to write, speak or sing for an audience. Saying 'no' to any invitation is an option for the privileged few. Until then, nothing happens if we don't show up for it.
2. Ask Questions
The night before the Prayer Breakfast, I told our host what I was planning to talk about. She gave me an 'Okay, I guess you could talk about that' smile, so I pushed a little.
Pivot is a part of CT's Blog Forum. Support the work of CT. Subscribe and get one year free.
The views of the blogger do not necessarily reflect those of Christianity Today.
Join in the conversation about this post on Facebook.