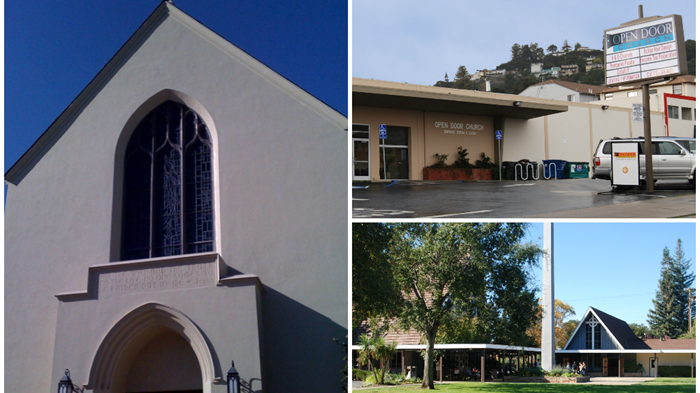 Image: Photos courtesy of Menlo Park Presbyterian Church
Update (March 13): John Ortberg's megachurch has received approval to leave the PC(USA) for ECO. And to help pay the nearly $9 million price tag, Ortberg will sell his home of 10 years of which his wife Nancy once expressed, "I want to live here until I die, and when I die I want to be buried in the back yard."
The Layman offers a thorough report on the final agreement.
Since ECO is only two years old, Menlo Park Presbyterian Church must remain with ECO (or with other more-conservative denominations, such as the Evangelical Presbyterian Church or the Presbyterian Church in America) for five years after the dismissal, or the main campus in Santa Cruz will revert back to the PC(USA), according to the agreement.
The dismissal, which will be effective June 10, frees Menlo Park to pursue its multisite plan to open five new campuses in five years. (See original post below.)
Meanwhile, a sizable report on the growing multisite movement was released this week. America now boasts more than 8,000 multisite church locations with five million weekly worshipers, according to the Leadership Network/Generis Multisite Church Scorecard.
Among the study's 25 findings: most multisite leaders believe that campuses should be within 15 to 30 minutes of each other, and most hire a majority of their pastors (87 percent) internally. Religion News Service breaks down the findings further.
-----
[Originally posted March 7, 1:36 p.m., entitled: John Ortberg's Megachurch Votes To Leave PC(USA) over Multisite Concerns | In fresh wrinkle to Presbyterian splits, Menlo Park cites doctrine but also desire for more campuses.]
The latest wrinkle in the ongoing mainline exodus: multisite.
More than 90 percent of Menlo Park Presbyterian Church (MPPC) members have voted to leave the Presbyterian Church (USA) despite an almost $9 million fee.
That was 2,024 ballots in favor and 158 opposed to the church's move to a newer denomination named ECO: A Covenant Order of Evangelical Presbyterians, senior pastor John Ortberg reported in a letter to his congregation.
The 3,400-member church is one of the largest in the PC(USA). Religion News Service reports more details.
"This is a major milestone, and not an ending but a beginning," Ortberg wrote. The Presbytery of San Francisco will vote to approve or reject the dismissal on March 11.
The PC(USA)'s interpretation of the authority of scripture was one motivation for leaving. But the other three reasons—mission, governance and property—all hinge on the ability to operate multisite campuses. MPPC added two new campuses—in nearby San Mateo and Mountain View—in 2007 and 2008. And they'd like to add five more.
"MPPC has seen attendance increase from 3,993 to 4,834 in the years since it started multisite campuses," the church's rationale for leaving states. "Multisite is just one example of how we can reach people, and we want to be part of a denomination that celebrates and accelerates our capacity to do this."
The PC(USA) resisted the San Mateo and Mountain View campuses, "based on the video format of the message and whether the campuses would compete with existing churches," according to the rationale.
Not only does the PC(USA) hold the property rights "in trust," which can discourage improvements to properties, it also isn't a good fit for "a multisite church like MPPC" since it "emphasizes process over results," the rationale continues.
"As a large, complex church, MPPC has to be able to make decisions in a timely way, with appropriate accountability and support to minimize maintenance and maximize ministry," according to the rationale. "Complex procedures and processes can result in lost opportunities for the church's ministry, mission and outreach."
ECO, a 2-year-old denomination with 115 churches, grants congregations the ownership of property, and focuses on missions at the local level, the rationale states. Their aim is orthodoxy with less bureaucracy.
MPPC's vote comes just one week after First Presbyterian Church in Houston narrowly voted to stay in the PC(USA) instead of transferring to ECO.
The move is the latest in a growing exodus from the PC(USA). More than 110 churches sought dismissal to other denominations in 2012, up from 21 in 2011. That leaves the PC(USA) at 1.84 million members, down from 1.95 million in 2011 and down from 4.25 million at its peak in 1965.
CT previously reported how a PC(USA) synod decided ECO was a special-interest group, not a Reformed denomination, because it requires more than just "personal faith in Jesus Christ" from its members.
CT has reported on the formation of ECO in 2012, on the more-or-less amicable way the Presbyterian church treats departing congregations, and on whether the balance of power in church property fights has shifted from denominations to churches. CT has also covered the PC(USA)'s road to gay ordination and the response of renewal groups.
CT also noted MPPC's most famous member: former secretary of state Condoleezza Rice.