While the No. 1 evangelical denomination reports the highs and lows of 2015, America's No. 3 reports just highs.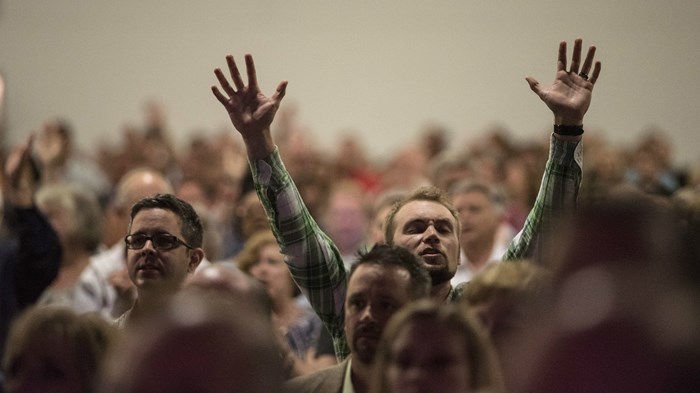 Over the past year, Southern Baptists went to church less, gave less to missions, and baptized fewer people.
Yet new churches continued to open, and the people actually in the pews donated more dollars.
These are among the mixed findings of the 2015 Annual Church Profile (ACP) of the Southern Baptist Convention (SBC). The report is released each year in advance of the 15-million-member denomination's annual meeting.
Last year, the SBC immersed about 295,000 people, down from about 305,000 baptisms in 2014. At the same time, SBC pastors planted almost 300 new churches, bringing the total number of SBC churches to about 46,800.
Church membership dropped by about 204,000 people to 15.3 million, and average weekly attendance dropped by about 97,000 people to 5.6 million.
In contrast, undesignated giving increased more than $406 million to surpass $9 billion.
Giving to Great Commission ministry programs was down by about $24 million to $613 million, but since October, giving to North American and international ministries has been rebounding, SBC president Ronnie Floyd noted in his reaction to the report.
Last year, budget constraints forced the International Mission Board (IMB) to cut more than 1,000 missionaries and staff. Floyd called the record $165.8 million raised during the Lottie Moon Christmas Offering for international missions an "encouraging response to our crisis."
(Two years ago, the SBC identified five problems behind the baptism drought.)
Meanwhile, nearly 1 in 5 SBC churches fail to report their annual stats for the ACP. Thus, the number of non-reporting churches (which hovers between 8,000 and 10,000, and was 8,661 in 2015) could be adversely affecting baptism numbers, Floyd stated. If each of those churches baptised about 8 people, that would mean baptisms could be as much as 67,036 higher, he wrote.
"[A]s long as we have this many non-reporting churches, it's hard to know where we really are," he wrote.
The 2015 ACP looks a lot like last year's, which revealed 985 new SBC churches and a loss of more than 230,000 members. In fact, 2015 was the 9th year out of 11 that the SBC reported fewer baptisms, but the 17th year in a row that the number of churches has grown.
The reaction of SBC leaders was mixed.
"God help us all! In a world that is desperate for the message of Christ, we continue to be less diligent in sharing the good news," stated Frank Page, president and CEO of the SBC's Executive Committee. "May God forgive us and give us a new passion to reach this world for Christ."
Floyd sounded much the same.
"I have been talking about this evangelism crisis in our convention during my presidency, trying to move us forward through this season of challenge," he wrote. "The key question for Southern Baptists is: Are we pushing back on lostness in America? I think we know the answer is no. We are losing our nation spiritually. It comes back to my theme for the last two to three years: The greatest need in America is the next Great Spiritual Awakening."
LifeWay president and CEO Thom Rainer was more upbeat.
"The [ACP] report shows many faithful Southern Baptists continue to worship, share the gospel, give generously, and live in community with other believers," he stated. "While a decrease in baptisms is very disappointing, we don't take for granted 295,000 baptisms. We should rejoice with each of those individuals who chose to follow Christ."
While America's largest evangelical denomination shrank in 2015, the third-largest—the Assemblies of God (AG)—kept growing, Religion News Service reports. (The Pew Research Center tallied the top denominations last year. Between the No. 1 SBC and No. 3 AG is the Church of Christ.)
Last week, the AG reported a gain of 48 churches and about 45,000 adherents (those who consider an AG church to be their church home) in 2015, bringing its total number of American adherents to 3.2 million. It was the AG's 26th year of increased membership.
The AG's rate of expansion since 1989 has been even higher than the general population growth, the denomination reported. "Since 1989, the US population has grown by 23.3 percent. In the same 26-year time span, the growth represented by the US Assemblies of God outpaced the population growth at 33 percent."
Worldwide, the AG grew by 1 percent, or 702,000, to reach nearly 68 million adherents.
CT has covered the growth of AG, its increasing diversity (less than 60% of US adherents are white), and its decrease of speaking in tongues and "spirit baptisms." CT blogger Ed Stetzer explored why Pentecostals are growing so rapidly.
CT noted last year how Southern Baptists are disappearing as church plants grow.