Israeli Christians Think and Do Almost the Opposite of American Evangelicals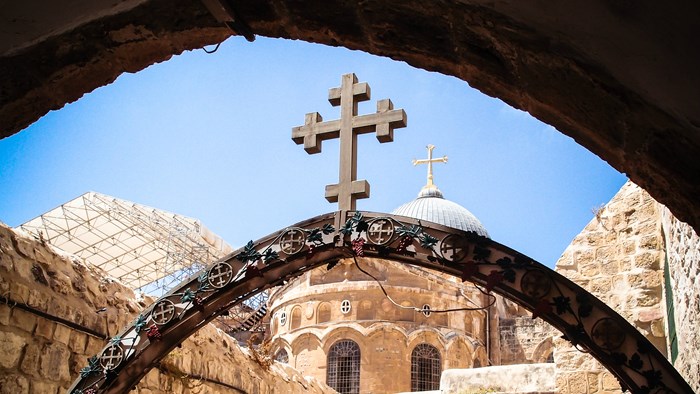 Image: VnGrijl / Flickr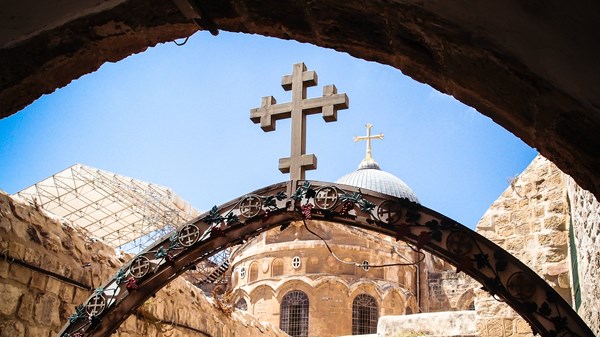 Israeli Christians Think and Do Almost the Opposite of ...
In 1949, the state of Israel was formed to be a haven for the world's decimated and traumatized Jewish population after World War II. Ever since, American Christians have largely supported the modern-day Zion; in 2013, 82 percent of white evangelicals believed that God gave the land of Israel to the Jews.
In contrast, only 19 percent of Christians actually born, raised, and living in Israel believe that God gave the land of Israel to the Jewish people. Significantly more than half (66%) believe this is not literally true, while another 9 percent don't know what to think.
The numbers come from a new comprehensive study of Israel by the Pew Research Center, which included enough self-identified Christians (468) to statistically break out their views. The numbers were weighted and adjusted, because Pew found that only 2 percent of Israel's population in 2015 was Christian, down from 3 percent in 1949. (Pew's survey includes Arab residents of East Jerusalem, but not those of Gaza or of the West Bank outside of East Jerusalem.)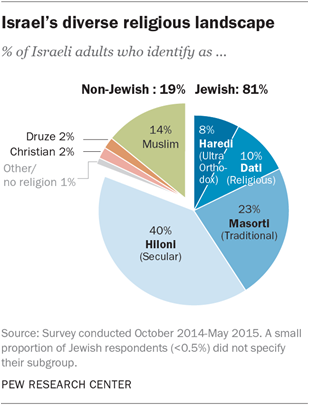 Those Christians are largely split 50/50 between Catholic and Orthodox believers. Protestants and Messianic Jews both made up fewer than 0.5 percent of Israel's population, and thus were too negligible to be broken out separately in the survey results (though they are included in the totals pertaining to all Christians).
Though all of the Christians surveyed were born in Israel (or East Jerusalem), their small numbers and heritage (96% are Arab) distance them from the country's Jewish identity.
For example, the majority of Israeli Christians (72%) believe Israel cannot be both a democracy and a Jewish state, though most Israeli Jews (76%) believe it can be fully both.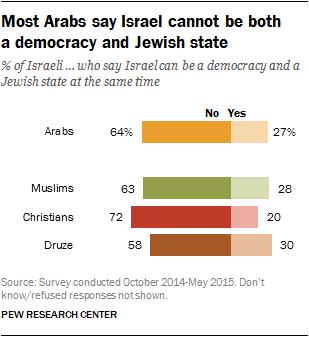 And only 12 percent of Christians think the Israeli government is making a sincere effort to bring about peace with Palestinians; 80 percent said there was no sincere attempt. They were more generous to Palestine—half of Israeli Christians think the "Palestinian leadership" is making a genuine effort for peace, while 37 percent said it was not.
Israeli Christians are also opposed to the settlements the Jewish state builds in areas such as the West Bank. Nearly 4 out of 5 Christians (79%) say that the continued building of settlements hurts the security of Israel; just 15 percent say such construction helps. In fact, Christians in Israel are more opposed to building settlements than even Muslims in Israel (61%).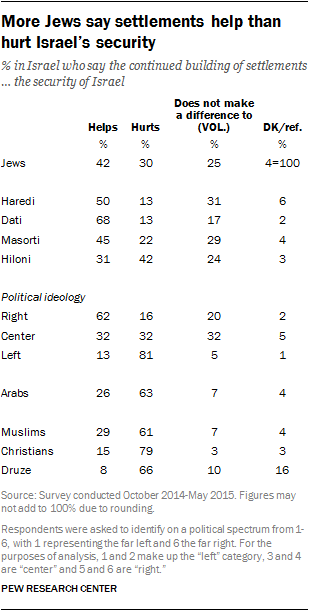 While a plurality of Christians (45%) believe that Israel and an independent Palestine could coexist peacefully, about a quarter (24%) believes a two-state solution is not possible.
The vast majority of Israeli Christians (86%) believe the United States is too supportive of Israel. Just 6 percent said the American government wasn't supportive enough, while 7 percent said the level of US support was just right.
The numbers stand in stark contrast to the views of American Christians. A 2013 Pew study found that just 18 percent of them said the US is too supportive of Israel. Even fewer white evangelicals (12%) and black Protestants (16%)—two-thirds of whom identify as evangelical—said that America is too supportive of Israel. Far more thought the US was not supportive enough (29% of Christians, 46% of white evangelicals, and 19% of black Protestants) or the level of support was about right (41% of Christians, 31% of white evangelicals, and 48% of black Protestants).
White evangelicals in the US felt even more strongly pro-Israel in a 2015 Pew poll: 6 percent thought the US was too supportive, 55 percent felt the US wasn't supportive enough, and 36 percent thought the support was about right. Evangelical pastors, meanwhile, overwhelmingly agree (80%) that Christians should support Israel.
Though the Palestinian conflict draws the most attention in America, Israelis in general (40%) and Israeli Christians (41%) were more likely to say that Israel's greatest long-term challenge is economic. About a third of all Israelis (36%) and Christians (31%) said that threats of violence or terrorism were Israel's biggest problem.
Pew asked Christians to self-identify, and respondents in Israel split about evenly among those for whom their Christianity was a matter of religion (31%), ancestry and culture (34%), or a combination of both (34%).
Heritage plays an important part in Israeli Christianity: 99 percent of Christians were raised that way, and 99 percent married another Christian (though Protestants face challenges). Almost 9 in 10 Christians said they have "a strong sense of belonging to the Christian people" (89%), and nearly the same percentage said all or most of their close friends are also Christians (86%).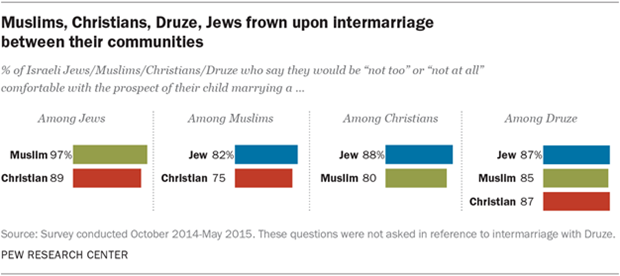 Most Christians say that their faith is very important (57%) or somewhat important (34%) to them, though fewer pray daily (34%) or attend church at least weekly (38%). More believe that many religions can lead to eternal life in heaven (48%) than that Christianity is the true faith leading to eternal life (43%).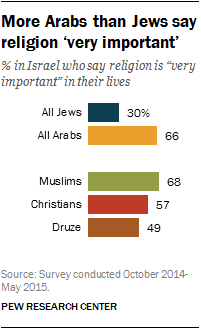 In comparison, more American Christians (68%) and evangelicals (79%) report praying daily and attending church at least once a week (47% of Christians, 58% of evangelicals).
About two-thirds of Israeli Christians believe that Jesus is God (64%) and that the Bible is the literal word of God (65%), though another 18 percent believe the Bible is the word of God but shouldn't be taken literally.
In the US, about a third of Christians (39%) think the Bible is the literal word of God, while another third (33%) believe it is the word of God but shouldn't be taken literally. Among evangelicals, 55 percent believe the Bible is the literal word of God, while 29 percent believe it shouldn't be taken literally.
Israeli Christians are evenly divided on their expectations of Jesus' return: roughly a third each said that he'll return during their lifetime (32%), that he won't (37%), or that they don't know (31%). In the US, 47 percent of Christians expect Jesus will definitely or probably return in the next 40 years, while 38 percent said he definitely or probably won't.
Among Pew's other findings:
Slightly more than half of Israeli Christians (55%) "favor making the Bible the law of the land for Christians."
In terms of how Israeli Jews view Christians, Pew found that "secular Jews in Israel are more uncomfortable with the notion that a child of theirs might someday marry an ultra-Orthodox Jew than they are with the prospect of their child marrying a Christian."
CT's coverage of Israel, Palestine, Zionism, and Jewish-Christian relations includes why Christian education could vanish in Israel, how identity politics are squeezing Arab Christians, and a new effort by Messianic Jews and Palestinian Christians to model how believers should disagree.
CT also noted what Pew's massive survey of American Jews revealed about American Christians.
[Photo courtesy of VnGrijl – Flickr]

03/08/2016