A Top Reason for Church Shootings: Domestic Abuse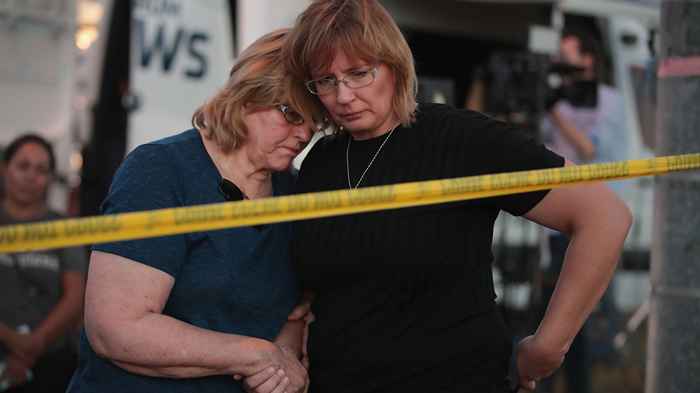 Image: Scott Olson / Getty Images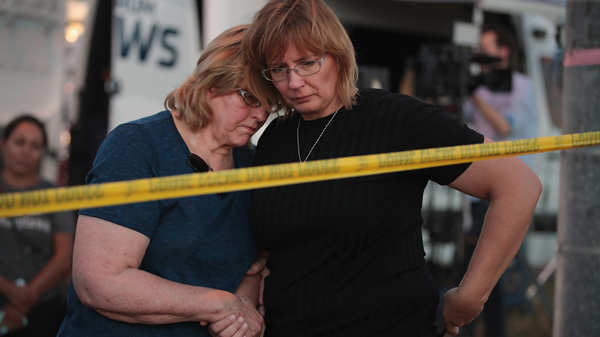 A Top Reason for Church Shootings: Domestic Abuse
Officials have concluded that the gunman who shot up a small Baptist church outside San Antonio on Sunday was not religiously motivated.
It may come as a surprise to know that very few attacks on houses of worship are.
Instead, the details around Devin Kelley's abusive past and ongoing feud with his in-laws point to a domestic incident causing him to target First Baptist Church of Sutherland Springs. Local law enforcement indicated Kelley's second wife had occasionally attended the church with her family, and that the two had separated.
"The suspect's mother-in-law attended this church," Texas Department of Public Safety spokesperson Freeman Martin said, according to The New York Times. "We know that he had made threatening texts and we can't go into detail into that domestic situation that is continuing to be vetted and thoroughly investigated."
Though the scale of Kelley's carnage is unprecedented, his motive is all too familiar. Domestic violence rarely stays confined to the home, and has increasingly led to violence on church property. Estranged husbands make their way into church parking lots and lobbies to settle fights, take revenge, or confront their victims.
A second church shooting took place on Sunday, this one in Fresno, California, where a man shot his wife and her new boyfriend in the parking lot of a Catholic church following early morning Mass.
"Year after year, domestic abuse spillover—when a fight at home comes to church—is one of the three most common killers at faith-based organizations," wrote church safety expert Carl Chinn for CT sister publication Church Law & Tax.
Last year, among violent attacks at houses of worship where the cause was known, 25 percent of victims were killed as a result of a domestic abuse incident, all by male attackers, according to Chinn's data. The next most common motive was personal conflict, followed by robbery.
While in the Air Force five years ago, Kelley had been convicted of assaulting his first wife and breaking her infant son's skull, The Times reported.
The charges resulted in 12 months of confinement, followed by a bad conduct discharge from the service in 2014. His crimes should have prevented him from obtaining a firearm; a federal law bars anyone convicted a domestic violence misdemeanor from owning a gun.
Not all incidents of domestic violence lead to criminal charges, though; victims often keep silent out of fear of retaliation or justify their abuser's behavior in hopes that they will change. The secret and shame around abuse can lead onlookers—including church leaders—to underestimate its presence in their communities. Experts recommend pastors look out for signs of domestic violence and familiarize themselves with reporting laws in their states.
A 2017 Church Law & Tax report entitled "Why Domestic Violence in the Home Endangers Your Church" laid out the following statistics:
About three-quarters of pastors (74%) estimate that less than 20 percent of their congregation has experienced domestic violence, according to a 2014 LifeWay Research survey for Sojourners and IMA World Health.
National prevalence rates show that 1 in 3 women (33%) and 1 in 4 men (25%) have been victims of intimate partner violence.
Almost half of Protestant pastors (45%) said their church does not have a plan in place to respond if someone says they are a victim of domestic violence, according to a 2017 LifeWay survey.
Overall, 1 in 5 incidents of violent crime in the US between 2003 and 2012 resulted from domestic violence, most commonly between spouses, exes, and partners.
Bart Barber, who pastors a small Southern Baptist congregation in northeast Texas, remarked that small churches in small towns inevitably get tangled in these incidents, though pastors may have fewer resources or staff to help mitigate the onslaught of family tension.
"In a smaller church, the boundaries between family and church are thin and blurry, so family problems spill over," he wrote for CT. "Working on the front lines of these sensitive issues, churches can become targets when things go wrong."
But domestic violence spans demographics. Last summer, a man committed a murder-suicide, killing his wife and himself after a church service in Chicago, and another estranged husband shot his wife while she attended a funeral at a church in Mississippi.
Domestic violence is a significant factor in mass shootings overall. A Washington Post op-ed pointed out:
According to Everytown for Gun Safety, 54 percent of mass shootings involve a partner or another family member being killed.

Male violence is an acute threat to American women: The Centers for Disease Control and Prevention reports that homicide is the fifth leading cause of death for women from 18 to 44, and more than half of these killings were carried out by men they knew — husbands, boyfriends, exes, or other intimate partners….

How many Americans must be felled by bullets have to happen before we understand that the safety of women and children at home is not just a private matter but also essential to public safety?
Everytown found an even stronger link between domestic violence and mass shootings for incidents with ten or fewer fatalities (mass shootings are often defined as killing at least four).
Additionally, the group reported that nearly a quarter of victims of mass shootings are children. In Sutherland Springs, reports show that between 12 and 14 of the 26 people killed—about half—were kids. Kelley killed a child as young as 18 months old, as well as a woman who was 8 months pregnant and her unborn baby.
Domestic violence raises serious concerns in the church—both as a sin and a security risk. The vast majority of pastors (87%) believe their church would be a safe haven for domestic violence victims, according to this year's LifeWay survey. Yet Christians may experience some barriers to addressing abuse in their midst.
According to Lindsey and Justin Holcomb, authors of Is It My Fault? Hope and Healing for Those Suffering Domestic Violence, women who are particularly religious are often less likely to see the violence against them as wrong. They may "try to understand their suffering by believing it is 'God's will' or 'part of God's plan for my life.'"
Pastors play a crucial role in stopping the cycle of violence and holding abusive men accountable for their actions, according to research presented before the Association for the Sociology of Religion in 2010 and reported by the Association of Religion Data Archives.
Faith-based intervention can be an effective method to stop violent behavior and "can discredit dangerous theological ideas that abused women must be submissive and provide resources to allow the men to envision a different future," according to University of New Brunswick sociologists who studied 1,200 men in treatment for abuse. Men who received support from their pastor were more likely to complete the program.
CT previously covered why Christian women should contact police before their pastors after incidents of domestic violence, the shame of silence around spousal abuse in the church, and the stories of Christian survivors.

11/07/2017