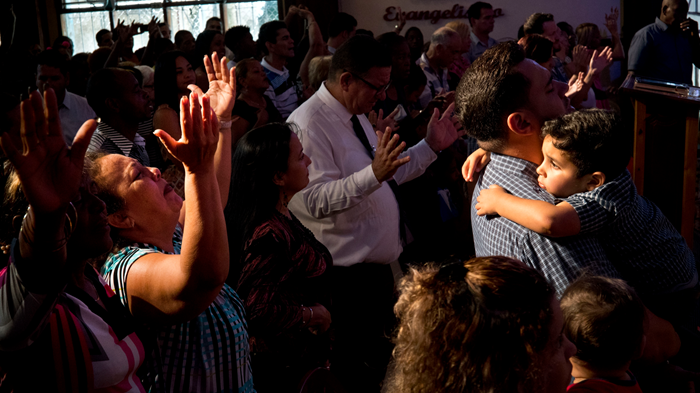 Image: Ramon Espinosa / AP
A group of Cuban church leaders died in a plane crash Friday on the way home from a denominational retreat in Havana.
The ten married couples, several of them co-pastors, from Holguín in East Cuba, had spent three days at a Nazarene seminary in the island's capital. They sang and prayed together on the bus back to Jose Marti International Airport to catch their return flight, Cuba Church of the Nazarene President Leonel López told Nazarene Communications Network (NCN) News.
But they never made it back home. The 20 pastors were among more than 100 people killed when their Boeing 737 airplane crashed shortly after takeoff from Havana around noon on Friday. Just three survivors remain. It's the deadliest aviation accident in Cuba in three decades.
"In this moment of anguish and pain, we ask for your prayers and help to be able to get through this situation together," said López.
Among the casualties were the Nazarene Missions International district president and district office secretary and treasurer, NCN News confirmed. The Nazarene victims leave behind eight children between the ages of 7 and 16, and several of the couples also had adult children.
"This has been a difficult time for the Church of the Nazarene, but in these times of difficulties and adversities we know that God is still in control," said Carlos Saenz, regional director for the Church of the Nazarene Mesoamerica, which dates back more than 70 years in Cuba.
The cause of the crash is still unknown, although the plane was nearly 40 years old and reportedly in poor condition. It had been rented from a Mexican owner and flown by the Mexican airline Global Air.
"We pray to the Lord to fortify the hearts of the families of our fallen brothers and sisters and as well the entire Church of the Nazarene, not only in Cuba but in every place that it's found," said the Aliazana Evangelical Latina (AEL) in a statement. Among the country's growing evangelical population, more than 9,000 Cubans belong to about 100 Nazarene congregations on the island.
"Our Council of Churches joins the greater Cuban community in grieving today the profound loss of human life and asks for prayer for the three survivors that are in critical condition and have been hospitalized," said the Consejo de Iglesias in a statement.
While church and state have come in conflict in Cuba, Christianity there has been undergoing an improbable and impressive revival, as CT has reported. At the time of Fidel Castro's death in 2016, the Protestant population had grown to more than 5 percent.