Indonesian Churches Blasted by Family of Suicide Bombers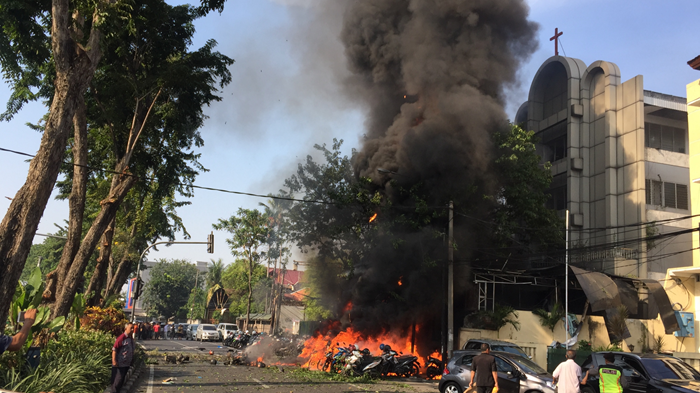 Image: Surabaya Government Handout / Andy Pinaria / Getty Images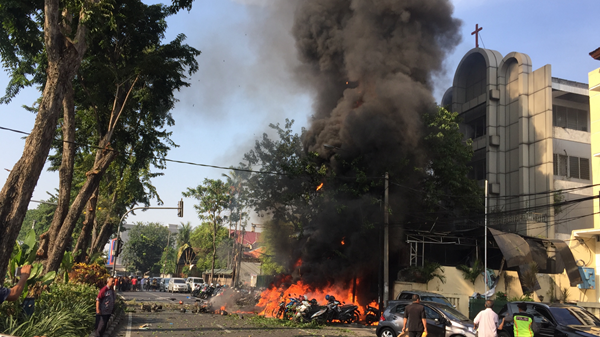 Indonesian Churches Blasted by Family of Suicide Bombers
Suicide bombers launched coordinated attacks on three Indonesian churches during worship services this morning, leaving more than a dozen people dead and at least 40 more injured in a series of bloody blasts that horrified the country's Christian minority and Muslim majority alike.
Diponegoro Indonesian Christian Church (GKI), Surabaya Center Pentecostal Church, and Santa Maria Tak Bercela Catholic Church—all in Surabaya, the second-largest city in the island-chain nation—suffered bombings carried out by six members of the same family, who are believed to be affiliated with Jamaah Ansharut Daulah (JAD), an Indonesian terrorist cell aligned with ISIS.
Sunday's bombings mark the deadliest terrorist attack in the world's biggest Muslim country since the Bali bombings that killed more than 200 people in 2002.
The current death toll includes at least seven worshipers, plus the six family members who conducted the terror plot. Indonesian police told the Associated Press that within minutes, the father exploded a car bomb into one church building; two teenage sons on motorcycles drove into another; and the mother with two daughters, aged 12 and 9, wore explosives at the third, setting them off as she hugged a churchgoer.
According to initial reports by Asia News, after the explosions at the Catholic and two Protestant churches, police were able to thwart a fourth attack at the Cathedral of the Sacred Heart of Jesus.
The Indonesian Church Association and Indonesia's two biggest Muslim organizations, Nahdlatul Ulama and Muhammadiyah, condemned the attacks. President Joko Widodo called the incidents "cowardly actions" that were "very barbaric and beyond the limit of humanity."
Though Indonesia is cheered for its pluralism—with a Christian community of about 17 million Protestants and 3 million Catholics (9% of the population) living alongside the biggest Muslim population in the world—the rise of radical Islam in some areas and sectors of society has made the situation for believers much worse.
"Indonesia has a proud history of pluralism and inclusivity, but the last two decades have seen a drastic shift towards a hitherto unseen intolerance," said Wilson Chowdhry, chairman of the British Pakistani Christian Association.
"In the most recent report the attack has been attributed to one particular family inspired by ISIS, the hatred that has been reinforced in this family led to the mother and father chillingly involving their young children in the terrorist plot… ," Chowdhry stated. "It beggars belief that people can be so easily influenced to perpetrate such heinous and gory crimes especially when many of them lived peacefully with minority faiths, until they were washed of their wits by false doctrine and misspent religious zeal."
The church bombings follow fatal attacks on Jakarta police in recent days, as well as a bombing in a nearby district, the AP reported.
Two years ago, a terrorist threw a Molotov cocktail at a church in Borneo, killing a toddler and wounding three others, according to Open Doors International, which rates the country's persecution level as "high."
Prior to the 2002 attack on various tourist sites in Bali, terrorists bombed a Catholic church in East Jakarta in 2001 and Christmas Eve services at 11 churches nationwide in 2000.
"We strongly condemn this mindless attack on Christians in Surabaya," Godfrey Yogarajah, the deputy secretary general of the World Evangelical Alliance (WEA), in a statement released Sunday. "We stand in solidarity with Christians in Indonesia during this difficult time and call on the global church to pray for all those affected in the attacks."
WEA asked that Christians around the world pray for a thorough investigation by the Indonesian government, so that Christians can receive better safety protections.
Pope Francis also lifted up Christian communities in Surabaya in prayer today, saying, "I raise my prayer for the victims and their relatives. Together we invoke the God of peace to stop these violent actions, and that feelings of hatred and violence be replaced in people's heart with reconciliation and fraternity."

05/13/2018