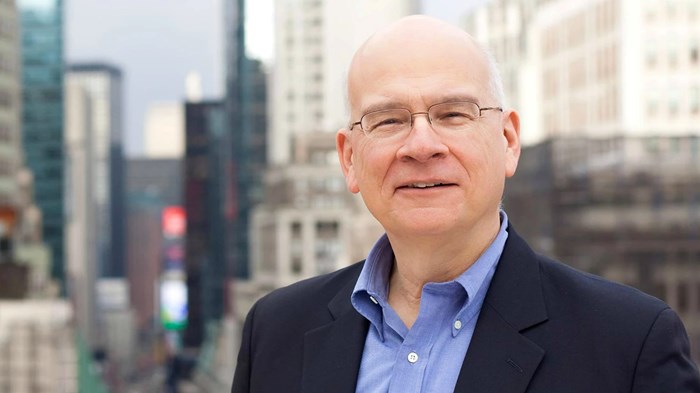 Image: Tim Keller
Tim Keller pidió a sus seguidores que oren, ya que está por comenzar sesiones de quimioterapia por cáncer de páncreas.
El popular pastor y autor cristiano anunció la noticia de su diagnóstico en Instagram y Twitter el domingo por la mañana [7 de junio].
"Hace menos de tres semanas no sabía que tenía cáncer", escribió Keller. "Hoy me dirijo al Instituto Nacional para el Cáncer dentro de los Institutos Nacionales de Salud [National Institutes of Health (NIH)] para realizar pruebas adicionales antes de comenzar con quimioterapia para cáncer de páncreas la próxima semana en la ciudad de Nueva York".
Keller, de 69 años, dijo que ha sentido a Dios presente y que se sintió muy bien físicamente cuando se sometió a las pruebas iniciales, biopsias y cirugía. Él ve la providencia de Dios en el hecho de que los médicos diagnosticaran el cáncer cuando lo hicieron.
"Tengo excelentes médicos humanos, pero lo más importante es que tengo al Gran Médico cuidándome", escribió.
En 2017, Keller dejó su puesto como pastor principal de Redeemer Presbyterian Church en Manhattan, después de 28 años de servir en ese ministerio. Ha continuado escribiendo, predicando y trabajando en el proyecto "De ciudad a ciuidad", iniciativa de la iglesia que pastoreó por tantos años y que consiste en el establecimiento de nuevas nuevas iglesias. Keller pidió oraciones para que pueda continuar su trabajo a pesar de los efectos secundarios del tratamiento.
En las últimas semanas, Keller ha compartido su serie Gospel in Life, que aborda el tema racial a través del Evangelio, a la vez que ha promocionado Uncommon Ground, libro sobre evangelismo cristiano en medio de las divisiones y que co-editó con John Inazu.
Keller fue diagnosticado con cáncer de tiroides en 2002, experiencia acerca de la cual escribió en su libro Walking with God Through Pain and Suffering. Ahora tendrá una cara familiar en el NIH: el director Francis Collins. Keller habló con Collins, hermano cristiano y genetista galardonado, el mes pasado durante una conversación en línea sobre la fe en medio de la pandemia por coronavirus. Collins ha liderado el NIH en medio de un impulso histórico de investigación en torno a la inmunoterapia contra el cáncer, incluyendo avances en el tratamiento del cáncer de páncreas, próstata y mama.
El cáncer de páncreas puede ser una forma de cáncer particularmente agresiva y difícil de diagnosticar, representando alrededor del 3 por ciento de los diagnósticos de cáncer en los Estados Unidos y el 7 por ciento de todas las muertes por cáncer.
En la última década, otros líderes evangélicos como el teólogo, Dallas Willard, y el expresidente de la InterVarsity Christian Fellowship,Steve Hayner, han muerto después de luchar contra el cáncer de páncreas.
Keller concluyó su anuncio con una referencia a Hebreos 12:1–2: "Correré la carrera que Dios ha puesto delante de mí con gozo, porque Jesús corrió una carrera infinitamente más dura, con gozo, por mí."
Traducido por Livia Giselle Seidel