We've Got Mail
And your mail comes through the U.S. Postal Service, via e-mail, and by fax. All of your letters are read—though, alas, we had room to publish only a small percentage of the more than thirteen hundred missives we received in 1998. The article that received the greatest response last year was the Special News Report on the Church of Jesus Christ of Latter-day Saints (Mormons), published in June as the Southern Baptists were preparing to take their annual convention to Salt Lake City. In second place were your reactions to our editorial on the death penalty, "The Lesson of Karla Faye Tucker" (April 6), followed by Timothy Weber's article about "How Evangelicals Became Israel's Best Friend" (Oct. 5).
Keep those letters coming in 1999. Your response to CT is helpful to us, and it is of interest to many other readers who share your views and concerns. We appreciate hearing from you.
Tender, Realistic Art
Fantastic art work that touched my heart [Cover, Dec. 7, 1998]! Such a moving concept of the Nativity, showing the complete exhaustion of Mary having just delivered a child as well as the "so real" portrayal of the fragile baby Jesus, also exhausted from his struggle to be born. Finally, we have a Joseph who is not merely an observer but a man contemplating with awe this miracle and wondering, with apprehension, his role in this Child's future.
This is a tender, realistic rendering of the way Christ's birth probably was.
Margaret B. Spittler
Signal Mountain, Tenn.
An "Asymmetric" Relationship
Gilbert Meilaender's "Biotech Babies" [Dec. 7] was a thoughtful, clear exposition of ideas few have yet thoroughly considered, much less attempted to express. However, when I closed the magazine, I happened to see once again the cover picture of Mary, Joseph, and baby Jesus. What more "asymmetric" parent-child relationship could ever have been devised? Meilaender was warning of the dangers of technologically assisted reproduction wherein the child has one biologically related parent and one donor-related parent. Yet there was Joseph in obedience to God's request that he not quietly divorce Mary but remain as her husband and coparent, and, as Meilaender put it, "receive the child as a gift, a sign that the Lord has remembered them" despite the fact that this was not the offspring of the parents' physical "love-giving becoming life-giving."
Lynn Smith Garfinkel
Ambridge, Pa.
* My wife and I have recently become parents due to our use of reproductive technologies (RT); specifically, artificial insemination in combination with the drug Clomid. Clomid increases the chances of ovulation, but when used correctly, does not significantly increase the chances of multiple ovulations. Multiple ovulations and multiple births are far more likely to be the result of such drugs as Pergonal or Metrodin. During our time of attempting to have a child (3+ years) we met many other Christian couples who were using RT as well. We had carefully examined the RT methods and their moral consequences. Furthermore, we had decided just what we would and would not do prior to utilizing RT. But we found that most Christian couples we met had not done either, and were not willing to discuss them with us.
There are issues to consider, even if one isn't going for "heroic measures." For example, the standard practice in using IVF is to fertilize 5-6 ova at a time and implant them all. This is done with the knowledge that there is only a 20 percent success rate with IVF. This does not mean that if you implant 5-6 ova, you'll end up with a child; this means that if you implant 5-6 ova each time for approximately five times, you'll end up with a child. In other words, create approximately 25 lives on the chance that one of them will survive to term. While this was unacceptable to us, it was downright unmentionable to others.
Another issue rarely mentioned is the lack of privacy and autonomy in your marriage when undergoing treatment for infertility. You essentially hand over control of one of the most intimate areas of marriage to an outside party. And that most intimate area becomes a means to an end, rather than the end itself. This places an extraordinary strain on a couple's relationship. If the couple does not pray together for each other and for their marriage during this time, regardless of the RT outcome, they may be in for trouble.
Douglas A. Sirman
Ann Arbor, Mich.
* Gilbert Meilaender uses disturbing examples in his essay to depict immoral behavior, but I question whether some of the individuals he alluded to are Christians. He points out that Christian couples utilizing certain procedures will face inequalities in parenthood and notes that a child is no longer the "fruit of their one-flesh union."
Christian couples who receive proper counseling have mutual agreement, and most of all pray [they] will find the decision to utilize many biotechnological advances as a gift from God. Where science begins, only God can provide life. Meilaender must be careful not to use his own opinions to speak for all Christians.
David Terlizzi
Evanston, Ill.
My husband and I have a beautiful son, conceived naturally and with a severe genetic disease of which my husband and I are both carriers. Since our son is not expected to survive to school age and is now ventilator dependent at 14 months, we have elected to investigate methods of bringing a child without this disease into our family. We are not, at this moment, discounting any possibilities (adoption, natural conception, or genetic testing with IVF). If one believes that God gave doctors and researchers the ability to save lives, how much more removed is it for researchers to be able to facilitate pregnancy for couples who need assistance?
Angela Piplitz
Tampa, Fla.
* Just because children conceived with the aid of technology did not result from an act of sexual intercourse, Meilaender should not deceive himself into thinking the parents do not consider the children "gifts" from God. On the contrary! The infertile Christian couples I know consider the children they did go on to have much more as gifts than any couple I've ever known who did not have trouble conceiving.
The question of adopting is a totally different subject from infertility. (I did not understand this until I married an infertile man. I, too, thought that adoption was the answer to infertility.) Adopting satisfies the desire to "parent," but adopting does not satisfy the desire for genetic continuity, pregnancy, childbirth, and nursing. (And for those who are saying, "Oh, believe me, I could've done without those things," how many of you would really give up the whole experience of having children?)
When God made us in his own image, He also instilled in us the desire to do the same.
Deborah Burns
Bryan, Tex.
The article did a good job of telling infertile couples what they should not do to fulfill their God-given yearning to be parents, but it did a very poor job of giving positive alternatives or suggesting Christian resources where such couples can find help and encouragement. A two-line statement that there are many needy children who go unadopted is hardly adequate! There are many Christian resources for those who are struggling with infertility, including Stepping Stones, a ministry designed to offer hope, help, encouragement, and counsel to Christian couples who are struggling with infertility issues (616-224-7488).
Rev. John Van Regenmorter, Director
Stepping Stones
Grand Rapids, Mich.
Evolving to Be God's Person
* Thank you for the illuminating story of John Wayne Whitehead [Dec. 7]. It is refreshing to read about someone "evolving" into the person God is molding him to be rather than being molded entirely by prevailing religious opinions. The fact that he is still Christ-centered is crucial.
Both Whitehead's actions for Jesus and current reactions against him in the name of Jesus seem to prove John Stackhouse's point ["The Jesus I'd Prefer to Know," same issue].
William K. Webb
Lakewood, N.J.
* I have followed John Whitehead's ministry from its earliest days. On the one hand, I admire his willingness to think through social issues from a Christian perspective and not merely to parrot what many perceive to be the "proper" evangelical response. This is particularly true in the context of issues where many Christians do seem to follow only one-half of the injunction to "hate the sin, but love the sinner." However, I am troubled by Whitehead's love of pop culture. I agree with him that Christians should be aware of pop culture and engage it, not merely ignore or shun it. But to love pop culture is most certainly to love the world, and that is something no Christian should do. Whitehead's attitude toward pop culture seems to show a spiritual immaturity. It should be far better if Christians could recover the spiritual riches of their heritage: evangelicals have a culture of their own that they can rejoice in. No Christian should spend a moment of the time God has given him to listen to the "Sex Pistols."
Bill Reichert
Palos Verdes, Calif.
* If John Wayne Whitehead is the future of evangelicalism, I'm bailing out while there's still time. Whitehead is not engaging the secular culture, he is the secular culture. He's spending donor money defending the rights of homosexuals, publishing a low budget Rolling Stone complete with movie reviews like the one about necrophilia (sex with the dead), and he has no problem with the values and ethics of President Clinton. For young people who genuinely seek to be salt and light, Whitehead is no example to follow. He is a cautionary tale about what can happen when the knee is never bent in true submission to Jesus Christ.
Tom Schlueter
Milwaukee, Wis.
* The article just confirmed to me what I figured out long ago: Whitehead is more interested in seeing his name in print than standing up for Christianity here in America. Perhaps the man is unstable, but most certainly he is unsound.
Robert W. Silling III
Harrisonburg, Va.
Bakker: A Wonderful Sequel
I would like to commend you for your insightful article "The Re-education of Jim Bakker" in the December 7 issue. It is so seldom that the news media ever print a "both sides" of the issue follow-up story on recently defrocked clergy. As with the laity, so is the clergy in great need today of "Prodigals" coming home!
Your article is also a wonderful sequel to your "Prodigal Son/Loving Father" feature published earlier [Oct. 26].
Rev. Douglas Raymond Rose
Grand Prairie, Tex.
There is much about the re-education of Jim Bakker that I believe is biblical and helpful. For that I am thankful. However, it may be a wrong education. I believe Bakker misused 3 John 2 before (during his PTL days) and that he is misusing it now. He misused this greeting to heap riches upon himself. He is now misusing this verse to put down so-called prosperity teaching.
While there are dangers associated with prosperity in the Bible, this does not take away from the truths of prosperity taught in the Bible. Take just one verse: "Being enriched in every thing to all bountifulness, which causeth through us thanksgiving to God" (2 Cor. 9:11). The New Living Translation says, "Yes, you will be enriched so that you can give even more generously. And when we take your gifts to those who need them, they will break out in thanksgiving to God." God prospers us so we can be a blessing to others, not heap it on ourselves.
Rev. Van Gale, Senior Pastor
Praise Fellowship Church
Carol Stream, Ill.
* The article on Jim Bakker is recommended reading for all Christians. We have so much deception in the world today and so many preachers and teachers who are preaching another gospel, which is no gospel at all. It is good to read an article about a man who preached another gospel and prospered from it and yet was pitiful, poor, blind, and naked (Rev. 3:17).
The Bakker story is a strong testament to the faithfulness of God toward his children and the guts it takes to admit to the world that what was coming out of the PTL ministry was wrong. Hopefully, a lot of ministers' eyes will be opened, and hopefully, some will turn to the Lord and be healed.
Darren Howard
New Orleans, La.
* No wonder the Grahams have been blessed of God. Franklin visits Bakker in prison and offers him help upon release, Ruth sits next to him in church within two days of his release, and Bakker gets a wallet of Billy's. Is it possible that Matthew 6:14 is true after all—"If you forgive men when they sin against you, your heavenly Father will also forgive you"?
Maybe we would all be better off in the Christian community if, instead of shooting our wounded, we would love the fallen back to usefulness as Jim Bakker has been.
Pastor Alan Adams
Celebration Free Methodist Church
Tampa, Fla.
Furthering the Kingdom in Hollywood
You are in the spirit of the founder of CT , who endorsed The Ten Commandments when it came out in 1956 [Pop Culture, Dec. 7]. Billy Graham's endorsement was controversial at the time and scorned by liberal and fundamentalist alike. The fundamentalists didn't like the idea of it coming out of Hollywood, the liberals protested the literalness of DeMille's miracles.
I agree that such works of art [as The Prince of Egypt] can further the work of the kingdom, and Christians should do what they can to bridge the gap. At the same time, it might be a good idea for us to reflect on what CT said powerfully about Hollywood's other epic: "It is more difficult to be Moses than Hollywood thinks, and God's commandments run deeper than it knows. … A culture in which the arts merely reflect the truth, rather than incarnate it, knows the form of true religion without its power. Jehovah wrote commandments on stone, so they could not be erased; he purposes to write them on the human heart. Hollywood has inscribed them on celluloid and sound tape, somewhat more brittle and breakable. When God speaks with a Hollywood accent, it is somehow easier to swarm the box office than to storm the altars of repentance."
Phil DiCicco
Glen Ellyn, Ill.
Editor's Note:
The photograph of Navajo artist Elmer Yazzie that appeared in the November 16, 1998, issue was taken by Karmen Palumbo of the American Bible Society. CT regrets omitting the photographer's credit.
Brief letters are welcome. They may be edited for space and clarity and must include the writer's name and address if intended for publication. Due to the volume of mail, we cannot respond personally to individual letters. Write to Eutychus, Christianity Today, 465 Gundersen Drive, Carol Stream, IL 60188; fax: 630/260-0114. E-mail: cteditor@christianitytoday.com ( * ).
Have something to add about this? See something we missed? Share your feedback here.
Our digital archives are a work in progress. Let us know if corrections need to be made.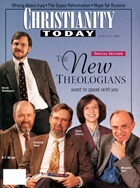 This article is from the February 8 1999 issue.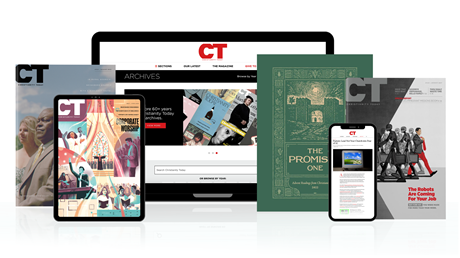 Subscribe to Christianity Today and get access to this article plus 65+ years of archives.
Home delivery of CT magazine
Complete access to articles on ChristianityToday.com
Over 120 years of magazine archives plus full access to all of CT's online archives
Subscribe Now
Letters
Letters