1901
Jean Henri Dunant
Devoted Swiss Calvinist; founded the International Committee of the Red Cross; shared the award with Frederic Passy, French founder and president of the first French peace society.
1907
Ernesto Teodoro Moneta
Pacifist Italian and a practicing but anticlerical Catholic; president of the Lombard League of Peace.
1919
Thomas Woodrow Wilson
U.S. President and a Presbyterian; founder of the League of Nations.
1930
Lars Olof Nathan (Jonathan) Söderblom
Primate of the Church of Sweden and Archbishop of Uppsala; leader of the ecumenical movement.
1934
Arthur Henderson
Methodist lay preacher from Britain; chairman of the League of Nations Disarmament Conference of 1932–34.
1937
Lord Robert Cecil of Chelwood, Viscount
High-church Church of England writer; founder of the International Peace Campaign.
1946
John Raleigh Mott
American; chairman of the first International Missionary Council and president of the World Alliance of Young Men's Christian Associations; promoted Christ-based student movements and associations for peace; shared the award with Emily Greene Balch, honorary international president of the Women's International League for Peace and Freedom.
1947
The Friends Service Council (London) & The American Friends Service Committee (Washington)
These Quaker organizations shared the award for the spirit in which they carried out postwar relief efforts and for previous peace promotion.
1952
Albert Schweitzer
Alsace-born missionary surgeon; founded the Lambaréné Hospital in the Republic of Gabon.
1958
Georges Henri Pire
Belgian Father of the Dominican Order; leader of a relief organization for refugees.
1959
Philip J. Noel-Baker
British Member of Parliament and Quaker; devoted his life to international peace and cooperation.
1960
Albert John Luthuli
Practicing Christian and advocate of nonviolent passive resistance; president of the African National Congress.
1961
Dag Hammarskjöld
Swedish Secretary General of the United Nations; kept a private journal on the Lordship of Christ in his life; received the award posthumously.
1964
Martin Luther King Jr.
Campaigner for civil rights.
1976
Mairead Corrigan & Betty Williams
Catholic and Protestant women whose passion for peace united multitudes on both sides of the Northern Ireland conflict.
1979
Mother Teresa
Born in Yugoslavia of Albanian parents; cared for hundreds of thousands of the poor as leader of the Order of the Missionaries of Charity in India.
1980
Adolfo Perez Esquivel
Argentinian artist and human-rights leader; coordinated nonviolence movements based "on faith in Christ and in humankind."
1983
Lech Walesa
Devout Roman Catholic; founder of the Solidarity labor movement in Poland; campaigned for human rights.
1984
Desmond Mpilo Tutu
Anglican bishop of Johannesburg at the time of the award; later archbishop of Cape Town and former secretary general of the South African Council of Churches; played a key role in dismantling apartheid in South Africa.
1987
Oscar Arias Sanchez
President of Costa Rica whose faith in God helped sustain his efforts to initiate peace negotiations in Central America.
1990
Mikhail S. Gorbachev
President of the U.S.S.R. who helped bring the Cold War to a close has acknowledged the Russian Orthodox influence on his philosophy of human rights and international relations.
1993
Nelson Mandela & Fredrik Willem de Klerk
The former is a lifelong Methodist and the latter professes belief in the Trinity; two otherwise diametrically opposed figures who united to set South Africa on a nonviolent path toward majority rule.
1996
Carlos Belo & Jose Ramos-Horta
The bishop of Dili in East Timor and his lay colleague; worked toward a just and peaceful solution in the strife-torn region.
1998
John Hume & David Trimble
Catholic member of Parliament and Protestant Ulster Unionist Party leader; recognized for their efforts to find a peaceful solution in Northern Ireland.
2000
Kim Dae-Jung
South Korean president and devout Catholic; honored for his drive for warmer relations with North Korea.
Related Elsewhere
See today's related articles, "Anonymous Are the Peacemakers | For the past century, the Nobel Peace Prize has spotlighted those who work for 'fraternity among the nations.' But strife and warfare are often thwarted by Christians working quietly and prayerfully" and "Fellowship Without Borders | In Northern Ireland, a Catholic monk and a Presbyterian pastor learn to work together for peace."
Read the announcement of 2000 Nobel Peace Prize winner Kim Dae Jung or read a profile of the South Korean President from CNN.
Mikhail Gorbachev has his own homepage.
Read Oscar Arias Sanchez's bio or visit his Arias Foundation for Peace and Human Progress site.
Read Martin Luther King Jr.'s acceptance speech from 1964.
Read about the history of the Friends Service Council, 1947 recipients.
Other Nobel Peace Prize winner of the faith include:
Have something to add about this? See something we missed? Share your feedback here.
Our digital archives are a work in progress. Let us know if corrections need to be made.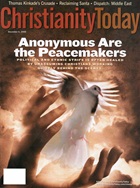 This article is from the December 4 2000 issue.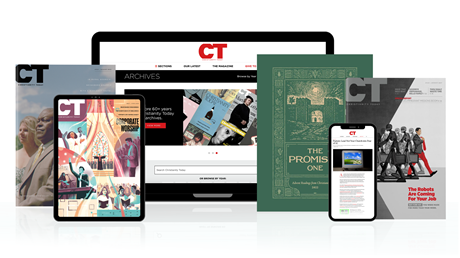 Annual & Monthly subscriptions available.
Print & Digital Issues of CT magazine
Complete access to every article on ChristianityToday.com
Unlimited access to 65+ years of CT's online archives
Member-only special issues
Subscribe
100 Years of Beatitude
100 Years of Beatitude