They're paving Narnia to put in a strip mall—or so say recent news stories. The front page of The New York Times, the editorial page of The Boston Globe, and op-ed pages around the English-speaking world—not to mention C.S. Lewis devotees—have been decrying not only reports of plans to commercialize Narnia, but what some say is a deliberate effort to play down Lewis's Christianity in marketing efforts.
Unfortunately, stories have become conflated. Concerns about a leaked e-mail regarding how to portray Narnia and Lewis's Christianity in a PBS documentary became enmeshed in news about HarperCollins's efforts to publicize both the children's series and the author's other books. In time, fans believed HarperCollins was going to reissue the Chronicles of Narnia with all religious imagery excised. But, in the words of Lewis's stepson Douglas Gresham, the report was an "evil lie."
Let us separate the truth from the lies. First, the HarperCollins memo never says that the planned PBS documentary went too far in addressing Lewis's faith. On the contrary, HarperSanFrancisco executive Steve Hanselman praised the script: "I think the documentary and its broadcast on PBS will doubtless have the effect of broadening Lewis' recognition and appeal and boost the sales of all his books." Nor does the memo explicitly indicate plans either by the publishing company or the Lewis estate to downplay Lewis's faith.
What has riled so many people is the memo's discussion of how HarperCollins thinks the Lewis estate wants Lewis presented: 1) "No attempt [should] be made to correlate the [Narnia] stories to Christian imagery/theology"; 2) Lewis's conversion should offer a "very general, lay-oriented view of God" with "no characterization of what 'true conversion' or 'true Christianity' is supposed to be"; and 3) "Lewis was much more than a mere apologist."
Yes, these can be read darkly. But they can also be read as a simple strategy to soft-sell Lewis's beliefs to otherwise skeptical readers and let his words work as they will. Lewis himself believed that much of his writing—especially his Narnia tales—allowed solid Christian theology to "steal past those watchful dragons." He was very eager to present himself as a "Mere Christian" rather than as a high-church Anglican. And, truth be told, he was more than an apologist.
One wonders, after the vitriolic attacks by conservative Christians—Why are we so upset over how C.S. Lewis is being marketed? Why all the opprobrium over fear that the jacket covers on Narnia books won't say, "By C.S. Lewis, eminent Christian apologist"? Why aren't we happier that a major publishing company is spending millions upon millions of dollars to get some of the best Christian writing of all time into the hands of people who haven't read it yet? Have we really bought into the lie that "image is everything"?
Rumors will persist that there is some conspiracy afoot to undermine the legacy of Lewis. And there have been enough developments in this story to make us cautious. But where is the smoking gun? If it later becomes clear such a conspiracy exists, Christianity Today will be first on the battlefield. But for now, let us judge HarperCollins and the C.S. Lewis Company by their fruits. If anything, it seems that, at the insistence of Gresham, they're straining at gnats to be true to Lewis's vision. They've renumbered the entire Chronicles of Narnia on the basis of a letter Lewis wrote to a child suggesting that he preferred to read them in Narnian chronology rather than the order in which they were written. Changes to early American editions made at the publisher's request (such as changing the White Witch's Captain of the Secret Police from Maugrim to Fenris Ulf) have been reset to Lewis's original manuscripts. Yes, the plans for new Narnia novels are a categorically bad idea, but the undertaking seems to be more a publicity gimmick for the original series than an initiative for its own sake.
Furthermore, HarperCollins has launched a multimillion-dollar campaign to reissue and publicize Lewis's great nonfiction works, including Mere Christianity, Miracles, The Problem of Pain, and Surprised by Joy. Well-known Christian authors, including Madeleine L'Engle and Kathleen Norris, are writing introductions and forewords. Where's the conspiracy there?
Then there are the words of Simon Adley, managing director of the C.S. Lewis Company, who has been painted as the devil in all this mess. "It's fatuous to suggest that we're trying to take the Christian out of C.S. Lewis," he told The New York Times. "We wouldn't have made the effort that we have with Mere Christianity if we felt that way. It's just crazy. I suppose you could get a little depressed by this. I'm trying to get more people to read."
Should we believe Adley? When Susan and Peter Pevensie asked Professor Kirke about Lucy's strange claims to discovering a world inside a wardrobe, Kirke (who was loosely based on Lewis himself) responded, "There are only three possibilities. Either your sister is telling lies, or she is mad, or she is telling the truth. … For the moment, then, and unless any further evidence turns up, we must assume that she is telling the truth."
It may very well be that there are plans afoot to market Lewis in a way inconsistent with his character. Whether or not that happens, let us comfort ourselves with the knowledge that the Aslan we know cannot be tamed.
Related Elsewhere
Also appearing on our site today is Mere Marketing? | Publisher, estate under fire for handling of C.S. Lewis's identity.

News about the new Narnia books was first reported by The Sunday Times of London.
The New York Times heated up the Narnia controversy by publishing parts of a leaked HarperSanFrancisco memo.
Additional media coverage included USA Today, The National Post, World, The BBC, and The Telegraph.
Opinions and editorial pieces on the issue came from Frederica Mathewes-Green, The Montreal Gazette, Lauren Winner, Andrew Greeley,and Charles Colson.
Christianity Today's Weblog has covered the C.S. Lewis debate extensively:
Missionary Pilot Reportedly Off the Hook in Investigation of Peru Plane Shooting | Plus: Deadly church vans, more Narnia wars, and other stories from media sources around the world. (July 20, 2001)

The War for C.S. Lewis: The Prequel | Plus: Gabriel's blessing for the Guthrie family. (July 17, 2001)

The War for Narnia Continues | Charles Colson, Andrew Greeley, Frederica Mathewes-Green, and Lauren Winner join the battle—and Doug Gresham comes out to reply. (June 20, 2001)

Grief Observed Over Abolition of Lewis's Mere Christianity | Plus: Supreme Court okays Christian elementary school club, and American missionaries are still alive. (June 11, 2001)

God Banned from Narnia | Plus: Missionaries still held by terrorists despite military attack and other stories from mainstream media around the world. (June 4, 2001)

Narnia Will Return In New Books | As all of the Inklings' publishers await record interest, HarperCollins seeks to "fill in the gaps" beyond the wardrobe. (May 15, 2001)

Washington Post Covers North Korea's Persecution of Christians | Plus: Missionaries to United Arab Emirates deported, and HarperCollins's C.S. Lewis deal. (April 10, 2001)
Article continues below
Christianity Today sister publication Books and Culture recently looked at C. S. Lewis among the postmodernists.
Christian History, another Christianity Today sister publication, profiled Lewis for its issue on "The 10 Most Influential Christians of the Twentieth Century."
If it's Lewis you're interested in, Into the Wardrobe should fill your every desire.
Beliefnet also has a series of Lewis-centric articles, including a C.S. Lewis essay contest.
The Discovery Institute's C.S. Lewis and Public Life site is another wonderful resource of papers about and by Lewis.
Still hungry for more? You'll probably never have the time to read everything linked at the C.S. Lewis Mega-Links page.
Previous Christianity Today articles on C.S. Lewis include:
Myth Matters | C. S. Lewis bequeathed us a method and a language for sharing the gospel with the modern and postmodern world. (April 17, 2001)

Walking Where Lewis Walked | My reluctant entry into the world of pilgrimage. (Feb. 7, 2000)

Still Surprised by Lewis | Why this nonevangelical Oxford don has become our patron saint" (Sept. 7, 1998)

Jack Is Back | The search for the historical Lewis (Feb. 3, 1997)
Have something to add about this? See something we missed? Share your feedback here.
Our digital archives are a work in progress. Let us know if corrections need to be made.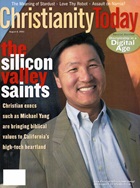 This article is from the August 6 2001 issue.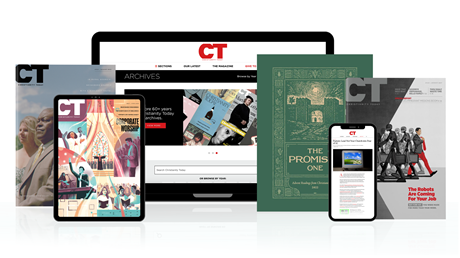 Annual & Monthly subscriptions available.
Print & Digital Issues of CT magazine
Complete access to every article on ChristianityToday.com
Unlimited access to 65+ years of CT's online archives
Member-only special issues
Subscribe
Aslan Is Still on the Move
Aslan Is Still on the Move