June 1940: Hitler's armies are poised to destroy the cornered British Army, stranded on the beaches at Dunkirk. As the British people anxiously await word of their fate, a three-word message is transmitted from the besieged army: "And if not."
The British public instantly recognizes the message—a reference to the words of Shadrach, Meshach, and Abednego standing before King Nebuchadnezzer's fiery furnace. "Our God is able to save us … and if not, we will remain faithful to him anyway." The message galvanizes the British people. Thousands cross the English Channel in boats to rescue their army.
January 2001: America's newly elected President delivers his inaugural address. Commenting on it, Dick Meyer of CBS News confesses, "There were a few phrases in the speech I just didn't get. One was, 'When we see that wounded traveler on the road to Jericho, we will not pass to the other side.'"
Meyer concludes, "I hope there's not a quiz."
What a difference six decades make. For centuries, biblical references were the common coinage of Western speech. As Dunkirk demonstrates, citizens were so steeped in the Scriptures that they immediately recognized a cryptic biblical allusion. But today that memory has been erased. Consider: Pollster George Barna says only a small percentage of Americans can name the Ten Commandments, and only 42 percent can identify who preached the Sermon on the Mount. As Oxford theologian Alister McGrath explains, "In an increasingly secular culture, fewer and fewer people outside the Christian community have any real understanding of what Christians believe."
This spiritual illiteracy represents a sobering predicament for the church: How can we evangelize neighbors who no longer recognize, let alone think, in Christian terms—people to whom the language and literature of our faith is, for all intents and purposes, a foreign tongue?
We can begin by reintroducing our nation's children to the Bible in the public school classroom. Yes, it's legal—if we go about it the right way.
Since the 1950s, many public-school kids have taken part in Released Time Bible Education, in which students leave campus during school hours to study Scripture devotionally. But the courts have also consistently upheld the academic study of the Bible within the classroom. Students can focus on the Bible as a literary text, learning the major narratives, symbols, and characters of the Bible. They can also learn how profoundly Biblical teachings have influenced Western drama, poetry, and fiction. After all, how can kids fully appreciate the works of Shakespeare, Milton, or classics like Uncle Tom's Cabin without some familiarity with the Scriptures? Students may also study the Bible in history class, learning about the many historical documents that contain biblical references and how Americans invoke Scripture in debates ranging from abolition and temperance to civil rights and abortion—how, for instance, Martin Luther King Jr.'s "I Have A Dream" speech alludes in part to Isaiah. Can people be good citizens if they don't know their own history?
Teaching about the Bible in this manner will not be easy: The ACLU and other naysayers will be lurking in school hallways, ready to sue any district that steps out of line. To help schools navigate the legal minefields, the Bible Literacy Project is developing a Bible curriculum for use in public schools that will pass constitutional muster. To ensure balance, a coalition ranging from the American Jewish Committee to the National Association of Evangelicals to the American Federation of Teachers reviewed it. And to encourage school boards, the crack lawyers of the Becket Fund have offered to defend, gratis, any school district that is sued.
The Bible Literacy Project tells parents how to introduce the curriculum into their schools, and answers concerns that parents of all faiths might have about it. Some critics fear that merely studying the Bible's role in history, or as literature, diminishes it. I disagree. Educating the culture in this way is what Francis Schaeffer called pre-evangelism. Christians can then take the next step, explaining why the Scriptures have had this effect; that indeed it is the Word of God that moves citizens to action. The stakes are high. Values are transmitted from one generation to the next by what sociologist Robert Bellah calls the "community of memory."
We must decide if we want our language seasoned with biblical references or with vulgar and often uncharitable idioms. It would be a spiritual dereliction not to grasp the opportunity to reinstate Christianity as our cultural currency.
Related Elsewhere
The Bible Literacy Project home site gives a quick overview of the program and offers online ordering.
According to the National Bible Association site for Released Time Bible Education, releasing public school students for devotional study was first discussed in 1905.
President Bush's Inaugural Address is posted on the White House site.
Article continues below
The August 9, 1999 issue of Christianity Today had two articles on biblical illiteracy, "The Greatest Story Never Read | Recovering biblical literacy in the church" and "I Love to Tell the Story to Those Who Know It Least | Biblical preaching in a post-Christian culture.
"Conversation about faith or morals is often blocked by the other's misunderstanding of what the Bible says or what the Christian faith teaches," lamented former Christianity Today columnist Frederica Mathewes-Green in a Feb. 7, 2000, piece chronicling biblical illiteracy in the media and society at large. Donald N. Bastian also recently complained about decreasing biblical literacy in the church. The International Bible Society, meanwhile, is trying to take advantage of the Bible's lowered visibility.
A Barna Research Group study released in July 2000 found that 75 percent of Americans agree with the statement, "The Bible teaches that God helps those who help themselves." But that's not all. Barna's group questioned people on 14 different items. "Only 3 of the 1002 adults interviewed—less than three-tenths of one percent—had both a firm and biblically-consistent opinion for all 14 of the items," Barna reports.
The Boston Globe's language columnist, Jan Freeman, lamented biblical illiteracy in the December 19, 1999, edition of the newspaper. The article, "Bible Quotes that Miss the Boat," is still online, but you will have to pay to read it ($2.95 between 6 a.m. and 6 p.m. EST weekdays, and $1.50 at all other times).
A recent Christianity Today cover story focused on Charles Colson's path from inmate to significant social reformer.
Charles Colson's columns for Christianity Today are available at our site, including:
Merchants of Cool | We should be angry that the media hawks violence and that parents allow it. (June 6, 2001)

Slouching into Sloth | The XFL is but the latest sign of the coarsening of our culture. (Apr. 17, 2001)

Checks and (out of) Balance | Moral truth is in jeopardy when the courts enter the business of making law. (Feb. 27, 2001)

Pander Politics | Poll-driven elections turn voters into self-seeking consumers.(Jan. 3, 2001)

Neighborhood Outpost | Changing a culture takes more than politics. (Nov.8, 2000)

MAD No More | In this post-Cold War era, it's time to rethink our nation's defensive strategy. (Sept. 27, 2000)

Salad-Bar Christianity | Too many believers pick and choose their own truths. (Aug. 8, 2000)

A Healthy 'Cult' | A lively response by one unusual audience shows how God's power transforms culture. (June 12, 2000)
Have something to add about this? See something we missed? Share your feedback here.
Charles Colson
Charles Colson was the founder of Prison Fellowship Ministries, an outreach to convicts, victims of crime, and justice officers. Colson, who converted to Christianity before he was indicted on Watergate-related charges, became one of evangelicalism's most influential voices. His books included Born Again and How Now Shall We Live? A Christianity Today columnist since 1985, Colson died in 2012.
Previous Charles Colson Columns:
Our digital archives are a work in progress. Let us know if corrections need to be made.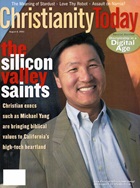 This article is from the August 6 2001 issue.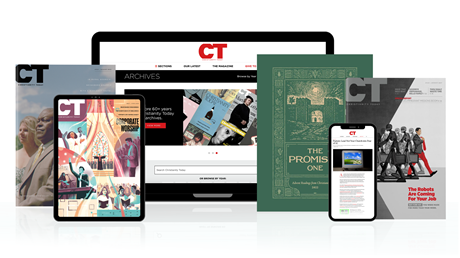 Subscribe to Christianity Today and get access to this article plus 65+ years of archives.
Home delivery of CT magazine
Complete access to articles on ChristianityToday.com
Over 120 years of magazine archives plus full access to all of CT's online archives
Subscribe Now
Reversing Biblical Memory Loss
Reversing Biblical Memory Loss