true

Andrew Peterson
Watershed / Essential
In a near photo finish between this album and Bebo Norman's Big Blue Sky, I'm going to give the edge to Andrew by a nose. His insightful songwriting features the same kind of simple-yet-profound storytelling that Rich Mullins was so renowned for. Andrew seems capable of expressing God's grace through anything, whether recalling the time he lost luggage in Kalamazoo or speaking from the perspective of a penny contemplating its meager value in the financial world. Though I'd like to see Andrew expand his musical palette in the future, this is a first-rate folk-pop album, featuring songwriting as thoughtful as any you'll find.
Read the original review here.

Apt•Core
Rocketown
I can't stop listening to this album, or praising it for that matter. Rhythms of Remembrance is a terrific electronic music album, skillfully blending techno and trance with world music influences and layering that with spoken Scripture passages. The production is top-notch and really cool, but I also appreciate the album for its multi-functionality — you can work to it, exercise to it, use it for worship, etc. Though the musical idea is not original, this is something new for Christian music, and I think it paves the way for an exciting and interesting new Christian music genre.
Read the original review here.

Katy Hudson
Red Hill
She's just 17 years old! I have to keep reminding myself that as I listen to this stunning debut from Katy, who wrote or co-wrote every track herself. Here's a teen who easily could have come across as a second-rate Jennifer Knapp or Fiona Apple. Instead, she writes and performs alternative pop/rock with the best of them, even blending jazz into songs such as "Growing Pains" and "When There's Nothing Left." This album is rife with the musical maturity and intelligence of a twentysomething. She's just 17 years old!
Read the original review here.

steve
Forefront
I suspect steve may be the most underrated new band of the year. Sure, they have a modern British rock sound similar to Delirious … but they do it so well! The album production is raw, but stuffed with clever hooks. The band's musicianship is impressive all around, especially the guitar sounds and the bass riffs. Lead singer Neil Wilson writes very simple worship songs that are nevertheless very catchy, and they express worship to the Lord with original words and ideas in ways that mainstream audiences also have appreciated. A great worshipful modern rock debut.
Read the original review here.

Out of the Grey
Rocketown
It's been a great year for Rocketown, and the highlight for me has been the return of this talented husband-wife duo. What could have been just another Christian pop album is elevated by smart songwriting and creative production. The Dentés combine thoughtful and honest lyrics with sophisticated pop to create songs that are catchy, yet melodically abstract. Scott's guitars and Christine's vocals are superb as usual, but it is producer Monroe Jones who adds the last puzzle piece to make a rich, progressive pop tapestry. If there's any complaint, it's that 6.1 is too short.
Read the original review here.

P.O.D.
Atlantic
I could talk about how P.O.D. artistically blends hardcore rock with elements of rap, pop, jazz, and reggae. I could also comment on the plethora of electrifying anthems that constitute Satellite, such as "Alive" and "Youth of the Nation," and how powerfully the band performs them. But above all that, I most appreciate P.O.D.'s success at bringing the Gospel beyond our subculture. Christian artists who truly want to influence the world around them should study what this band is accomplishing and take notes.
Read the original review here.

The Elms
Sparrow
The Beatles … Cheap Trick … XTC … Jellyfish … Oasis … just some of the respected bands that perfectly balance beautiful melodies and simple rock and roll, with a bit of creative imagination thrown in. Add The Elms to that list. From their catchy pop/rock anthem "Hey, Hey" and the beautifully plaintive "The Buzzing Won't Stop," to the dramatic rock of the title track and the soaring "Here's My Hand," you can't help but be impressed with frontman Owen Thomas's writing skills and the band's cross-generational British rock sound on Big Surprise.
Read the original review here.

Cindy Morgan
Word
Maybe it's not quite as good as her 1998 masterpiece, The Loving Kind, but Elementary is still more than enough proof that Cindy Morgan is one of Christian music's most gifted songwriters. Weaving a rich tapestry of pop, jazz, Latin, and Broadway, Cindy demonstrates a level of sophisticated pop songwriting that rivals the legendary Carole King. Some have said that the music is generally too easy listening, but music lovers with diverse tastes will love the eclectic blend and the encouraging lyrics that offer reasons for joy amidst the hardships of life.
Read the original review here.

Caedmon's Call
Essential
In a year dominated by worship music releases, this album from Caedmon's Call stands head and shoulders above the rest. The band's well-known grassroots pop/rock sound is as impressive as always, but it's the thoughtful approach to the words of praise that sets In the Company of Angels apart. Worship music is typically defined by its lyrical content, and Caedmon's Call rightly understands that we can express worship to the Lord with the poetic language of the old hymns and today's contemporary music … and still fall short in fully articulating God's majesty and glory.
Read the original review here.

downhere
Word
This Canadian band's sound is an enjoyable mix of roots rock/pop akin to bands such as Del Amitri, Jars of Clay, Train, and Lifehouse, but I'm far more impressed with the quality of their songwriting and performance. Both lead vocalists are terrific, the wide array of instruments played by the band is wonderful, and producer Nathan Nockels of Watermark brings it all together to make one of the best debuts this year. I found more and more to praise about this album with every listen, forcing it near the top of my list — a couple more listens, and I may need to change my pick for #1. Trust me, and go check it out!
Read the original review here.

Steven Curtis Chapman
Sparrow
I'm not a life-long Steven Curtis Chapman fan, but his latest is just too irresistible. Declaration reveals Steven at his most rocking ("Bring It On," with its amazing "guitar choir") and his most passionate (the orchestral "Savior" features some incredibly self-reflective lyrics). I commend him and co-producer Brown Bannister for their work at balancing the London Session Orchestra with Steven and his superb touring band. At times they feel like a single unit, and that's not easy. Steven Curtis Chapman truly has gotten better with each successive release, and this is a near-perfect pop/rock album. I just can't get it out of my player or my head!
Read the original review here.

Sara Groves
INO
Ever since its release in March of this year, Conversations has been the standard by which I've measured albums in terms of artistic excellence. On this generally soft-spoken album, Sara shows an amazing grasp of songwriting. Her musical styles range from simple pop and folk to jazz and inspirational hymns. At times, she recalls a young Joni Mitchell or Carole King with her vocals and piano skills. And oh, the lyrical content! There's just not enough space here to describe her perfect balance of honesty, inspiration, storytelling, and soul-searching. Though her career as an artist is just getting started, Sara Groves's brilliant songwriting seems as vital and important as Rich Mullins and Michael Card.
Read the original review here.
Browse All Music Reviews By: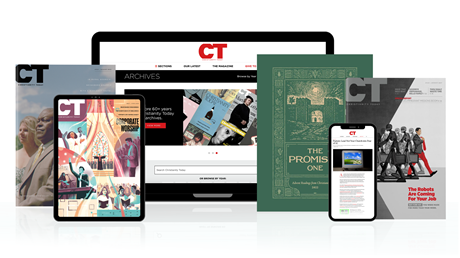 Annual & Monthly subscriptions available.
Print & Digital Issues of CT magazine
Complete access to every article on ChristianityToday.com
Unlimited access to 65+ years of CT's online archives
Member-only special issues
Subscribe
Top 12 Christian Albums of 2001
Top 12 Christian Albums of 2001