It may be hard to imagine any good coming out of last November's Florida follies, which left the presidency—like those infamous chads—hanging in the balance and the country bitterly divided. But there was one silver lining. The lawyers hopping from courtroom to courtroom opened our eyes to the perils of what George Will called "government by courts." The question raised—whether laws are made by courts or legislatures—has grave implications for self-government and special concerns for Christians.
Many Americans believe the Florida Supreme Court overstepped its boundaries. It elbowed its way into the controversy, first by taking the case, not on appeal of the parties but on its own motion. Then it set aside a deadline prescribed by the legislature and substituted its own, while cavalierly ignoring a federal statute requiring that presidential elections be decided by rules in place before the election. This was too much for even the U.S. Supreme Court (which has exercised judicial hubris itself); it unanimously vacated the Florida decision, remanding the case.
Undaunted, the Florida court came back, four of the justices again ignoring the critical statutes. Again, the U.S. Supreme Court acted, finding that decision unconstitutional.
But the Florida court's power grab is only the latest example of a court substituting its judgment for that of the elected representatives, a trend that began in the 1960s. That's when the Supreme Court "discovered" in the Constitution a new right: privacy. Later, in Roe v. Wade (1973), it applied this right to abortion, thereby striking down statutes restricting abortion in most states. Since then, this trend has accelerated dramatically.
In Romer v. Evans (1996), for example, a democratically enacted Colorado referendum barring special civil rights for homosexuals was struck down because Justice Anthony Kennedy divined that the voters were bigoted. Partial-birth abortion bans enacted in over 30 states met a similar fate.
Moreover, the justices seek to foreclose debate, brazenly asserting in the recent Miranda decision that they have sole authority over constitutional questions—a proposition that would have horrified our nation's Founders.
Contrary to popular belief, the Constitution does not give the Supreme Court that authority. Thomas Jefferson warned that giving "judges the right to decide what laws are constitutional" would make them "despots." His frequent adversary Alexander Hamilton expressed similar concerns. The Founders wisely decided that all three branches of government should share the responsibility for deciding constitutional issues.
History has come full circle as we face the dangers our Founders warned against. But what should especially alarm Christians in the face of judicial imperialism is the fact that courts running roughshod over legislatures will sever the tie between law and moral truth. The law, Augustine and Aquinas postulated, is the codification of the people's moral consensus informed by revelation. For centuries this conviction prevailed in the West and inspired respect for the law. Lord William Blackstone wrote, "This law of nature [is] dictated by God himself … no laws are of any validity if contrary to this"—a view echoed by Martin Luther King Jr. in his "Letter from a Birmingham Jail."
In Western democracies, the people, through their representatives, can ensure that the law reflects their moral traditions. But today's courts have increasingly attacked those morally based visions of the common good. Government (usually in the person of activist courts) today sees its role as protecting people from any "imposition" of moral truth.
The law separated from its moral moorings becomes tyranny.
The nail-biting electoral agony of November will have been well worth it if we wake up to the dagger pointed at the heart of self-government: the usurpation by courts of legislative authority.
We need a healthy national debate. In the wake of the Florida fiasco, most conservative (and some not so conservative) journals published stirring opinion pieces. We need to continue this drumbeat. Ongoing debate can sensitize the President and governors to appoint judges who will interpret and not make laws. And judges do pay attention to public opinion. Aware of disabled demonstrators protesting on its steps in 1997, the Court stepped back from the precipice and affirmed Washington state's ban on assisted suicide.
The imperial presidency was dethroned in the 1970s by mobs marching in the streets of Washington protesting Vietnam and Watergate. To dethrone the imperial judges calls for, if not public marches, at least similar outrage.
Related Elsewhere
Time profiled the seven members of the Florida Supreme Court in November, and Time's Web site still offers downloadable transcripts of Florida's election laws.
U.S. News and World Report's "Decision time in the courts" coverage even offers a day-by-day timeline of how the election rulings unfolded.
Article continues below
Will this election ever be resolved in our collective conscious? CNN reported yesterday that key players from Florida's election battle squared off again to trade barbs over who was right 21/2 months ago. Among those at the University of Florida conference were David Boies and Dexter Douglass, attorneys for former Vice President Al Gore, and Joseph Klock, who represented Republican Secretary of State Katherine Harris.
Charles Colson's columns for Christianity Today are available at our site, including:
Pander Politics | Poll-driven elections turn voters into self-seeking consumers.(Jan. 3, 2001)
Neighborhood Outpost | Changing a culture takes more than politics. (Nov.8, 2000)
MAD No More | In this post-Cold War era, it's time to rethink our nation's defensive strategy. (Sept. 27, 2000)
Salad-Bar Christianity | Too many believers pick and choose their own truths. (Aug. 8, 2000)
A Healthy 'Cult' | A lively response by one unusual audience shows how God's power transforms culture. (June 12, 2000)
The Court's In Session | Are Christians ready to make their case? (April 25, 2000)
The Ugly Side of Tolerance | How to be offensive without really trying. (March 2, 2000)
Beating the Odds | Christians in two states defeat gambling by exposing its harmful effects on the poor. (Jan. 4, 2000)
Scout's Dishonor | The judge told the Scouts just what their oath meant—and didn't mean. (Nov. 15, 1999)
What Are We Doing Here? | (Oct. 4, 1999)
Have something to add about this? See something we missed? Share your feedback here.
Charles Colson
Charles Colson was the founder of Prison Fellowship Ministries, an outreach to convicts, victims of crime, and justice officers. Colson, who converted to Christianity before he was indicted on Watergate-related charges, became one of evangelicalism's most influential voices. His books included Born Again and How Now Shall We Live? A Christianity Today columnist since 1985, Colson died in 2012.
Previous Charles Colson Columns:
Our digital archives are a work in progress. Let us know if corrections need to be made.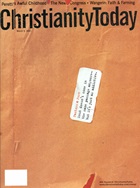 This article is from the March 5 2001 issue.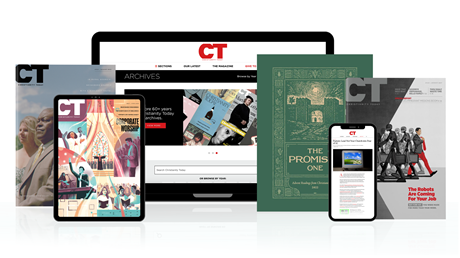 Subscribe to Christianity Today and get access to this article plus 65+ years of archives.
Home delivery of CT magazine
Complete access to articles on ChristianityToday.com
Over 120 years of magazine archives plus full access to all of CT's online archives
Subscribe Now
Checks and (out of) Balance
Checks and (out of) Balance