"Don't fight postmodernity," the speaker, a popular theologian, exhorted the packed crowd of Christian educators. "Take advantage of it. Express experience over reason, image over words."
But should Christians really be celebrating postmodernism? Admittedly, it's good that modernism, which jettisoned God in favor of reason, has collapsed. But postmodernism has rejected not only God and reason but also the very idea of universally valid truth. It teaches that individuals are locked in the limited perspective of their own race, sex, or ethnic group; claims to moral truth are viewed as oppressive.
Postmodernism has thus radically altered the way many in this generation think about life's most basic suppositions. And as postmoderns begin filling our pews, it becomes increasingly hard for those who think in traditional terms to communicate the biblical view of life, or even to present the gospel.
When we speak of truth—meaning binding absolutes—our postmodern neighbors hear just one more opinion among many. The biblical story, which we present as divine revelation, is seen merely as one of many, equally valid cultural narratives.
This makes moral propositions increasingly problematic to postmodern listeners. For instance, how can we argue for the "common good" when postmodernists don't believe in a common good, seeking instead, as philosopher John Gray put it, merely "to reconcile conflicting goods"?
We lack even a common language for moral discourse. When we use the term liberty, for example, we mean the classic definition, famously articulated by Benjamin Franklin: the right to do what is right. Our Founders tied freedom—the highest political goal—to moral truth.
But postmodernism unties the knot; today, when newcomers to our pews hear the word liberty, they think the definition is "the unrestricted right to do what one pleases."
It's a "right" codified by the infamous "mystery clause" in the Supreme Court's decision in Planned Parenthood v. Casey (1992): "At the heart of liberty is the right to define one's own concept of existence, of meaning, of the universe, and of the mystery of human life."
This 180-degree turnabout stands government's role on its head, as Professor Russell Hittinger has written. In the modern era, government's role was to enforce commonly held moral beliefs, rooted in Scripture. But today, as decreed in cases like Roe v. Wade and Romer v. Evans, the role of government is to protect the individual from the imposition of moral values. But moral absolutes are our only guarantee of freedom. Without transcendent moral truths above individual preferences, human rights founder.
What we're witnessing is the fulfillment of Nietzsche's formulation: "Languages of good and evil" are rooted in neither truth nor reason, but in the will to power. The vacuum of postmodernity means whoever is in power decides right and wrong. On its face, that's bad news for Christians.
So how do we engage the postmodern mind?
Some Christians—like that conference speaker—think we should join the postmodern bandwagon's emphasis on experience. One pastor told me that 10 years ago he could discuss moral truth with unbelievers, while "today I connect only on grounds of pain and compassion." But connecting only at the level of feelings is a weak reed for evangelism.
Someone might "feel" right about Christianity—until those feelings change. And even a person who is drawn to Christ existentially has no context in which to understand those beliefs or the church's moral teachings. Significantly, a recent Barna poll revealed that the most common basis for moral decision-making among Christians is "doing whatever feels right" in a given situation. This is why, sadly, Christians and non-Christians divorce at the same rate.
Postmodernism must be confronted, not accommodated. We must challenge its false presuppositions, lovingly explaining that there is truth and that it is knowable.
In order to reach today's culture, seminarians, pastors, and laity, not unlike foreign missionaries, must learn to translate for today's postmoderns. For example, if we say, "The truth shall make you free," it means one thing to us—truth, that is Christ, makes us free from sin and death. But to the postmodern ear, it means "my preference" will make me free—to do whatever I want. Without translation, this becomes an invitation to cheap grace in the extreme.
That conference speaker was wrong. We dare not embrace postmodernism. The gospel is not a matter of soothing feelings or rewarding experiences (although it may produce both). It is the Truth that postmodernists can stake their lives on.
Related Elsewhere
In 1997, Leadership Journal, a Christianity Today sister publication, analyzed "The Riddle of Our Postmodern CultureWhat is postmodernism? Should we even care?"
Previous Christianity Today articles on the postmodern debate include:
The Virtue of UnoriginalityThe old kind of Christian is the best hope for church renewal. (April 4, 2002)
Article continues below
The Anti-ModernsSix postmodern Christians discuss the possibilities and limits of postmodernism. (Nov. 13, 2000)
What Exactly Is Postmodernism?The often-maligned movement is today's academic Rorschach blot. (Nov. 13, 2000)
Urbanites: More Justice, Less EpistemologyThe emerging urban class is targeting capitalism and Christianity—often for good reason. (Nov. 13, 2000)
Scientists: Just Leave Us AloneNot all the academy is so taken with postmodernism. (Nov. 13, 2000)
The Sky Isn't FallingThe only remaining "ism" is postmodernism. And it is a formalized expression of despair. (Jan. 11, 1999)
Poster Boy for PostmodernismStrohmeyer told police he strangled the little girl by twisting her neck the way he had seen in movies. (Nov. 16, 1998)
Abraham Kuyper: A Man for This SeasonThe surprisingly relevant advice of a Dutch statesman for engaging postmodern culture. (Oct. 5, 1998)
The Oxford ProphetLewis predicted a time when those who want to remold human nature "will be armed with the powers of an omnicompetent state. (June 15, 1998).
A Theology to Die ForTheologians are not freelance scholars of religion, but trustees of the deposit of faith. (Feb. 9, 1998)
The New TheologiansCreating a theological symphony. (Feb. 8, 1998)
A Cultural Literacy PrimerTen resources Christians need for understanding today's world. (April 28, 1997)
Recent Charles Colson columns for Christianity Today include:
Post-Truth SocietyThe recent trend of lying is no accident. (March 4, 2002)
Drawing the Battle LinesWe need to be informed and discerning about the Islamic worldview. (Jan. 9, 2002)
Wake-up CallIf September 11 was a divine warning, it's God's people who are being warned. (Nov. 5, 2001)
The New TyrannyBiotechnology threatens to turn humanity into raw material. (Oct. 5, 2001)
Merchants of CoolWe should be angry that the media hawks violence and that parents allow it. (June 6, 2001)
Slouching into SlothThe XFL is but the latest sign of the coarsening of our culture. (Apr. 17, 2001)
Checks and (out of) BalanceMoral truth is in jeopardy when the courts enter the business of making law. (Feb. 27, 2001)
Pander PoliticsPoll-driven elections turn voters into self-seeking consumers.(Jan. 3, 2001)
Neighborhood OutpostChanging a culture takes more than politics. (Nov.8, 2000)
MAD No MoreIn this post-Cold War era, it's time to rethink our nation's defensive strategy. (Sept. 27, 2000)
Salad-Bar ChristianityToo many believers pick and choose their own truths. (Aug. 8, 2000)
A Healthy 'Cult'A lively response by one unusual audience shows how God's power transforms culture. (June 12, 2000)
Have something to add about this? See something we missed? Share your feedback here.
Charles Colson
Charles Colson was the founder of Prison Fellowship Ministries, an outreach to convicts, victims of crime, and justice officers. Colson, who converted to Christianity before he was indicted on Watergate-related charges, became one of evangelicalism's most influential voices. His books included Born Again and How Now Shall We Live? A Christianity Today columnist since 1985, Colson died in 2012.
Previous Charles Colson Columns:
Our digital archives are a work in progress. Let us know if corrections need to be made.
This article is from the April 22 2002 issue.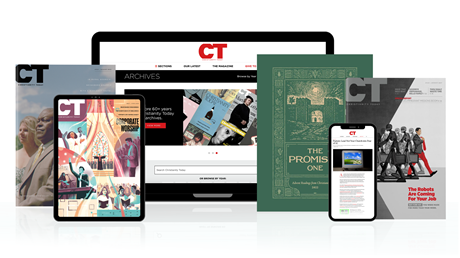 Annual & Monthly subscriptions available.
Print & Digital Issues of CT magazine
Complete access to every article on ChristianityToday.com
Unlimited access to 65+ years of CT's online archives
Member-only special issues
Subscribe
"The Back Page: More Doctrine, Not Less"
"The Back Page: More Doctrine, Not Less"