true

Daily Planet
Reunion Records
On the more raucous side of my list, Daily Planet's debut is sure to gain them huge popularity. With a classic-rock sound mixed with some funk, this high-energy all-male band appeals to the Christian as well as the mainstream market all the while maintaining their faithfulness to Christ in their lyrics. After meeting these guys in person, I'm convinced this band is definitely into "guy" things. From the name of their band, Daily Planet (the newspaper Clark Kent works for), to their overall love for all comics, to the hard but rhythmic beats on their album, this group definitely sounds like guys having a good time jamming away. But the CD is sure to win over many female listeners as well, as it did me.
Read the original review here.

Rivertribe
Elevate / Inpop Records
Okay, I'll admit it, I love to go to spas! But I don't always enjoy the new-agey music most spas play to relax you. That's why I love Rivertribe – my most unusual pick for my top 12. Its ethereal, instrumental worship music relaxes me with or without aromatherapy, and most of the songs contain recognizable praise melodies so I know the music is glorifying our Living God and not New Age mysticism. With everything from bagpipes to Native American flutes, unique drums, and even bird sounds, this album is the perfect backdrop for relaxation. So next time I'm ready for a restful night of magazine reading, a bubble bath, and candles, Rivertribe will be in my CD player!
Read the original review here.

Jars of Clay
Essential Records
Similar to the earthy alternative-pop sound that's won them widespread popularity on their previous recordings, Jars of Clay has hit the note again with The Eleventh Hour. The band blends innovative instrumentation with provocative lyrics about their continued wrestling with deep issues of faith. Catchy melodies and highly developed themes and lyrics make me want to take time to contemplate deeper theological questions. A pillar in the contemporary Christian music market, Jars doesn't disappoint with their newest release.
Read the original review here.

Nichole Nordeman
Sparrow Records
Breathy, compelling lyrics and Nichole's lilting voice make Woven and Spun a contemporary Christian favorite. I especially enjoy Nichole's song "Holy," which offers an upbeat rhythm just begging you to turn up the volume. The thoughtful lyrics on the album's original songs show off Nichole's talent as a songwriter. Themes such as struggling with your faith and understanding God's love for us emerge as Nichole balances these weighty topics with easy-listening melodies.
Read the original review here.

Paul Colman Trio
Essential Records
I had to steal this CD back from my husband to write up this review-it's been popular among our whole family! With at U2-meets-Jars-of-Clay sound, this modern pop/rock album displays inspiring, clear lyrics set to edgy guitars and drums. Catchy melodies on songs such as "Turn" urge Christians and non-Christians alike to evaluate their choices and start leading a Christ-centered life. This is an album to pop in when you're ready to start tapping your foot and singing along.
Read the original review here.

Fernando Ortega
Warner Records
This album combines Fernando's inspirational piano music with his steady, compelling voice and the reverential lyrics found on all of his recordings. Catchy, repetitive melodies make this an easy-listener, and a duet with Amy Grant on the song "Come, Ye Sinners, Poor and Needy" adds variety and a beautiful combination of two well-known musicians. After meeting Fernando on numerous occasions and hearing his humorous stories about his life and adventures on the road, the music becomes even more compelling when you can put a witty, charming, but seemingly shy person behind the powerful, godly music.
Read the original review here.

Rebecca St. James
Forefront Records
Offering five original songs plus seven reinterpretations of classics, Rebecca St. James' first worship collection is my favorite album to listen to when I'm in need of some great praise and worship. Containing familiar tunes you may hear if you attend a contemporary church service, these songs are set apart from other artists who sing them by Rebecca's beautiful, endearing, strong voice. Rebecca turns praise songs such as "Breathe" and "God of Wonders" into edgy pop-rock tunes similar to those that made her other albums so successful.
Read the original review here.

Sara Groves
INO Records
A beautifully personal album, All Right Here reflects Sara's deep spirit and delicate love for her family. Lyrics in songs such as "You Cannot Lose My Love," about her unending love for her son; "Fly," about the care and support she receives from her husband; and "Remember Surrender," a slow, thoughtful look at surrendering our life to God, combined with smooth folk-pop melodies show Sara's loyal commitment to the most important relationships in her life. Sara's artistic flair and propensity toward being reflective have made her one of this year's greatest singer/songwriters.
Read the original review here.

Sixpence None the Richer
Reprise / Warner Records
This 5-guy, 1-gal band offers their familiar romantic-pop, coffeehouse sound with the occasional beautiful string instrumentation on songs such as "Still Burning" and "Tension Is a Passing Note." As always, lead singer Leigh Nash will win your heart over with her breathy, persuasive voice. After a five-year stint without a record, Sixpence definitely used their time to sharpen their writing skills and perfect the lush acoustic rock songs that appear on Divine Discontent.
Read the original review here.

Various Artists
Essential Records
The title track "Sing Alleluia" is definitely my favorite song on this album. With Jennifer Knapp's gripping sound and Mac Powell's (Third Day) distinct voice, you can't help but sing along. But with other remarkable musicians, such as Jars of Clay, Bebo Norman, Nichole Nordeman, and Caedmon's Call on this album, every song tends to resonate well with me. Most of the powerful worship songs have original melodies and lyrics, while some echo familiar hymns such as "All Creatures of Our God and King," which opens and closes the album. City on a Hill is definitely my first choice for refreshing variety and a great selection of some of Christian music's favorite artists.
Read the original review here.

Bebo Norman
Essential Records
This CD is my coffee shop favorite. Every time I indulge in a café mocha it seems as though Bebo's music should be playing in the background. With beautiful acoustic guitars, this mixture of folksy, contemplative songs and unpretentious pop creates a warm, thoughtful atmosphere. Definitely his most intimate, expressive album to date, Myself When I Am Real shares Bebo's private thoughts on faith making these songs boldly transparent. I especially enjoy this cozy album in the winter-snow outside, fire in the fireplace, cocoa in my mug, and Bebo in the stereo sounds like a perfect winter day to me.
Read the original review here.

The Normals
Forefront Records
This album is refreshingly honest about our emotions and the realities of life in this world. Similar to U2, most of the songs put me in a reflective mood. Many songs start off slowly, drawing you in with low, slow rhythms that set a deep, almost dark tone. Great to listen to on days when life seems overwhelming – it takes you to another level and lets you find the mellow, peaceful side of the day. These thought-provoking lyrics and rich melodies are rare in Christian music, and I think The Normals deserve huge acclaim for venturing out into uncharted waters.
Read the original review here.
Browse All Music Reviews By: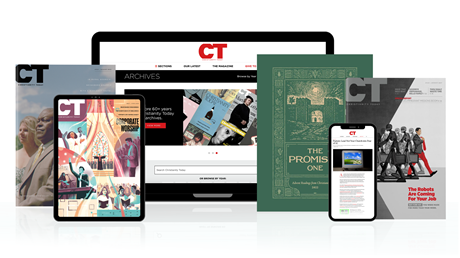 Annual & Monthly subscriptions available.
Print & Digital Issues of CT magazine
Complete access to every article on ChristianityToday.com
Unlimited access to 65+ years of CT's online archives
Member-only special issues
Subscribe
Top 12 Christian Albums of 2002
Top 12 Christian Albums of 2002