"Inside every social scientist," the sardonic wisdom runs, "is a prophet busting to get out." A recent collection of essays honoring sociologist Robert Bellah underscores how useful sociology can be for genuinely prophetic Christian leadership.
Bellah is perhaps best known among readers of CHRISTIANITY TODAY as the lead author of the widely read Habits of the Heart: Individualism and Commitment in American Life (Harper & Row, 1985). Now his four coauthors from that book—Richard Madsen, William M. Sullivan, Ann Swidler, and Steven M. Tipton—have edited a volume of essays inspired by the sweep of Bellah's career. Among the many distinguished contributors are the scholar of contemporary religion Harvey Cox, theologian Stanley Hauerwas, historian Albert Raboteau, philosopher Charles Taylor, and sociologist Robert Wuthnow. The authors' range of disciplines and interests represent the broad impact of Bellah's work.
Indeed, Meaning and Modernity: Religion, Polity, and Self (University of California Press, 2002) covers some unexpected territory—beginning with Bellah's Harvard doctoral dissertation on the historical sociology of Japan. Yet throughout his work, Bellah has been fascinated by one topic: the symbols by which people understand themselves and their world. He has come to understand these symbols as growing primarily out of religious traditions. And he has studied them as they metamorphose by their interaction with other traditions (such as alternative religions and philosophies) and with social forces (such as economic, military, and political realities).
From this concern emerged his most famous essay, "Civil Religion in America," published in 1967. In it he coined that now-canonical term for the peculiar combination of Christian and secular ideals around which America publicly convenes and to which American politicians routinely gesture. From this emerged his most famous book, which traced the central "habits of the heart" of contemporary Americans.
In the epilogue of Meaning and Modernity, Bellah says that his mainline Protestant upbringing imbued him with a "prophetic Christianity." When he found that tradition insufficiently "up-to-date" and "scientific," he moved on to Marxism for a time. From there, he absorbed the highly abstract sociology of his mentor, Harvard professor Talcott Parsons. As his career progressed, he felt an increasing allegiance to and concern for Christianity as a vital reservoir of ideas, values, and allegiances necessary for the rescue of modern (and postmodern) humanity from the world we have made. The sociologist in Robert Bellah has prompted the prophet in Robert Bellah to call the church to faithfulness in order to secure its own, and the world's, salvation.
Bellah is perhaps most deeply worried about the extent to which Americans have become ethically individualistic at a time when social forces combine to press modern people at once into more individualized and yet also more conformist ways of living. Like Robert Putnam in Bowling Alone, he laments the decline of institutions and practices that stand between the individual, or perhaps the individual family, and the conglomerate power of major corporations and high-level governments.
When the church itself "sells God" as just another commodity in the marketplace of leisure activities, and when the church itself blesses America as something akin to the kingdom of God on Earth, then the church ceases to offer a distinctive contribution to American public life. The Christian church thus joins the neighborhood, the civic club, the political party, and the labor union as just another attenuated "intermediate institution" that no longer puts up much of a fight against the dominant powers of the day.
Yet Bellah is not without hope. If the church in America-liberal or evangelical-currently offers little that challenges the therapeutic culture of self-improvement, it could do much more, Bellah believes. The church possesses a rich tradition that offers a balance between individual and community, freedom and responsibility, a tradition in which love for God and love for neighbor are inextricably interwoven and concern for this world is informed by awareness of the world to come.
Such values the church must not only teach but also embody. For, as a sociologist, Bellah is acutely aware that such ideas must come to life in a community in order for them to have their full effect on our confused and erratic cultures. The church, that is, must once again become a social force: to protect its members from the assault of other social forces; to link its members so as to draw out the maximum virtue and power of both individuals and the group; to preserve and proclaim its distinctive gospel amid the din of competing messages; and to contribute what grace it can to its neighbors in the worldwide transformational mission of our compassionate God.
Evangelicals have an ambivalent relationship to sociology and social science more generally. Our missionaries study anthropology as they seek to understand the cultures they serve. Our church planters pore over land surveys, zoning regulations, and demographic statistics in order to calculate the best location and style for a new congregation. Our youth workers attend conferences led by analysts of postmodernity and futurists who claim to predict tomorrow's features by extending today's trends.
We recognize, however, that sociologists have often offered themselves as secular prophets—as alternatives, in fact, to the church's preachers. Indeed, sociologists and prophets offer the same potent combination: a presentation of the way things are, a prediction of the way things will be, and a prescription of what we should therefore do. Sociologists have claimed the authority of scientific observation and inference. Preachers have claimed the authority of scriptural exegesis and application. Thus sociology has often stood as rival, not companion, to Christian teaching.
True prophets, however, can combine the best of both traditions. True prophecy can use whatever tools are available in order to explain what is actually the case, to surmise what is likely to soon take place, and to discern what to do about it all. Sociology is not necessarily inimical to the gospel, nor is it simply the elaborate demonstration of the obvious. Meaning and Modernity itself offers a wealth of data and interpretation that will provoke any reader to reconsider just what is going on and why. One essay, for example, discusses the moral formation of children by educational bureaucrats who might just know what they're doing (will wonders never cease?), while another shows that the members of megachurches tend to be more involved in their churches and communities than are members of smaller congregations.
Most evangelical leaders seem cognizant of only a few dimensions of social life today-entertainment media, sexuality, and fidelity to the church and its programs. Are we seeing how even these favorite topics fit into larger social patterns that include race, economics, technology, and gender? Without such awareness, we shall be treating symptoms and not diseases. The powers and principalities that Saint Paul spoke of 2,000 years ago can take many forms.
It is sociology of a Bellah sort—historically informed, leery of easy generalizations, and respectful of religion—that is most helpful and, as the success of Habits shows, most accessible to busy church leaders. Still, sociology is not prophecy. As several authors in this volume warn, sociology still tends to bear its own "habits," reducing phenomena such as religion to things it can observe, count, and render into neat formulas. Indeed, sociology's great pioneers—Auguste Comte, Émile Durkheim, and Max Weber, among others—were not exactly friends of evangelical Christianity, tending to see it and similar religious varieties as vestiges of a stage of human development that the world would soon transcend. Bellah himself, furthermore, testifies to his appreciation of G. W. F. Hegel and Paul Tillich—who hardly rank among Christianity's most orthodox exponents, even if they belong among its most provocative.
It is striking that in this entire volume of writers—many of whom are positively disposed in some way toward Christianity—there is not a single mention of the Holy Spirit, who, after all, blows where he will, without apparent regard for sociological analysis. And yet it is he who inspires the dry bones of our Christian institutions and makes them worship, work, and dance.
Sociology, therefore, is a better servant than master. Christians who carefully take up this tool in order to wield it by Christian principles, to Christian ends, will continue to find it a valuable gift of God-as so many of us thank God for the work of sociologists such as Robert Bellah.
John Stackhouse is the Sangwoo Youtong Chee professor of theology and culture at Regent College and author of Evangelical Landscapes: Facing Critical Issues of the Day (Baker Academic).
Related Elsewhere
Also appearing on our site today:
CT Classic: Habits of the HearthCommunity, family, religion, and country according to sociologist Robert Bellah
Meaning and Modernity: Religion, Polity, and Self is available at Amazon.com. Habits of the Heart is available at Christianbook.com.
The Hartford Institute for Religion Research's Robert Bellah site features a biography, publications, and a complete up-to-date bibliography, as well as several of his articles, lectures and interviews.
Other Christianity Today articles by John Stackhouse include:
The True, the Good, and the Beautiful ChristianBeauty is making a comeback in science and theology. Will it find its place in the lives of believers? (January 7, 2002)
What Has Jerusalem to Do with Mecca? | Two new books on the world's religions raise new possibilities, and new questions, for evangelicals. (September 4, 2001)
Mind Over SkepticismPhilosopher Alvin Plantinga has defeated two of the greatest challenges to the Christian faith. (June 20, 2001)
Article continues below
The Seven Deadly SignsMinistries that think they can do no financial wrong deceive themselves. (June 30, 2000)
An Elder Statesman's PleaJohn Stott's 'little statement on evangelical faith' reveals the strengths and limitations of the movement he helped create. (Feb. 14, 2000)
The Battle for the Inclusive BibleConflicts over "gender-neutral" versions are not really about translation issues. (Nov. 5, 1999)
Finding a Home for EveWe are right to criticize radical feminist scholars—and wrong to ignore them. (Mar. 1, 1999)
The Jesus I'd Prefer to KnowSearching for the historical Jesus and finding oneself instead. (Dec. 7, 1998)
The Perils of Left and RightEvangelical theology is much bigger and richer than our two-party labels. (Aug. 10, 1998)
Bad Things Still HappenA concise, clear argument for how God can be both good and omnipotent. (July 13, 1998)
Fighting the Good FightA plea for healthy disagreements. (Oct. 6, 1997)
Confronting Canada's Secular SlideWhy Canadian evangelicals thrive in a culture often indifferent to religious faith. (July 18, 1994)
Have something to add about this? See something we missed? Share your feedback here.
Our digital archives are a work in progress. Let us know if corrections need to be made.
This article is from the July 8 2002 issue.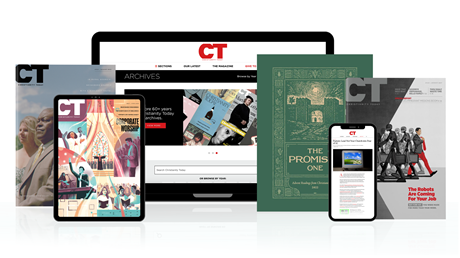 Annual & Monthly subscriptions available.
Print & Digital Issues of CT magazine
Complete access to every article on ChristianityToday.com
Unlimited access to 65+ years of CT's online archives
Member-only special issues
Subscribe
Prophetic Habits of a Sociologist's Heart
Prophetic Habits of a Sociologist's Heart