In the midst of the various corporate accounting scandals this past summer, I came across an old Doonesbury cartoon in which a prison chaplain counsels a white-collar felon, a former corporate executive.
Trying to instill an elementary sense of ethics, the chaplain asks, "What is the opposite of wrong?"
The man replies, "Poor."
This idea is reminiscent of the complaint of Elihu, Job's sometime friend and sometime tormentor, in Job 36:21: "Beware of turning to evil, which you seem to prefer to affliction."
The crisis in corporate America that has shattered investor faith and rocked the markets was not, I think, brought about by an insufficiency of laws; rather, it was brought about by inattention to righteousness. Corporate executives, pressed to meet their financial targets, and investors, obsessed with short-term gains, made choices at every turn. Too often they chose evil over affliction, or, in Gary Trudeau's terms, chose to be wrong rather than poor.
It is against this backdrop that it is most useful to consider the Supreme Court's narrow decision on school vouchers this past June. The court, in a case involving a voucher program in Cleveland, allowed the government to provide some measure of financial relief for poor parents who choose to send their children to private schools, including religious schools.
Although attacked by liberal critics, the ruling may actually help shape the morality of the rising generation of young Americans. These are the people who will be running America—in particular, corporate America—three or four decades in the future.
When Americans gaze into that future, what they see unsettles them. The Pew Forum on Religion and Public Life (on whose advisory board I sit) recently released a depressing survey: a stunning 76 percent of respondents stated that young people do not have as strong a sense of right and wrong as they did half a century ago. This is not just the sentiment of an aging generation. Well into the 1960s, Americans were more likely to agree than disagree with the view that young people of their day were every bit as moral as in the past.
Consider once more the problem with the markets. Put simply, investors no longer trust the numbers that firms churn out. Without clear, believable numbers, there is no reliable basis for investing, for no one seems quite sure whether any company is doing as well as it claims. Without a high degree of trust, markets cannot function properly. In particular, the raising of new capital—the thing that free markets are supposed to do best—becomes expensive if not impossible. No integrity, we might say, equals no money.
Which leads us back to vouchers. The Supreme Court has (quite correctly, in my judgment) lifted the unpersuasive constitutional bar to giving families tuition money to use at the private schools of their choice. Now the battle over school funding will return to the legislatures, where it should have been to begin with. Some states will no doubt adopt broad voucher plans, and swiftly. Others will respond more cautiously. A few will bar the gates, thinking, perhaps, that the religious barbarians are approaching.
This diversity of responses is just what one should expect (and cherish) in a nation with as many different ideas of the good as America, in its richness, has been blessed to possess. But what the survey data teach us, if the corporate scandals hadn't already pointed the way, is that Americans have had enough of policies aimed merely at churning out smart people. We need, desperately, policies that churn out good people.
Most Americans rightly believe that a strong religious upbringing may be the most important means of influencing the moral development of a child. For the millions of parents who continue to support school vouchers, the religious school is seen as a partner in training the child in right and wrong. That nearly nine out of ten private school students attend religious schools may reflect a parental judgment that raising good people is more important than raising test scores.
If more communities adopt the Cleveland model, and more parents exercise the choice of religious education for their children, who knows? We might actually raise a generation that prefers affliction over evil.
Related Elsewhere
Also appearing on today's site:
A Two-for-One NovelStephen Carter mixes wry social observations and a densely plotted thriller.
The Freedom Forum offers good background on the Ohio voucher case with a timeline. Read the Supreme Court ruling or watch it at Cleveland's WKYC.
Reaction statements online included ones from Family Research Council, American Center for Law and Justice, and the National Education Association.
For media coverage, see Yahoo full coverage.
More Christianity Today articles on school reforms are available in our education area. Previous articles on school vouchers include:
Breaking Up a MonopolyThe Supreme Court has put parents back in charge of their children's education. (July 29, 2002)
Article continues below
Supreme Court Okays School VouchersCleveland's voucher plan is constitutional, Supreme Court says in 5-4 decision. (June 27, 2002)
Conservatives Vow to Revive VouchersProposal left out of education reform bills. (July 19, 2001)
Reading, Writing, and ReformVouchers dropped, but testing, tax credits remain in Bush education plan. (June 10, 2001)
Vouching for ParentsVouchers are not an attack on public schools but a vote of trust in families. (April 2, 2001)
Weblog: Appeals Court Says Vouchers Violate Church-State Separation (Dec. 13, 2000)
Religious Right Loses PowerA few victories, but more losses for conservatives. (Dec. 18, 2000)
School Choice Measures in Tight RacesRecent surveys show much opposition to voucher initiatives in California and Michigan. (Sept. 27, 2000)
Florida School Voucher Plan Struck Down by State JudgeChurch-state issues not addressed in ruling. (March 24, 2000)
Judge Freezes Voucher Enrollments(Oct. 4, 1999)
Editorial: Religious Schools Make the GradeGive Wisconsin an 'A' for saying no to secularist nonsense. (Aug. 10, 1999)
Voucher Plan Draws Mixed Reviews (July 12, 1999)
Voucher Victory | School-choice advocates win in Wisconsin, but can the movement gain momentum? (Sept. 7, 1998)
Judge Stalls Voucher Expansion (March 3, 1997)
Voucher Opponents Vow to Gut Cleveland Program (Oct. 28, 1996)
Recent Christianity Today columns by Stephen L. Carter include:
Remedial HistoryThe educational establishment seems confused about our spiritual heritage. (July 10, 2002)
Uncle Sam Is Not Your DadThe separation of church and state protects families too. (March 22, 2002)
A Quiet CompromiseWhy a moment of silence is better than school prayer. (Feb. 25, 2002)
Leaving 'Normal' BehindLife before September 11 seemed more secure, but do we really want it back? (Dec. 4, 2001)
Rudeness Has a First NameInstant informality actually sabotages true friendship. (Nov. 2, 2001)
Why Rules RuleDebates on the Ten Commandments expose our culture's ultimate rift. (Sept. 6, 2001)
We Interrupt This ChildhoodParents who raise their children to do right face a barrage of resistance. (July 11, 2001)
And the Word Turned SecularChristians should count the cost of the state's affirmation. (May 29, 2001)
Vouching for ParentsVouchers are not an attack on public schools but a vote of trust in families. (Apr. 2, 2001)
The Courage to LoseIn elections, and in life, there is something more important than winning. (Feb. 6, 2001)
Have something to add about this? See something we missed? Share your feedback here.
Civil Reactions
Stephen Carter is the William Nelson Cromwell Professor of Law at Yale University. He is the author of The Impeachment of Abraham Lincoln (2012), The Violence of Peace, The Emperor of Ocean Park, and many other books. His column, "Civil Reactions," ran from 2001 until 2007.
Previous Civil Reactions Columns:
Our digital archives are a work in progress. Let us know if corrections need to be made.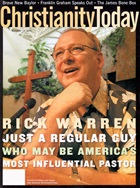 This article is from the November 18 2002 issue.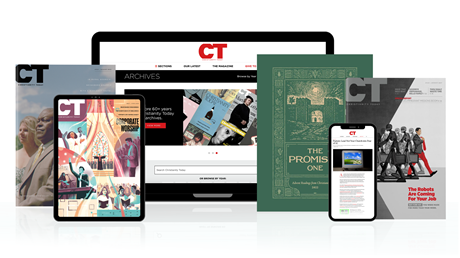 Subscribe to Christianity Today and get access to this article plus 65+ years of archives.
Home delivery of CT magazine
Complete access to articles on ChristianityToday.com
Over 120 years of magazine archives plus full access to all of CT's online archives
Subscribe Now
Virtue via Vouchers
Virtue via Vouchers